Mass. Families React To Purdue Settlement: 'We Need To Start Abating This Epidemic Yesterday'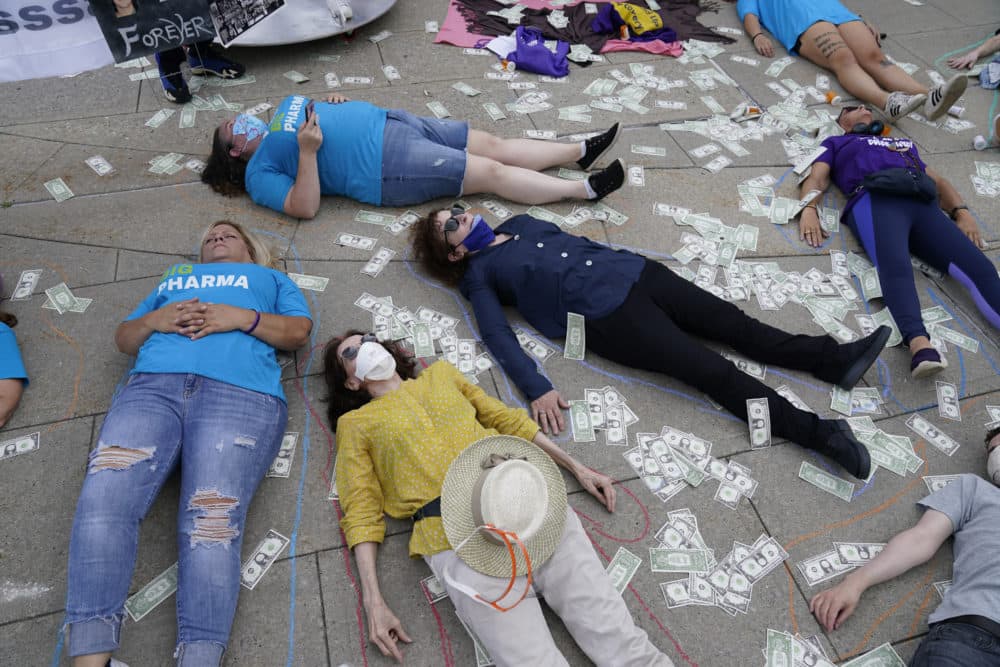 This article is more than 1 year old.
A federal judge has approved a bankruptcy deal that settles more than 3,000 lawsuits against Purdue Pharma, the maker of OxyContin, and members of the Sackler family who owned the company — including a sweeping case filed by Massachusetts.
Under the deal, the Sacklers and many of their associates would get broad immunity from future lawsuits, and the Sacklers agreed to pay more than $4 billion in cash and assets. The deal would also restructure Purdue Pharma into a new nonprofit company.
The amount the Sacklers would pay in the settlement has been widely criticized as too low because evidence shows the Sacklers earned at least $10 billion from aggressive marketing and sales of OxyContin — an opioid at the root of the current opioid crisis.
Federal bankruptcy judge Robert Drain said in court that he doesn't have the authority to impose a larger settlement.
"I wish the plan had provided for more, but I will not jeopardize what it provides for by denying confirmation," Drain said.
Drain added it's not likely that states, hospitals or individuals would get more if they took the Sacklers to trial. That, in short, is one of the reasons parties that had objected to earlier offers are now signing onto the agreement. Massachusetts Attorney General Maura Healey says she's also hopeful about a trove of documents to be released through this settlement.
"Purdue's time is over, but our work in Massachusetts continues," Healey said in a statement. "We will use every piece of evidence and every dollar we achieved in our case to expand prevention, treatment, and recovery for the families who have been hurt in this crisis."
Advocates for families suffering during the opioid crisis say they expect the documents will reveal evidence of criminal misconduct, something they hope prosecutors will pursue. Joanne Peterson, who watched family members struggle with opioid addiction, has been protesting Purdue's deceptive opioid marketing practices and following efforts to hold the company responsible since the early 2000s.
"I guess there's never going to be any type of victory in this, or justice or an apology," said Peterson, founder and executive director of the family support network, Learn to Cope, based in Taunton. "But hopefully some of this money will save some lives."
Healey's office estimates Massachusetts' share of the Purdue-Sackler bankruptcy agreement will be $90 million. Most of that will be deposited into a statewide trust fund and distributed to groups fighting the epidemic. That's if the money comes.
Attorneys for the U.S. Department of Justice (DOJ) said this afternoon that they plan to appeal Judge Drain's decision. U.S. Senator Elizabeth Warren is among those pressing the DOJ to appeal and try to hold Sackler family members personally accountable. This settlement was negotiated in bankruptcy court. It dissolves the company Purdue Pharma, but the individual Sacklers did not have to file for bankruptcy, allowing them to hold onto much of their personal fortunes.
That's infuriating for many people whose lives have been harmed by OxyContin. But Cheryl Juaire, a Marlborough resident who lost two sons to opioid overdoses, is adamant: DOJ must not file an appeal.
"It's wasting time, it's wasting money," said Juaire, who lost one of her sons just a few months ago, while attorneys were haggling over the details of the Purdue-Sackler agreement.
"We need to start abating this epidemic yesterday," said Juaire.