Boston Bus Driver Shortage Causes Delays On The 1st Day Of School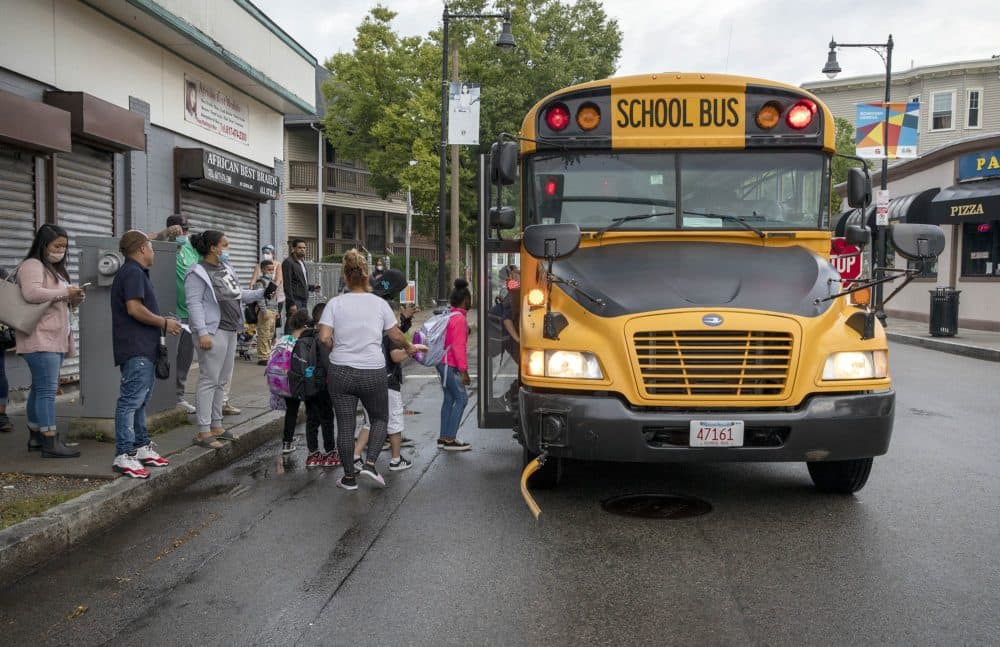 This article is more than 1 year old.
Nikki Simmons and her family arrived at their Dorchester school bus stop a few minutes early on Thursday morning. Her fifth and sixth grader's bus to the Dever Elementary School was supposed to arrive by 7 a.m., but by 7:30, they were still waiting.
"It stinks, but it happens every year," Simmons said. "It just is what it is."
On the other side of the street, Shaharazard Powell was waiting with her son for a bus that was more than an hour late.
"We're still here, just up in the air, trying to figure it out," Powell said as she looked down at the bus tracking app on her phone to see how much longer the wait would be. "It's extremely frustrating because I have two other children."

Acting Mayor Kim Janey said she understands parents' frustrations.
"I know that there's a lot of anxiety around the first day of school and we all know that COVID has made things worse every single issue in our city," Janey said. "But our bus drivers care about our kids, our teachers care about our kids and everyone has been working hard to make sure that the first day of school goes off smoothly for our children."
School bus delays in the first week of school are pretty common in Boston. But this year, officials anticipated wait times and missed pick-ups would likely be even worse due to a significant shortage of bus drivers.
In order to transport the more than 25,000 kids in Boston who rely on the yellow buses to get to school each day, the district typically aims to have around 690 to 720 drivers. This year, they're beginning the year with about 650. In addition to bus drivers, BPS is also short on bus monitors, with more than 90 open positions.
Last week, the Boston School Bus Driver's Union expressed serious concern about how transportation would work at the start of school.
"Routing for the 2021-2022 school year is by far the worst fiasco we've witnessed in our careers," union officials said in a Sept. 2 press release.
Ultimately, the two parties did reach an agreement for beginning the new school year on time.
"Last night, the City of Boston, Transdev, and the bus drivers' union, United Steelworkers Local 8751, reached a decision to extend their current collective bargaining agreement through November 15, 2021," BPS officials said in a written statement. "Our bus drivers, Transdev, and the entire BPS Transportation department are integral members of the BPS team and we are grateful for the critical service they provide to BPS students and families."
Aside from frustration over wait times, parents and students at this busy stop in Dorchester were feeling pretty positive about the new school year.
"I'm excited and nervous because there are going to be new people in my class," added Zahriiyah Simmons, a fifth grader at the Dever Elementary School. She was also excited to see teachers and school staff that she liked from previous years.

"I think they're going to do really well this year," added her mom, Nikki Simmons. "Last year was kind of a mess with the whole computers at home situation."
Still, she added that while she is glad her kids will get to interact with more people in person this year, COVID-19 transmission weighs on her mind, especially since both of them are too young to be vaccinated right now.
"There's always going to be that concern," she said. "But I'm certain I've taught them how to keep themselves safe, sanitized and distanced."
For now, Simmons said, she's relying on trust — trust that she taught her kids how to stay safe with masks and hand sanitizer, and that the district will maintain effective COVID-19 mitigation policies throughout the year.
With reporting from WBUR's Sara-Rose Brenner
This article was originally published on September 09, 2021.