As School Year Begins, Parent Groups Are Suing To Block Mandatory Masking
Play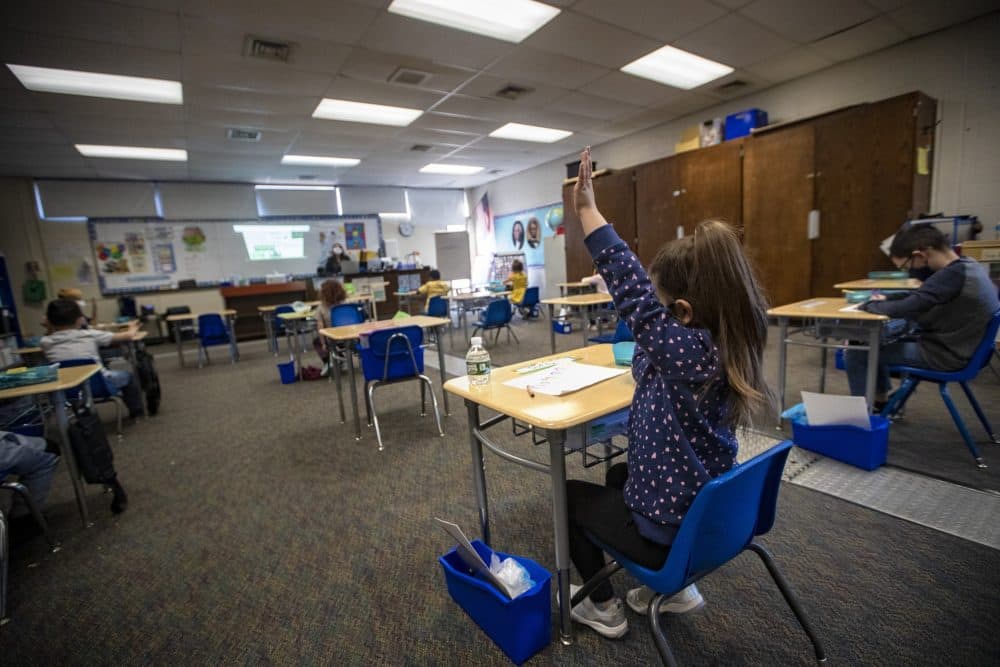 This article is more than 1 year old.
Judges across Massachusetts will have to weigh whether state education officials had the right to mandate mask-wearing in all public school buildings this fall.
In the past week, parents seeking to overturn the mandate have filed at least six suits in the state's superior courts. The first cases are set to begin on Wednesday morning in Dedham and Woburn.
The suits are just the latest local escalation of a polarized national debate over whether education officials are doing too little, or too much, to stop COVID-19 from spreading in schools.
State education commissioner Jeff Riley announced a mask mandate for school buildings back on Aug. 25, describing masks as "an important additional measure to keep students safe in school."
On Monday, Riley extended that mandate through Nov. 1. Schools that reach a vaccination rate among staff and students of 80% or higher will be able to shed their masks as early as Oct. 15. But for now, with no vaccines yet approved for children aged 5-12, only middle and high schools could hope to qualify.
Arguing 'Overreach'
All six of the suits filed last week name either Riley or the Massachusetts Department of Elementary and Secondary Education (DESE) as a defendant. The department declined comment through a spokesperson, citing the pending litigation.
Manchester, New Hampshire attorney Robert Fojo filed all but one of the suits, representing plaintiff groups ranging from a group of Tewksbury parents to two nonprofits — Citizens for Medical Freedom and Children's Health Rights of Massachusetts.
The nonprofits did not respond to requests for comment. But Fojo said their members believe "that masks harm children in numerous ways, and that they're not effective in curbing the spread of COVID-19" in schools.
As he filed suit in multiple counties last week, Fojo submitted a complaint that directly challenges the masking of students as a public health measure. It draws on scientific literature to cast doubt on its effectiveness, and raises concerns that masks can interfere with learning, breathing, and social connections.
When asked what he made of CDC findings that widespread masking can limit new infections, Fojo said that's only when the masks are worn correctly — something he said children "seldom" do.
Another suit, filed in Hampden County by another nonprofit, the Family Freedom Endeavor, draws a narrower scope.
Ryan McLane, the Agawam attorney representing the plaintiffs, says "the point of the suit is not to get into efficacy of mask-wearing," but rather to argue that "nothing gives the [state board of education] the authority to make a statewide mandate."
The Family Freedom Endeavor, Inc. is a new Florida-based nonprofit founded by Vincent Delaney — who was, until recently, a Massachusetts resident.  Delaney challenged Charlie Baker in federal court, saying the state's COVID-related restrictions on places of worship infringed on his religious liberty. Judge William Young ruled in Baker's favor in January. Delaney's group has since sued several New England colleges and universities to block their vaccine mandates.
The Endeavor's website mentions its leaders' "Christian" and "traditional" values. And McLane says the anti-mask movement has a natural appeal among conservatives and traditionalists, given its central criticism of "government overreach."
But, he says, they're not a monolith: the group's supporters "come from all different backgrounds — including liberals, progressives... This is a movement that attracts a number of different people."
'We Need To Be Ready To Move'
At least one physician who hesitated this summer over a statewide mask mandate says she still doesn't embrace these lawsuits.
Shira Doron, lead epidemiologist at the Tufts Medical Center, has written frequently in support of data-driven and practical prevention measures, often stressing that mask mandates should be used selectively in places and during periods of rapid spread. But she says she came to embrace Riley's mandate, with its built-in immunity "offramp," because the rates of transmission were climbing before and during September.
Doron regrets that the masking and vaccine debates have become so sharply polarized, with entrenched "sides" warring even over minor adjustments to policy.
She says that masks do have downsides for children, as they do for adults — "to not acknowledge that is really to have your head in the sand a little bit" — and that the practice of masking young children is indeed unusual elsewhere in the developed world.
But she also says "it's still kind of early to know where we are" with respect to in-school spread this fall, and therefore masking to start this school year was just good practice: "We needed to not have the first weeks of school, or first month, tainted by massive outbreaks."
Even with the masks in place, the virus is spreading in public schools: the state reported 3,449 cases among students and 482 among staff in the first two weeks of school. But state data show that a vanishingly small minority of residents under 17 have been hospitalized with the virus.
Doron worries that — just as some parents are now hostile to masking their children — many more will resist leaving the practice behind, even as it ceases to be necessary. (Last month, the MassINC Polling Group reported that 81% of registered voters surveyed supported Riley's mask mandate.)
Last week in Commonwealth Magazine, Doron and two colleagues recommended that the state develop a more nuanced and forgiving "off-ramp" from the mask mandate in schools, one that reflects an acceptably low level of risk in particular communities.
As anger and exhaustion swell on both sides, Doron recommended a kind of scientific practicality. As we come to live with an endemic COVID, she said, "The risk may go up and down over the next several years. And we need to be ready to move and change with it."
Ally Jarmanning contributed reporting.
This segment aired on September 28, 2021.