How buffer zone rules are impacting cannabis dispensaries in some Boston neighborhoods
Cleon Byron has lived nearly all of his life on the 1000 block of Blue Hill Avenue, where a cousin operates a restaurant and his family has owned a storefront for nearly 30 years, the latter a site that he painstakingly took through the city's cannabis licensing process in the early days of the Boston Cannabis Board (BCB).
Byron can't walk down the street without seeing someone he knows — or perhaps is related to — making him a known quantity in the area who was trusted to open Evoke, the first cannabis dispensary in the area.
At the moment, the business has received all necessary city approvals at 1102A Blue Hill Ave., has a Host Community Agreement with the city, and is wading through the state Cannabis Control Commission's process as he progresses to an opening.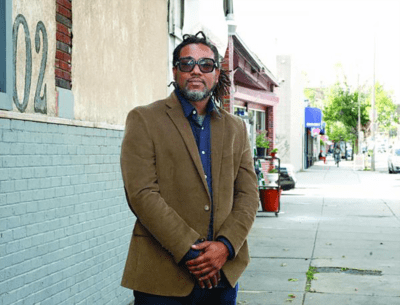 So Byron was floored this month to see another proposal from a retired Boston police officer — Ed Alicea, who also runs the Boston Puerto Rican Festival — advance in the process rapidly at a site just 200 feet from Byron's facility.
At a hearing in early September, it seemed that Alicea's proposal was looked upon favorably by the BCB, something its members reiterated at a later meeting on Sept. 22, despite a clear conflict with the buffer zone ordinance, which prevents two dispensaries from being within a half-mile of one another – let alone a few hundred feet in this case.
This law has become quite controversial in recent months, as more and more dispensaries seek out territory and Blue Hill Avenue becomes a hot spot for those entrepreneurs.
On Sept. 22, the BCB said it could not approve Alicea's proposal, but at the same time, it didn't kill it. The official action deferred his proposal, known as Boston Urban Dispensary (BUDS) — indefinitely, in case Byron's effort fails.
"This was a very strong application and very strong diversity and inclusion plan and a very strong employment plan," BCB Chair Kathleen Joyce said. "There was community support and for the record, there was non-opposition from the district city councilor [Andrea Campbell]. It is 200 feet from an operator we previously awarded a license to … While we don't compare, it's a one-minute walk. I think the locations are very, very close. I think it could be a hardship to the community to have two cannabis entities within 200 feet and I do think it is in keeping with the intent of the buffer zone."
That decision was better than the worst case, Byron told the Dorchester Reporter, but by no means did it feel to him like a vote of confidence for a licensed entrepreneur outside of the power structure who was facing someone he felt was getting "insider" treatment.
"He's been an officer locking people up. It sends the wrong message – that insiders should get it and entrepreneurs in the community — well, good luck to them," Byron said late last week, adding that it took him two years to get to the point where Alicea was on Sept. 22, after just a year of getting through the process.
For his part, Alicea noted that he felt that the two businesses could have coexisted, had the BCB approved his application. He said he could have gotten an exemption from the Zoning Board of Appeal (ZBA) to pierce the buffer zone that applied to Byron's dispensary. He said his company is 100% minority, and that his business partner had owned the building for more than 30 years in operating Boston Auto Design. He added that both have been in the area for a long time, with him growing up around the corner and graduating from Dorchester High School.
"We were obviously disappointed, but respect the board's decision," Alicea said after the vote. "We almost met all the requirements, had a very strong application and location, but the buffer zone did not work out for us at this time. We will continue to explore our future options."
The buffer zone lies in the heart of the conflict. It was instituted years ago to keep one dispensary from setting up shop a stone's throw away from another one — a situation that occurred in business districts when cannabis was first legalized in Colorado. It was a matter pushed by City Councillor Michael Flaherty when Boston began to consider legalizing the sale of cannabis products.
But in recent decisions in other parts of city, the BCB and the ZBA have decided that piercing the buffer zone makes sense. With more than 50 licenses to give out citywide, and very few appropriate locations, some see the zone limit as an impediment to licensing – especially on long stretches like Blue Hill Avenue that have many potential sites.
On the other side of the coin, early entrants, like Byron with Evoke, feel that since they planted their flag long ago and are near the end of a lengthy permitting process, they should be respected by an automatic refusal of applicants like Alicea.
"What I heard wasn't a denial [because they're too close], but that if anything happens to our dispensary plan, then he's good to go," Byron said. "That's what I heard … I was biting my nails on this one. You could tell they wanted to push it … I was hoping by default they would have denied it and not deferred it, in case we crash and burn. It told me that I needed to get all of my stuff in to the state and get through this state process quickly because someone is waiting in the wings."
In late August, the city council and acting Mayor Kim Janey approved an amendment to the cannabis ordinance that strengthens the buffer zone for applicants and license holders – making the location more of a factor in the evaluation process. That amendment made the Evoke vs. BUDS conflict one of the first to be considered with the new regulations, under which the location accounts for 25% of the entire evaluation, and a key part of that section is whether or not there is another already-licensed applicant nearby.
The BCB vote to defer BUDS indefinitely was unanimous, with Commissioner Lisa Holmes, a former police officer, recusing herself. It does leave the application valid unless Alicea decides to withdraw it from consideration.