Who is Matt Amodio? The 'Jeopardy!' contestant shares his thoughts on his winning streak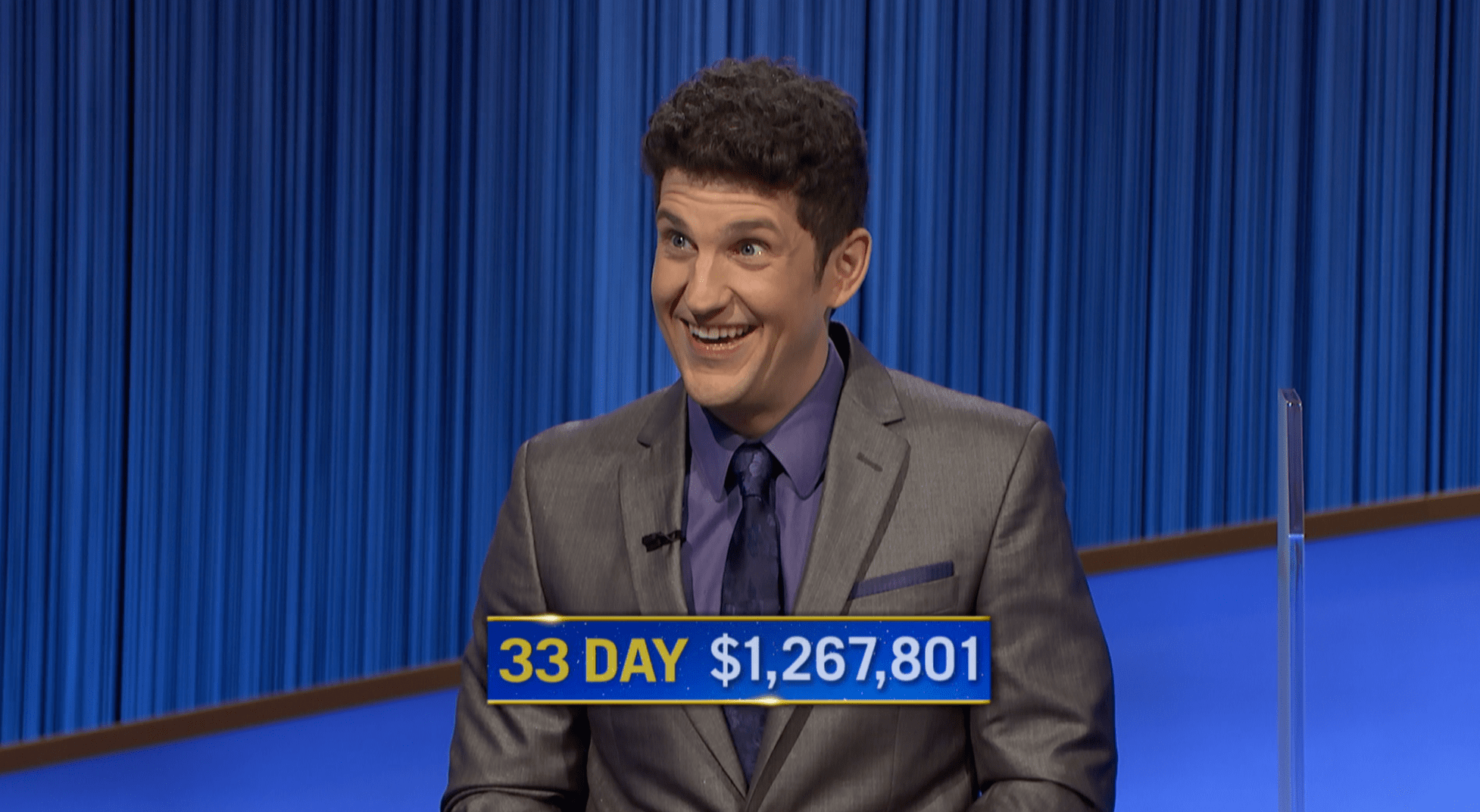 This article is more than 1 year old.
A New Englander made history Friday night, reaching second-place on the "Jeopardy!" All-Time Consecutive Win list.
Matt Amodio's 33rd straight win pushed him past "Jeopardy!" champion James Holzhauer's 32-game streak. The Yale Ph.D. student is behind only Ken Jennings, now an executive producer of the show. The winner of the GOAT tournament, Jennings set the top record of 74 wins in 2004.
Overtaking Holzhauer is "deeply rewarding, but simultaneously it doesn't feel right," Amodio says. "James Holzhauer is an absolute legend. Putting my name at the same level as his just seems out of place."
After reaching the $1 million mark Sept. 24, he's currently earned $1,267,801. The only other contestants to win more than $1 million in regular season games are Jennings at $2,520,700 and Holzhauer with $2,462,216.
The New Haven, Connecticut resident, who will go for win 34 on Monday, Oct. 4, shows no signs of slowing down.
The contestant who once drew heat for beginning every answer with "What's?"  — i.e. "What's Longoria?" instead of "Who is Eva Longoria?" — is now a full-blown Twitter favorite and "Jeopardy!" great. For my money, he could become the greatest to ever play the game. As a lifelong "Jeopardy!" fan, I've loved watching Amodio play. Honestly, I can see him hitting 75 games. This horse has legs.
Similar to Holzhauer, Amodio's strategy is to go for big money questions early. Because he's so often controlling the board, he tends to find Daily Doubles — and make them "true" Daily Doubles. I've seen him — at least twice — bet it all, lose it all, and start Double Jeopardy with $0, only to come back and win by $20,000 or $30,000. (And if your heart is in your throat when he does this — so is his.) And yet most of the time, it pays off. He doesn't just win — he wins by landslides. As current host Mayim Bialik told Amodio onstage recently: it's a joy watching him play.
Perhaps most remarkable: he's kept his head in the game, no matter who's at the podium — and he's seen a few hosts come and go. (Bialik is doing a tremendous job, in my opinion.) In cosmic timing, Amodio may be going for Jennings' record while Jennings himself is behind the host podium again in November.
Amodio has also proved to be a fun Twitter follow, even joking with "Jeopardy!" greats, including noted Twitter kidder "Jeopardy James" Holzhauer.
Kidding aside, Amodio has made a name for himself in the game and online, as a gracious and humble player. He has talked about his lack of self-confidence, but onstage, that only reads as pure joy and awe. The night before he tied Holzhauer's 32-games, he tweeted: "It would be an honor to be unfavorably compared to a person I admire so much!"
As the #AmodioRodeo continues, I caught up with the "Jeopardy!" contestant to talk strategy, nerves and why he loves New England.
---
Lauren Daley: How did it feel to hit the $1 million mark?
Matt Amodio: It felt great! I've been proud of every single win along the way, but to hit this milestone has been incredibly rewarding. It's an exclusive club that I still don't feel like I belong in.
Your Twitter bio says "Current status: Dream, Living the."
I've always wanted to be on the show. I've watched it with my family since before I can remember, and I've idolized the best players of the game. I knew Ken Jennings' stats the way I knew Babe Ruth's stats. To be on the show was always a dream of mine.
Tell me a bit about yourself, and time in New England. 
I grew up near Cleveland, I came to New Haven for school. I moved to Connecticut in 2017, which feels like just yesterday. One of the things I love about New England is how city life and nature are so close together. I love living in a city, and enjoying the culture — but I also love getting to the woods. Here, you can do both without having to travel far.
I have visited Boston a couple of times now; it's such a great city. I'm a big baseball fan, and I've really liked the several games I've seen at Fenway  — even if I'm rooting for the away team. Sorry.
For strategy, your play reminds me of Holzhauer — going for big money questions, risking it all on Daily Doubles. Did you study tapes of him before going on the show? How did you prep?
I took a lot of inspiration from James. As a guy who thinks statistically myself, I related to his approach a lot. I think more than studying him, I studied the same sorts of statistical/probability based strategies as him, and see a lot of the same reasoning.
What's a typical day like? How many games do you shoot per day?
Each tape day has five episodes in it. It's a long day. We arrive at 7 a.m. and it has been as late as 8 p.m. that I've gotten out. The endurance required to play a whole day is an underrated part of the difficulty.
Your streak has run through quite a few hosts. Has it been hard to ignore the host drama and focus on the game? 
It's been surprisingly easy to just focus on the game. When you're on the stage, there's so much to think about that you really just have to focus on the clues one at a time. And the mechanics of the game stay the same, so there's a lot of constants.
What's your overall experience been like?
This has been a delightful experience from top to bottom. I love the challenge of the game, the tremendous compliments I have received, and most of all, the people I've met.
Do you think you can beat Ken Jennings' record?
I don't take any single game for granted; you can't worry about the game two days from now. You can only focus on the task at hand.
Timing-wise, if you get there, he might be at the podium. Will it feel weird going for Ken's record while he's hosting?
It would feel extra special. I want to impress him; he is my idol. Having the chance to do it in person would be my dream.
This interview has been edited for clarity.