Ahead of the long weekend, here's a look at the weather forecast
On Thursday, the high temperature made it into the 70s across much of New England. As the holiday weekend gets started, we'll have just one more day of unusually warm weather Friday before the region cools off.
You'll notice skies will be mostly sunny for the first part of Friday, but as winds head ashore, some cloudiness may come in off the water this afternoon. Highs will reach within a few degrees of 70.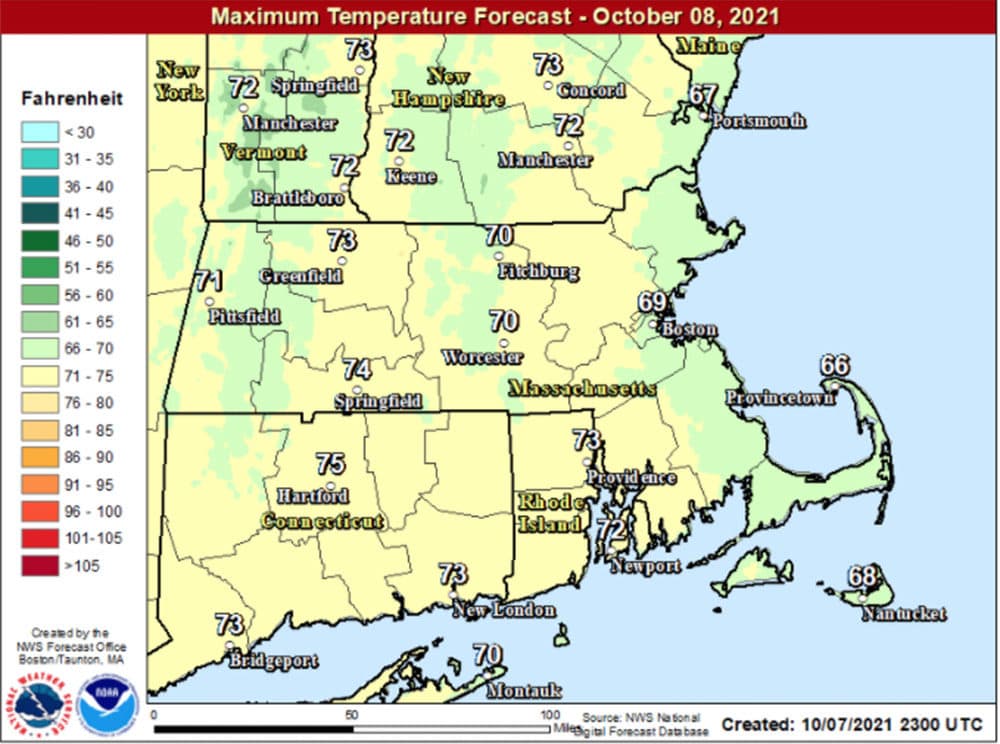 That flow of marine air will continue overnight, and there might even be a little bit of drizzle as temperatures fall back down into the 50s.
Saturday features an abundance of clouds and a chilly wind off the water. Highs will stay within a few degrees of 60, nearly 10 degrees cooler than the day before.
Come Sunday, skies still won't be sunny and temperatures will remain in the 60s. I can't rule out a couple of showers in the afternoon, but any that occur would be quite light.
Marathon And Holiday Monday
There will be a low-pressure area well to the south of New England on Monday for Indigenous Peoples' Day and Columbus Day.
Model trends so far show the storm system should stay south of New England. But, don't be surprised if there is a good deal of cloudiness from this weather system. The air will be somewhat mild for the time of year, with even a touch of mugginess.
As the Boston Marathon gets underway look for temperatures near 60 degrees in the morning, rising to near 70 as the afternoon approaches. It's not impossible that we see a light shower, but I do think that generally it's going to be a dry day. Unlike in April, when the race is typically run, the sun angle will be a lot lower this Marathon Monday.
Next week, much milder-than-average conditions resume, with highs perhaps hitting 80 degrees one more time by Wednesday.