716 psych patients are stuck in emergency rooms waiting for care, Mass. report shows
The first of what will be weekly reports from hospitals across Massachusetts shows 716 patients who need acute psychiatric care and can't get it. That's 174 children and 542 adults who showed up at an emergency room in distress and are still there because the treatment programs they need are full.
"Behavioral health has become the epidemic within the pandemic," says Leigh Youmans, who leads work on this issue at the Massachusetts Health and Hospital Association (MHA). "We have seen significant amounts of behavioral health need increasing across all acute care hospitals in the state."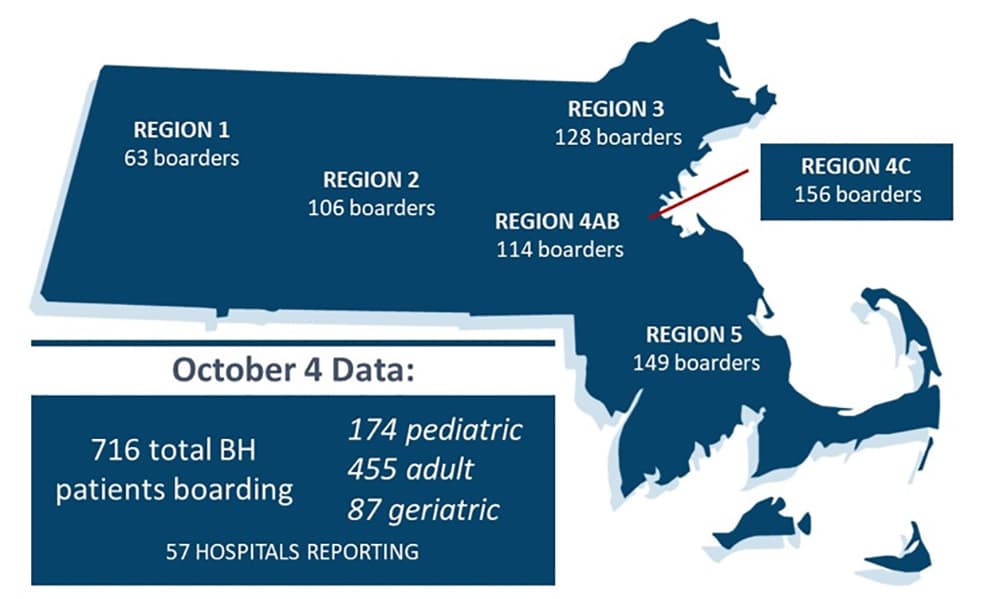 The problem is worse in some regions and at some hospitals. At a peak during the past month, 49% of emergency room beds in Southeastern Massachusetts were filled with patients on a waiting list for psych care, compared to 24% in western Mass. The MHA says one hospital reported 87% of emergency department beds in use for what's known as psych boarding in the past month.
Holding patients who need mental health care limits space for those who come in with chest pain, early signs of stroke, wounds and other common emergencies.
"This issue is one of the primary issues facing our hospitals right now," says Youmans.
Mental health boarding has pushed up wait times at ERs. Staff say more and more people give up and walk out.
"It has caused us to have tremendously high 'left without being seen' numbers," says Dr. Joe Tennyson, who runs the UMass Memorial emergency rooms in Leominster and Clinton, "because we can not get patients back into spaces to see them."
Staffing shortages are part of the boarding problem. Patients may wait a day for a psych evaluation, which is generally the first step in determining what they need and which programs would be a good fit.
The Baker administration has announced it will spend $136 million "to address critical workforce shortages in inpatient psychiatric facilities as well as across our human services provider sector."
Tennyson, who is on the board of the Massachusetts College of Emergency Physicians, says he's glad to get this statewide view, but it doesn't tell the whole story. What's missing is how long patients get stuck in ERs. Tennyson says one to two weeks is common. But he had an 18-year-old with autism who was boarded for five months and just found a placement. Tennyson says placing children and adolescents is still especially difficult.
"These are kids who are not seeing the light of day," he says. "Their movements and activities are restricted. Their educational efforts are limited to what we can provide safely. We're just doing a horrible disservice to the population."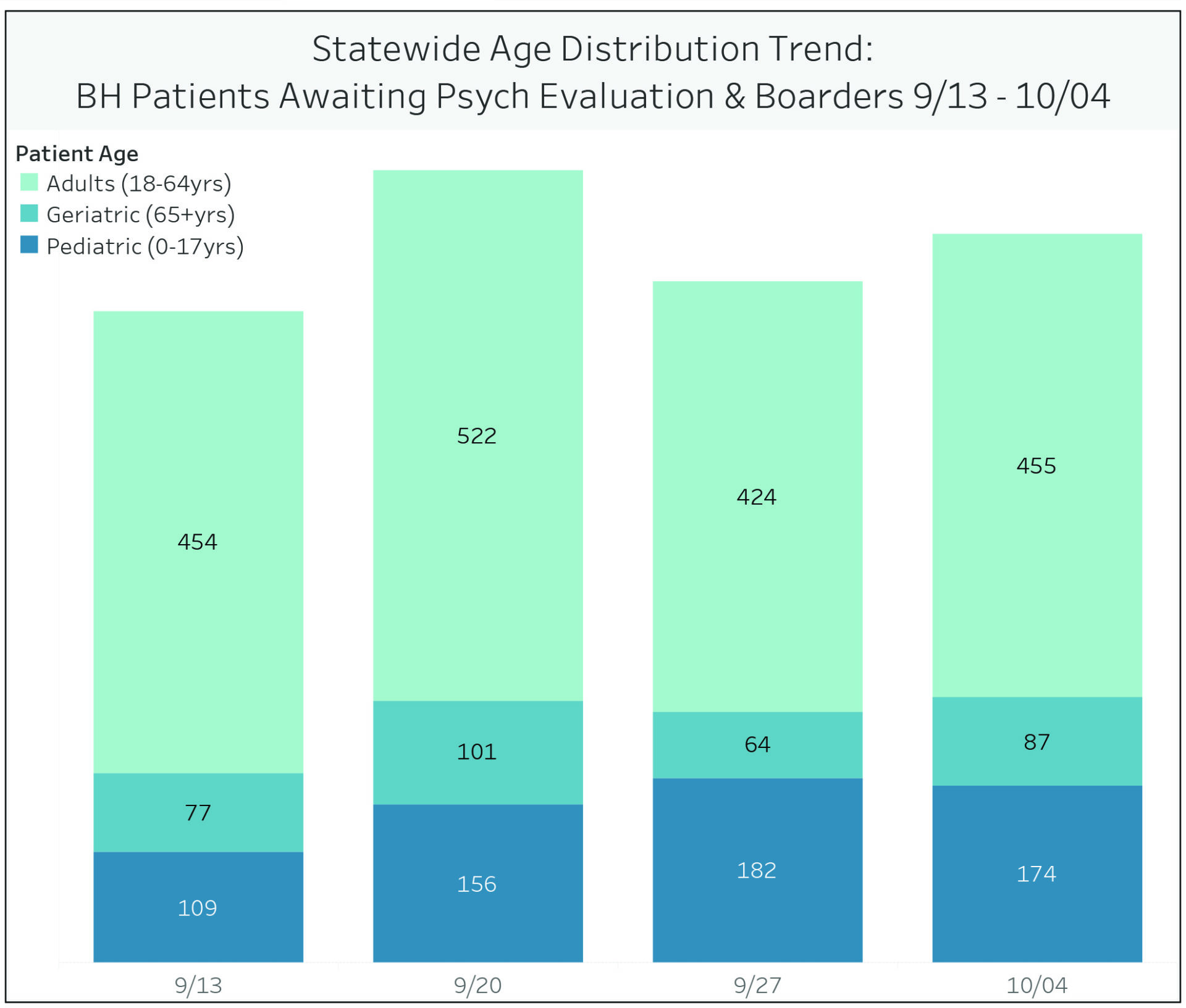 Some patients say boarding makes their anxiety, depression and other mental health problems worse. Lisa Lambert, executive director at the Parent/Professional Advocacy League, says adding data to the stories about patients languishing in ERs will illustrate the scope of the problem and help push needed changes.
"We wouldn't ask a heart patient or a cancer patient to sit in an emergency room and wait for days," says Lambert.
One reason for the difference is money. Hospitals say they lose money on mental health care. The Baker administration has boosted psychiatric reimbursement for patients covered by MassHealth. That's expected to help fund 300 new psych beds this year and next — only enough to help half of the children and adults boarding now.
But it's not clear if hospitals will be able to find the staff needed to open these beds. And there have been other setbacks. Cambridge Health Alliance had planned to add psych beds at its Somerville hospital by year's end but a water main break earlier this month is causing delays.
To reduce mental health boarding, the MHA recommends the creation of a trust fund to help boost staffing, a task force to look at reimbursement rates, changes to reduce insurance coverage denials and rules that would make it easier to expand mental health services.
The administration says it is working closely with the MHA and the Mass Association of Behavioral Health Systems on solutions to this perennial problem, including a state  plan which includes provisions to both expand preventative mental health care and to increase treatment at urgent care behavioral health clinics. Those centers could handle some emergency needs to avoid crowding hospital ERs.
Editor's note: A previous version of this story had an incorrect number in the headline. There are 716 people listed in the report. We regret the error.
This article was originally published on October 11, 2021.