Get a glimpse of GrubStreet's new literary center in Boston's Seaport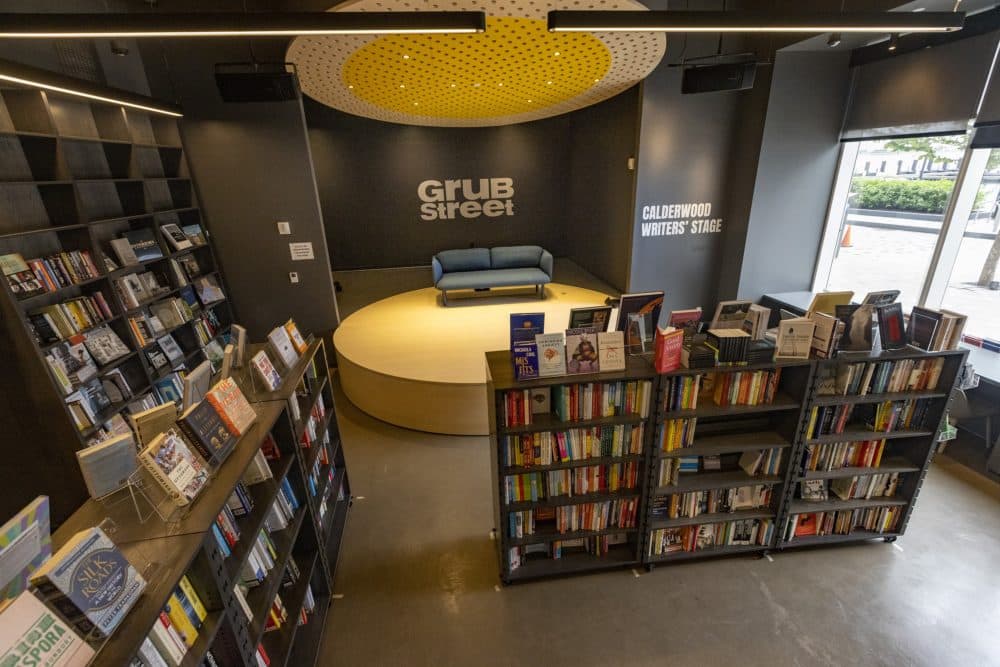 This article is more than 1 year old.
Enter writing center GrubStreet's new building at the Seaport, and you are greeted by the sight of colorful titles on display at a bookstore, on the ground level. Nearby, is a café that is still yet to open, but from the windows you can see the waterfront, speckled with boats. Head upstairs to see the space's iconic red typewriter, exhibited beside a sign that reads, "Grubbies, Invade Thy Seaport." There are classrooms that range in size, suitable for small seminars or a gathering of just a few. The nooks and crannies are ideal for writers who want to get together to work or just spend a few moments alone.
This is GrubStreet's new location. Originally based on Boylston Street, in the heart of Boston's Back Bay neighborhood, the incubator for creative writing has moved to the southeast side of the 50 Liberty Drive building, facing the marina and the Institute of Contemporary Art.
(The unveiling of the new center arrives as the organization is dealing with the fallout from a viral story about two writers who met at GrubStreet and for years have been engaged in a legal battle.)
GrubStreet is a writing center that offers workshops, seminars, consultations, and more to anyone who opts to use their services, with or without a membership. They also offer scholarships, to make their programs more accessible to the public. While GrubStreet will not hold an official opening, some classes are beginning to be held in person.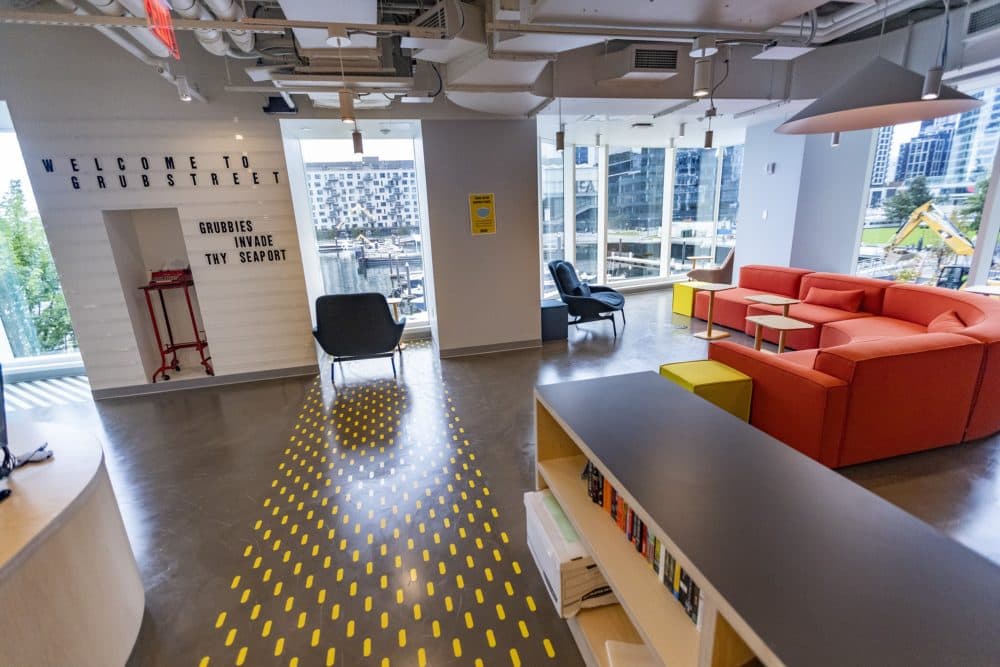 Executive Director Eve Bridburg said that while GrubStreet was facing mounting pressures in its former location, it became evident that change was necessary. "We're a mid-sized arts non-profit. In our history, we have moved probably every five to six years and have been increasingly worried about the rising cost of rent in Boston," said Bridburg. "Our building was sold, and the new owner made it clear that we were not going to have a home when our lease ran out." She added that GrubStreet had significantly grown, no longer being the "small, quaint, non-profit with a few people coming in and out" that it was before, and landlords were not as interested in housing them. "We really started to feel like, we need to either buy our own building or partner with another organization, or do something dramatically different, if we want to stay in Boston, which felt and feels really important to us."
Beginning in 2018, GrubStreet kicked off an $8 million capital campaign, which engaged over 300 individual people and foundations. Gifts ranged from $5 to $2.5 million. Some money came from the Massachusetts Cultural Facilities Fund, while the Calderwood Charitable Foundation gave the lead gift of $2.5 million. Bridburg anticipates that GrubStreet will be staying in the space at the Seaport for some time, as they have a 35 year lease.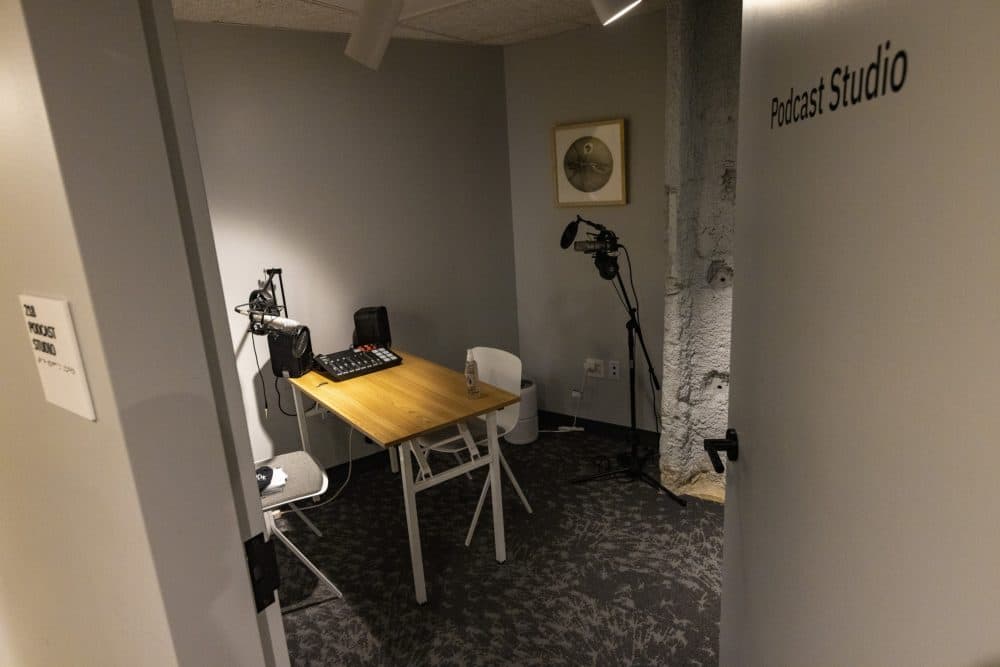 The building on Liberty Drive has a number of new features. The bookstore owned by Porter Square Books opened this month. Some bookcases are "Harry Potter" style, according to founder of Merge Architects Beth Whittaker, and can spin around to create more space. A new café will offer coffee, breakfast and lunch, and potentially wine and beer on tap. Bridburg said that the team at GrubStreet had envisioned having a cafe and bookstore for some time, to create a convivial a literary home for writers. The ground level features a performance space with a circular stage, accessible by a ramp, and it will be open for readings, and potentially film festivals. On the second floor, there are classrooms, a kitchen for staff and students to use, a podcast studio, a common area, and numerous hangout spots. While the upstairs space is reserved for students, instructors, and guests of GrubStreet, the cafe and bookstore will be open to the public. Whittaker said it was her intention to make the design look warm, accessible, and modern.
"Our work is always contemporary," said Whittaker. "We knew that they wanted to have this new, fresh space, but it was also very important that it felt like GrubStreet and their community, which is very down to earth, very diverse, natural. We looked at materials that felt very simple, like wood and concrete, and warm."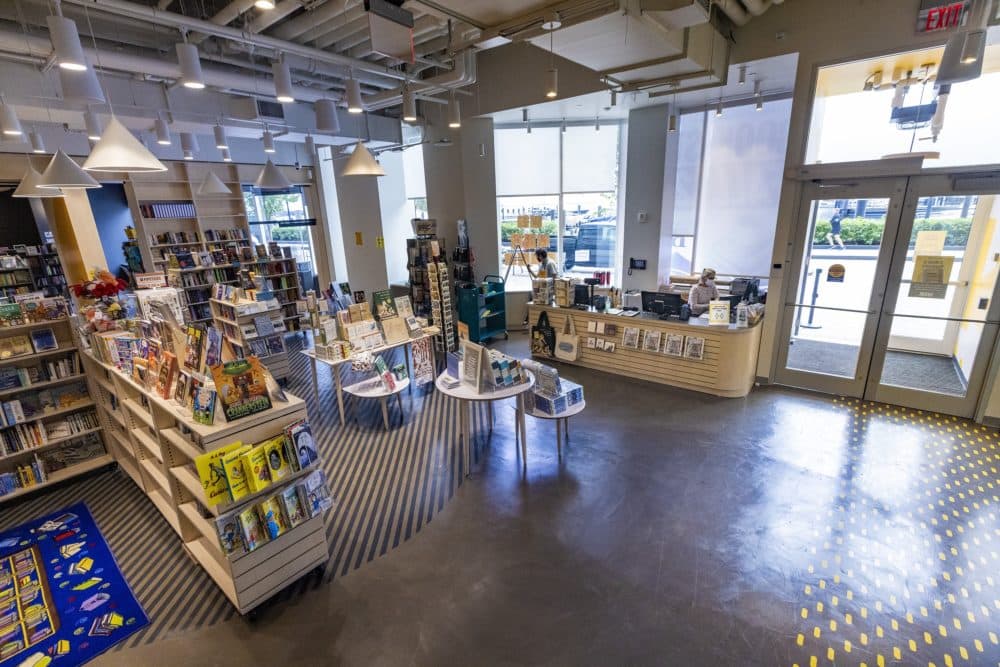 David Sandberg, owner of Porter Square Books, said that GrubStreet's mission of cutting through lines of race, ethnicity, and economics resonated with him, and he hopes that working together, they will foster a space that is supportive of people's creativity.  Literary performer, instructor, and board member Regie Gibson said that he admires the egalitarian approach of the center and hopes that it will continue to empower emerging writers.
"What GrubStreet does is it takes people who are novices, those who feel like they don't have a voice, and it takes them through finding the many voices that they actually do have, but also bringing them into a space where they can feel more confident in getting those voices out to other people," said Gibson. He added, "It allows for exchange of ideas through story, through narrative. And I think we need a lot more of that. I love the promotion of literary citizenship, the idea that there is a thing we owe one another. And one of the things we owe one another is to listen. So I appreciate that."
---
Editor's note: This story was updated at 7 p.m. Tuesday to include details on GrubStreet's announcement it is seeking an independent investigator to review events involving two writers connected to the center whose conflict went viral in a recent New York Times magazine story. 
This article was originally published on October 12, 2021.