Mass. teacher turnover was flat, but diversity increased during the pandemic
Massachusetts teachers largely stayed in their jobs during the early days of the COVID-19 pandemic, according to a new report. That analysis also revealed some surprising trends, like a significant increase in incoming teacher diversity.
Turnover during the 2019-2020 school year was just over 8%, which is in line with the state's five-year average, according to a recent teacher workforce analysis from the Wheelock Education Policy Center at Boston University. But researchers found that fewer teachers at schools serving high numbers of economically disadvantaged students left their jobs, a surprising break from the historical trend.
"These types of schools historically have had quite high levels of turnover," said Andrew Bacher-Hicks, an assistant professor of education policy at Boston University and one of the report's authors. "So it's particularly noteworthy that turnover decreased in these schools during the pandemic."

Bacher-Hicks was equally surprised to find that, in the fall of 2020, teachers with more experience working in affluent districts left the field in higher numbers than those with less experience in low-income communities.
"There might be important lessons to learn from schools that decreased turnover," said Bacher-Hicks. "Digging into what happened on the ground is an important thing to do moving forward."
Teacher diversity rates also continued a slow but steady upward trend. In the 2015-2016 school year about 7.6% of teachers identified as people of color. That increased to 13.8% by the 2020-2021 school year, which saw the highest year-over-year change.
The state's "emergency license" program may be one reason why diversity increased so much in the past year, researchers said. The program allows people with a bachelor's degree and "sound moral character" to temporarily qualify for a teaching license while state officials caught up on a pandemic-related backlog in their teaching license test administration.
Fifteen percent of the teachers hired in the 2020-2021 school year held an emergency license. And among emergency license holders, about 30% were people of color, a significantly higher rate than the state's overall teacher workforce. Currently, about 8% of Massachusetts teachers are Black, Indigenous, Latinx or Asian.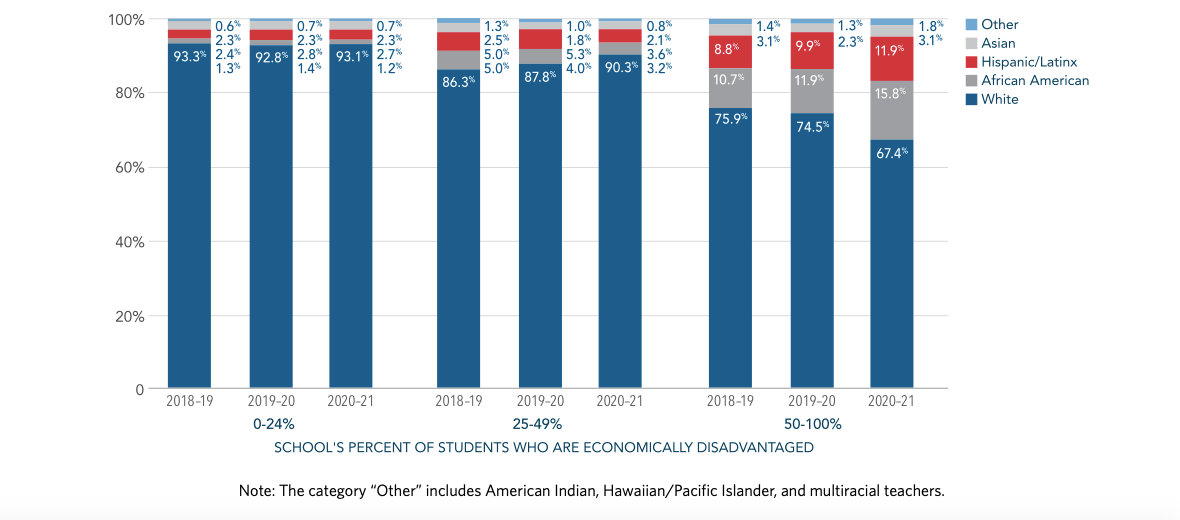 "This study suggests that removing some of those barriers may have increased the diversity of the newly hired teaching workforce in Massachusetts," said Bacher-Hicks. It's too early to tell if these shifts will continue long-term, he said, but examining why they emerged could still provide meaningful insight.