Huntington's 'Witch' asks how we're shaped by our desires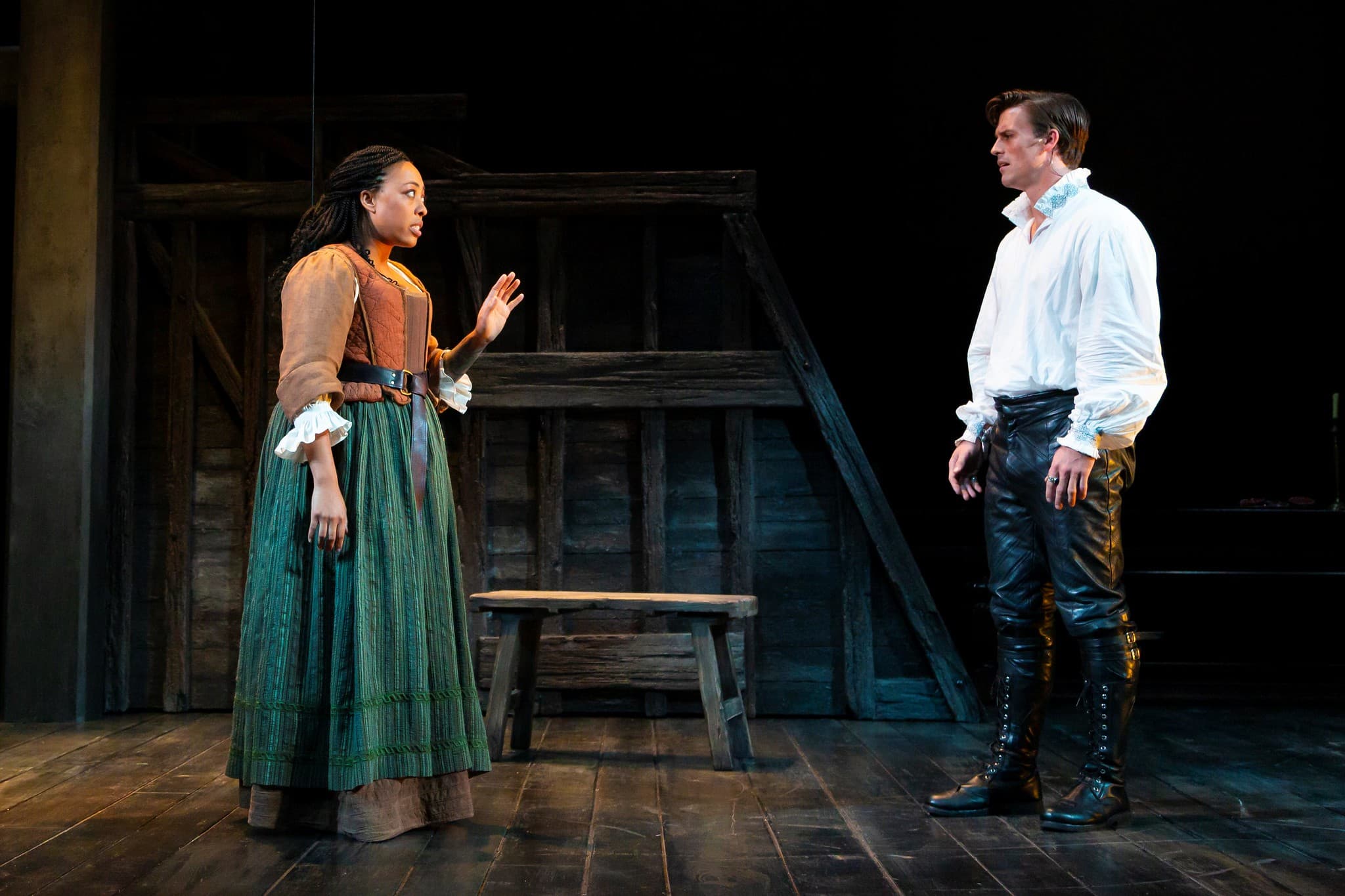 This article is more than 1 year old.
Faced with the opportunity to gain power, status and money, peasant Frank Thorney won't let anything get in his way as he ascends, not even his love for his secret wife, Winnifred, in Huntington Theater's "Witch." Somehow, "It [love] matters less than it should," he says.
The entertaining Jen Silverman narrative (running now through Nov. 14) is an adaptation of "The Witch of Edmonton" and focuses on the complicated relationship between Elizabeth Sawyer (Lyndsay Allyn Cox), the neighborhood outcast, and Scratch (Michael Underhill), a leather-clad devil. The two are natural talents with an onstage chemistry that's fun to watch.
Though the sell-your-soul-to-the devil-for-your-heart's-desires trope is one that's often explored, in Silverman's take, it's easy to see how proximity to what one deems important can be a corruptive force. And typically, getting what you want doesn't fix what's truly broken.
Directed by Rebecca Bradshaw, the dark comedy set in a rural village called Edmonton forgoes Shakespearean dialogue for contemporary vernacular. It tackles ambition, gender norms and more through the stories of several characters. Overall, the play dives into what drives people's decisions and the ensuing consequences. But really, it asks audiences to think more broadly about whether our choices, no matter how varied, might lead to the same end.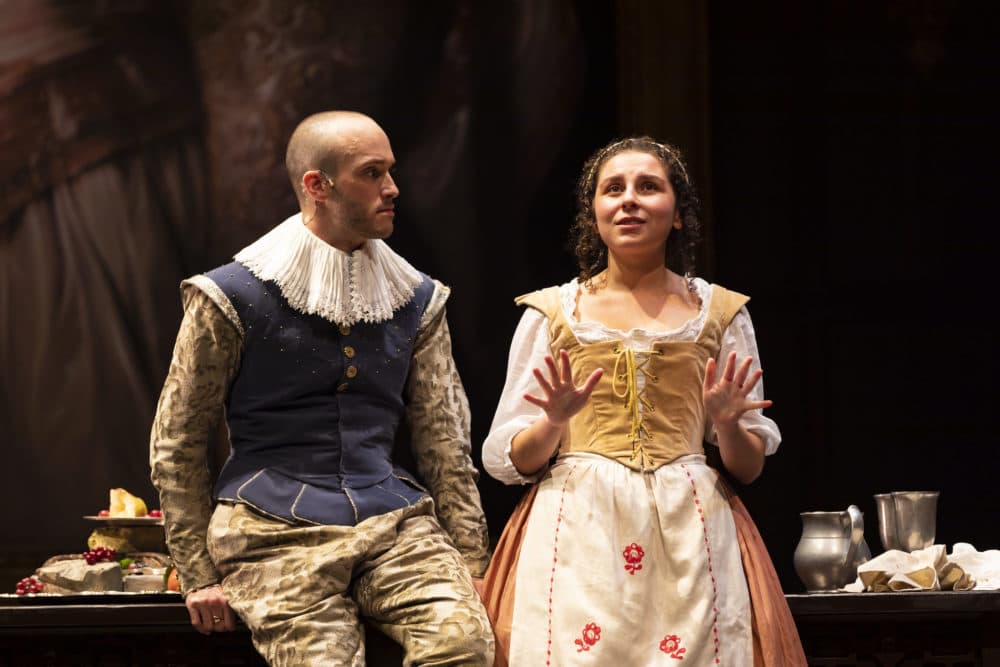 In a 2019 interview, Silverman shared that "dark comedy is the only way I know how to mine grief." In "Witch," there's plenty of grief to go around. Cox's Elizabeth has been deemed a witch after a fall from grace, Winnifred became a servant to be closer to Frank, who found his way into the heart and castle of Sir Arthur, a wealthy widower, while Cuddy, Sir Arthur's son expertly played by Nick Sulfaro, pines for Frank's love while simultaneously wishing him dead.
Though the story isn't particularly moving as a whole, it's well-acted and funny, with a few moments of more sobering beauty. For instance, after hanging around for a while, Scratch finally learns why Elizabeth's not interested in giving in to him.
"There are so many times in which I'm right here. I'm right here, and people look through me like I'm empty air. There are so many times in which I say something, and people act like they didn't hear me. Or they mishear me, purposefully," Elizabeth explains. "…The thing that makes people so uncomfortable, the thing they don't want to look too closely at, the thing they don't want to listen to – what if that thing is my soul, and then I give it away? And then they win?"
In another scene, Barzin Akhavan's Sir Arthur gives a heart-wrenching speech about his son and how the world doesn't take kindly to men who are gentle.
"If I let him be gentle, he'll just be hurt by someone down the line. Nobody trusts boys who are gentle. It brings out everybody's hidden cruelty. So, I tell him: be tough, be tough, and I watch this sort of blunt thing grow in his eyes like he's disappointed in how I am."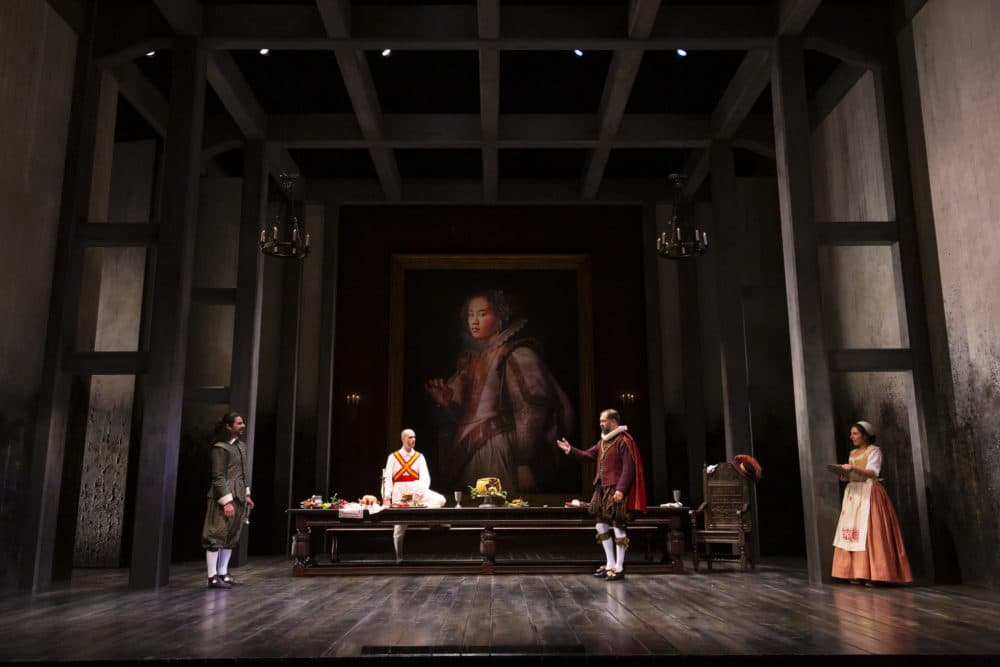 Moving from Elizabeth's austere cabin to a pub, and later Sir Arthur's castle, the play features remarkable period costumes and set design by Chelsea Kerl and Luciana Stecconi, respectively. The actors don plumed hats, exquisite collars, and detailed puffy breeches. The castle's dining room has flickering candle-lit chandeliers, wall sconces and candelabras on the long dining table covered with a bounty of food. An oversized portrait of Cuddy's late mother hangs on one large wood wall that seems to hover over the small group.
It's fitting that Bradshaw, whose work is motivated by the choices people make, was at the helm of this production. The show finds some characters transforming unexpectedly when tempted, and others who choose more of the same.
At one point, Frank asks Cuddy a silly question to which he replies, "Have you met me?"
I left the theater wondering if we only ever meet our true selves when our dreams seem like they might become a reality.
The Huntington Theater's "Witch," runs now through Nov. 14 at the Calderwood Pavilion. Theatergoers must show proof of vaccination or a negative COVID test and wear masks.