Chelsea's Día de los Muertos festival helps remember those who we've lost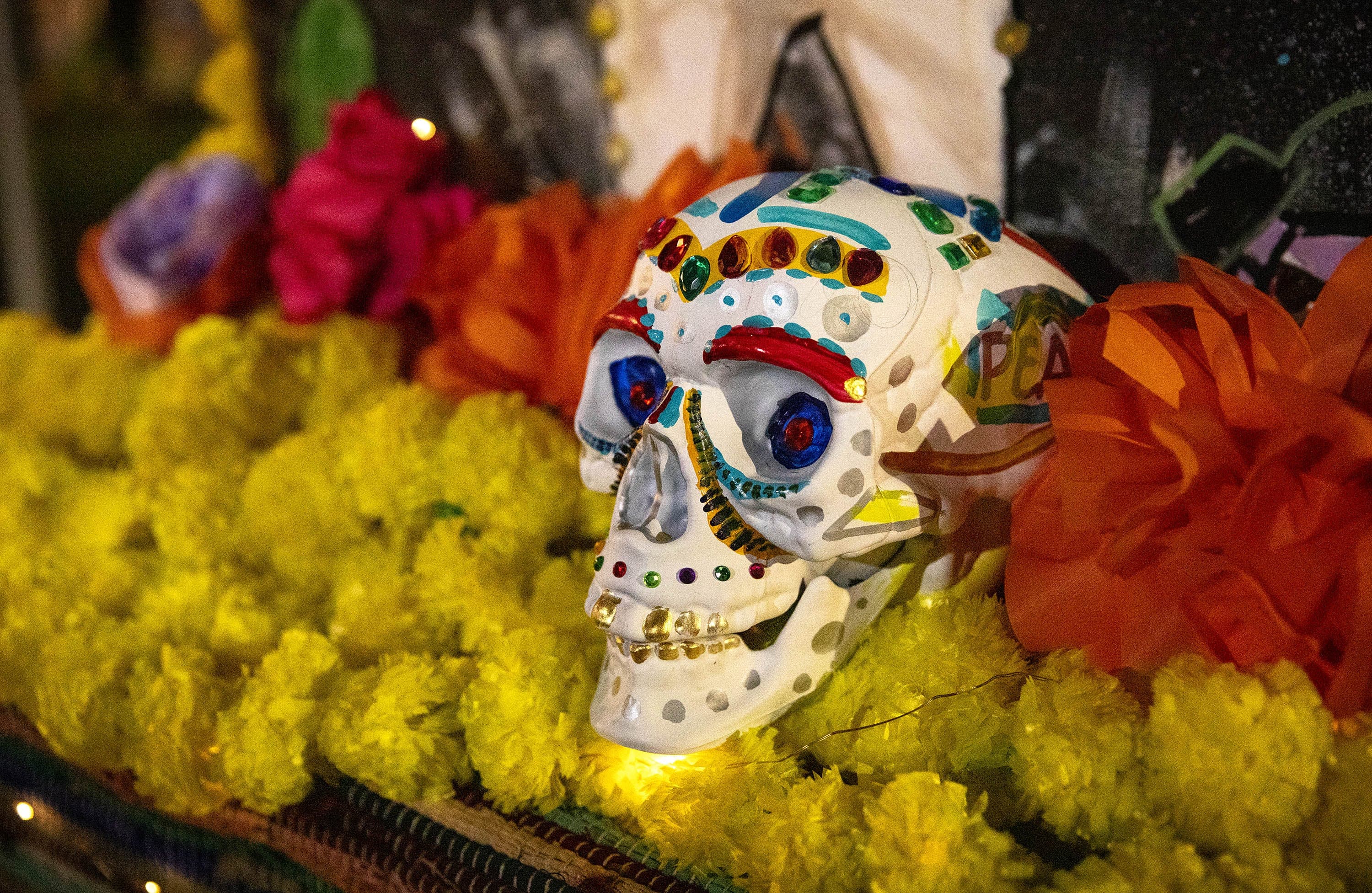 This article is more than 1 year old.
Veronica Robles grew up in Mexico City where she celebrated Día de los Muertos with her family each year. Her widowed grandmother, who had 12 children, gathered around the ofrenda, an offering made on a home altar, and shared stories of her late husband.
Robles' family remembered her grandfather through vivid anecdotes.
"So I grew up thinking that I met him, although I never saw him in person. I have memories of him because they were told every year. " she says.
Robles is a Mexican mariachi singer and founder of Veronica Robles Cultural Center in East Boston — a place for the Latino community to engage in cultural activities including dance, music and acting. She likes to think of herself as a keeper of rituals and traditions. But she confesses not knowing how to approach the Day of the Dead tradition the year after her daughter's death.
Her daughter, Kithzia, died unexpectedly at age 18 in 2008, shortly after moving away for dance school in Ohio.
Eventually, Robles re-embraced the longstanding tradition of celebrating the dead, although it was a difficult emotional decision following her daughter's death. The hardest part for Robles was looking through her daughter's belongings to pick out items for the altar.
"This is the moment that you have to really embrace death and understand that the people that were here, are still here in your heart and in your minds, in your memories," she says.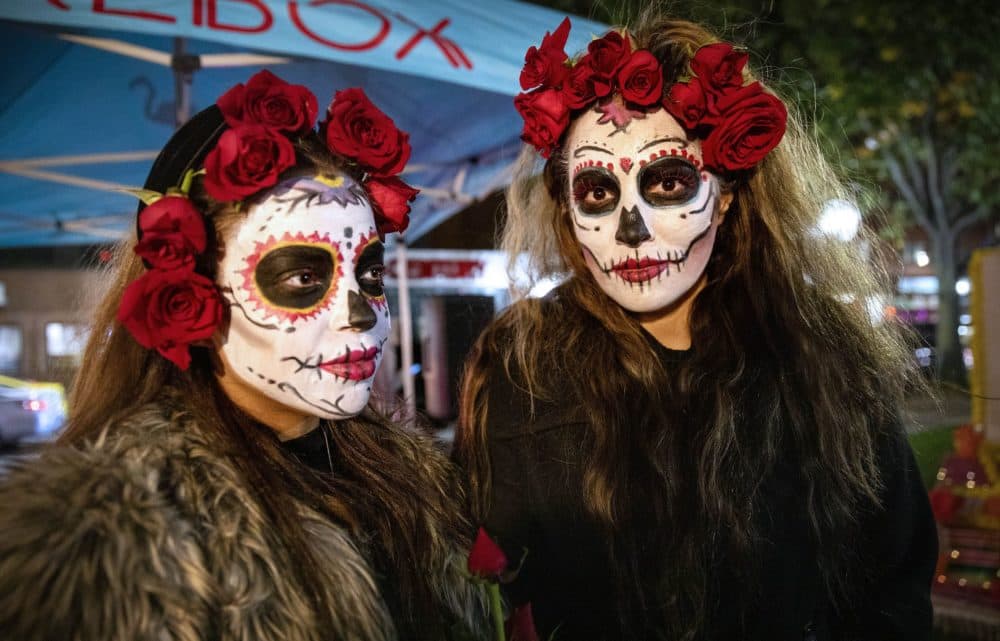 Día de los Muertos is a holiday rooted in Aztec culture. It's celebrated on Nov. 1 and 2 by creating altars at home, or going to cemeteries to bring ofrendas to loved ones who have passed as a symbol of remembrance.
On Friday evening, tents covered the lawn of Chelsea Square for a Día de los Muertos event that drew 80 people. Organizer Edwardo Chacon of Jukebox event management attended a large Day of the Dead celebration when he lived in Los Angeles, which he wanted to bring to life in his hometown of Chelsea. "We Latinos need to make sure that we create an event around this celebration so that it stays true to its tradition and it's roots," Chacon says.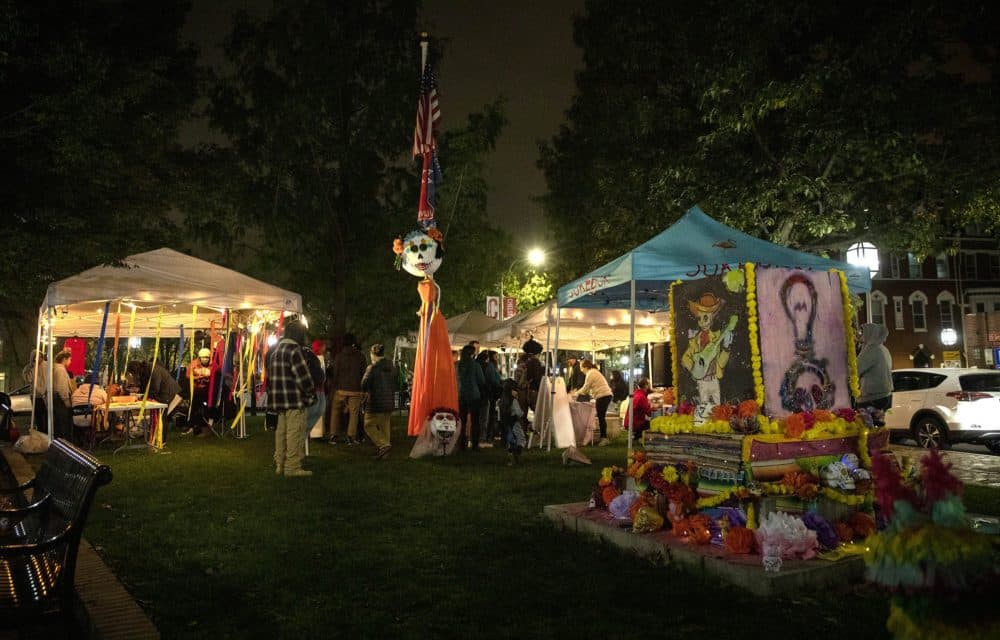 Loss permeated the Chelsea community during COVID-19. "Many residents got sick and lost their jobs. At one point we were the center of the epidemic in Massachusetts," Chacon says.
The pandemic forced isolation and social distancing, and kept people apart. "There were lives that were lost in Chelsea due to COVID-19 and unfortunately while it was happening, no one could really get together to support and mourn with those who lost a loved one," Chacon says.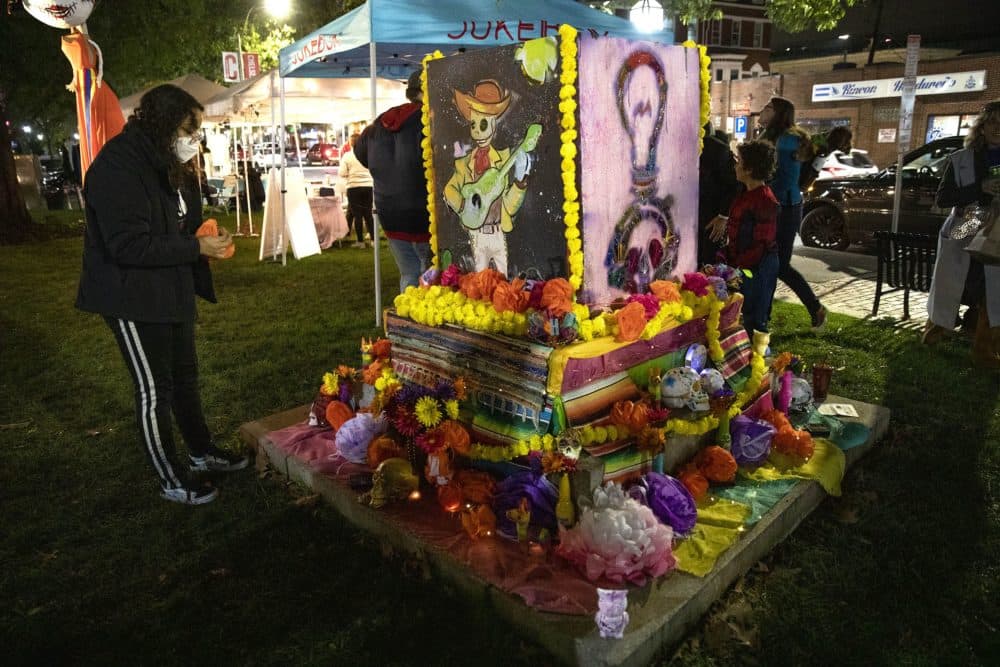 For the event, artist Max Pro (whose given name is Max Corona) created a large ofrenda on the lawn of Chelsea Square. The altar provided a space for people to place their offerings to honor the dead. Pro, who's the founder of Bad Idea Designs, another organizer of the event, came to remember his grandfather. "I have a deep connection with Chelsea and for me to be here and doing all this--It means a lot to me because my grandfather came here in the 1970s from Cuba during the revolution," he says.
Pro adorned the ofrenda with painted Corona beer bottles holding flowers, string lights and vibrant hand-painted calaveras (skulls). Paper flowers in varying colors and sizes rested on three layers. The smallest yellow flowers represented the traditional marigold flowers typically used during Día de los Muertos.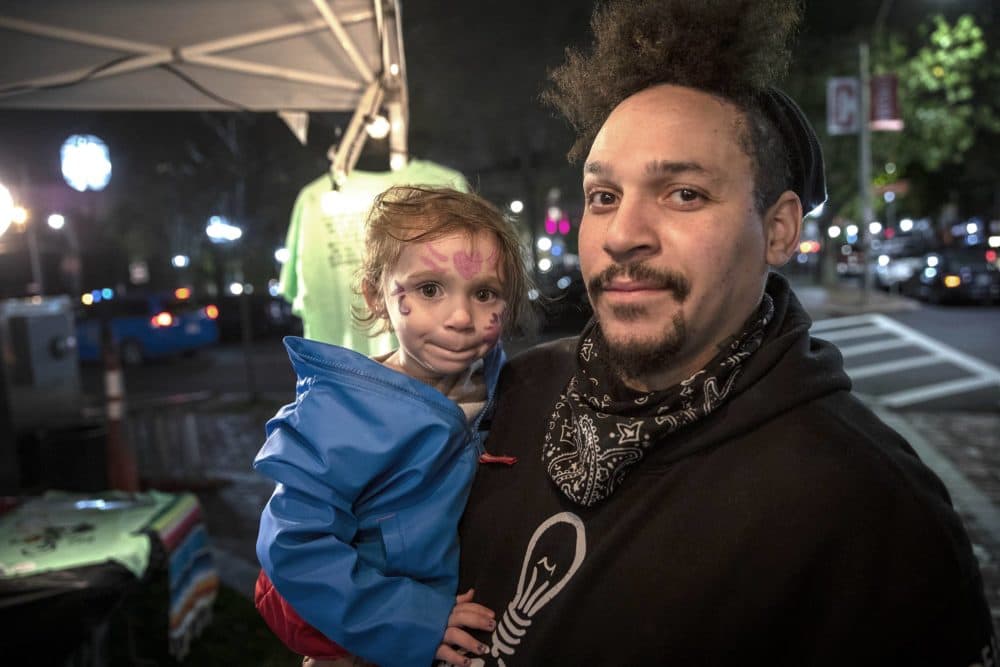 As attendees walked among a face painting station, food stands and DJ table, an orange fabric fluttered swiftly with the cold breeze. A sculpture created by Robles of papier-mache and cardboard, called a cartoneria, honors her daughter and other loved ones. Robles festooned the sculpture with ribbons, and invited people to write messages to the deceased. The calavera peers over passersby with a wide smile, red lipstick and blue and orange flowers crowning her hair of black string.
Robles wanted to honor her daughter this year by taking her somewhere where she'd be seen. "She loved being seen. She liked to call attention," she says.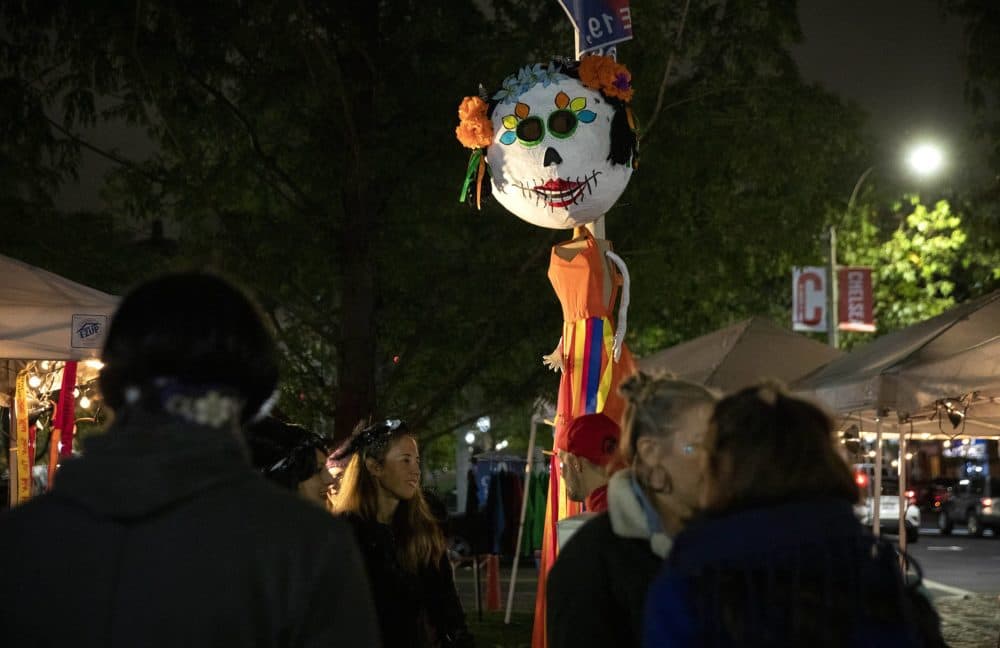 Her remembrance of her daughter doesn't end there.
Robles pulls up a photo of her decorated altar in a corner of her home. The pictures adorning the ofrenda include ones of her daughter, her mama Coco, her grandmother, grandfather and great-grandfather.
She placed salt and water believed to guide the spirits back to the altar, fruits to represent the elements of the earth, and pan de muerto that represents generosity, according to Robles.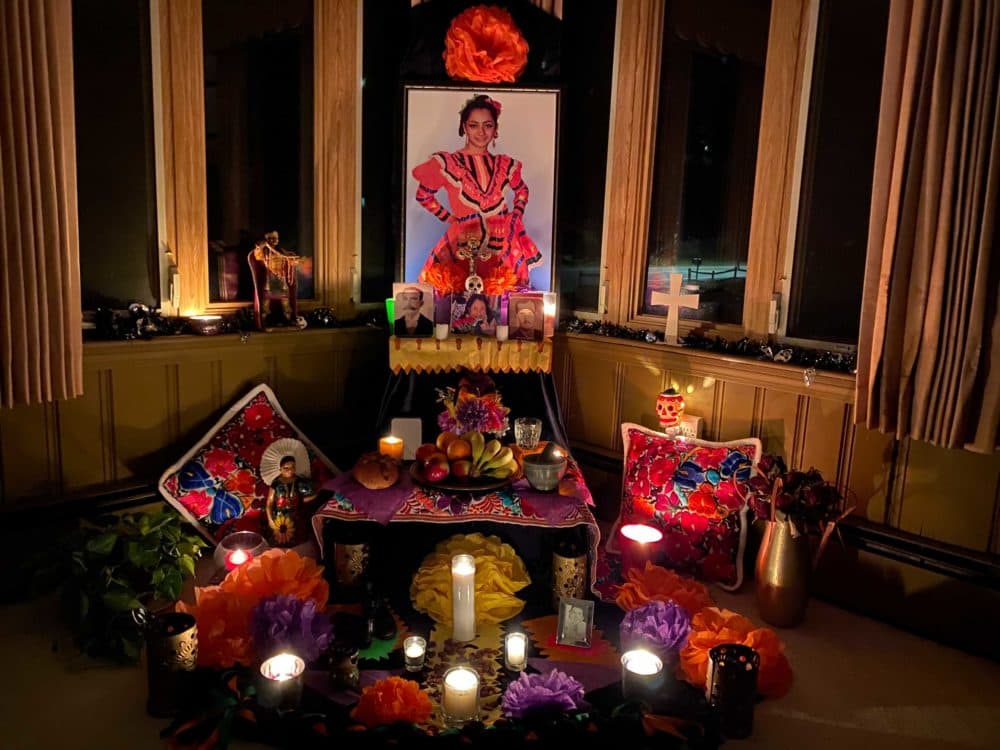 Robles propped up a small mirror since her daughter loved to look at herself, her dance shoes, and the piece of gum that she had in her pocket on the day she passed away. These are items she puts up every year.
Through stories and the sculpture, Robles hopes people will know more about Kithzia, who had a strong character, a deep love for folkloric dance and an ear for Cuban music.
In the past, Robles has been uneasy sharing the story of her daughter's death, but she feels more comfortable talking about her during Día de los Muertos.
"I'd like to think that her spirit must be dancing around somewhere," she says.