Hospitals and nursing homes frustrated by ambulance staffing shortage
Add ambulance operators to the growing list of companies having trouble finding workers.
The Massachusetts Ambulance Association estimates the number of staffed vehicles has declined by more than a third since 2015, with the decline accelerating during the pandemic. Most other states are facing a similar decline.
The "nation's EMS system is facing a crippling workforce shortage," the American Ambulance Association told Congress in October.
The shortage is affecting patients across the country. Some remain in the hospital for an extra day waiting for a ride to a rehab facility. Nursing home residents are missing cancer treatment and MRI appointments. And patients who need specialized care are sometimes stuck waiting for a lift in community hospitals.
Emergency medical technicians and paramedics have served on the front lines of the pandemic for almost two years. But some have left the profession due to exhaustion, low wages or better opportunities elsewhere.
The starting wage for an EMT ranged from $14 to $16 an hour at private ambulance companies in Massachusetts until just a few months ago. That's since increased by about $2 per hour as reimbursement rates rise. But Dennis Cataldo, president of the state's ambulance association, said the pay remains low, given the stress and risk of the job.
"I don't think the wages are anywhere commensurate with the responsibilities of the job," he said. Cataldo noted that some retail and warehouse positions pay higher starting salaries.
In addition, some training programs for ambulance staff shut down during the pandemic, so the pipeline of replacements dried up. Cataldo says applications are rising again. And the industry is seeking additional federal relief funds to increase wages and training, but such assistance would be months away.
As of now, Cataldo said the shortage is having only a slight impact on the time it takes to respond to 911 calls. He said ambulance companies have adjusted their shifts to make sure emergencies are covered. But the ambulance shortage has created ripple effects throughout the healthcare industry.
Ambulances that arrive at hospital emergency rooms must sometimes wait for an hour or more to discharge patients. That's partly because hospitals are filled with patients who are waiting for rides to another facility, such as a rehab center or psychiatric hospital.
"Lack of resources create a lack of efficiency," Cataldo said.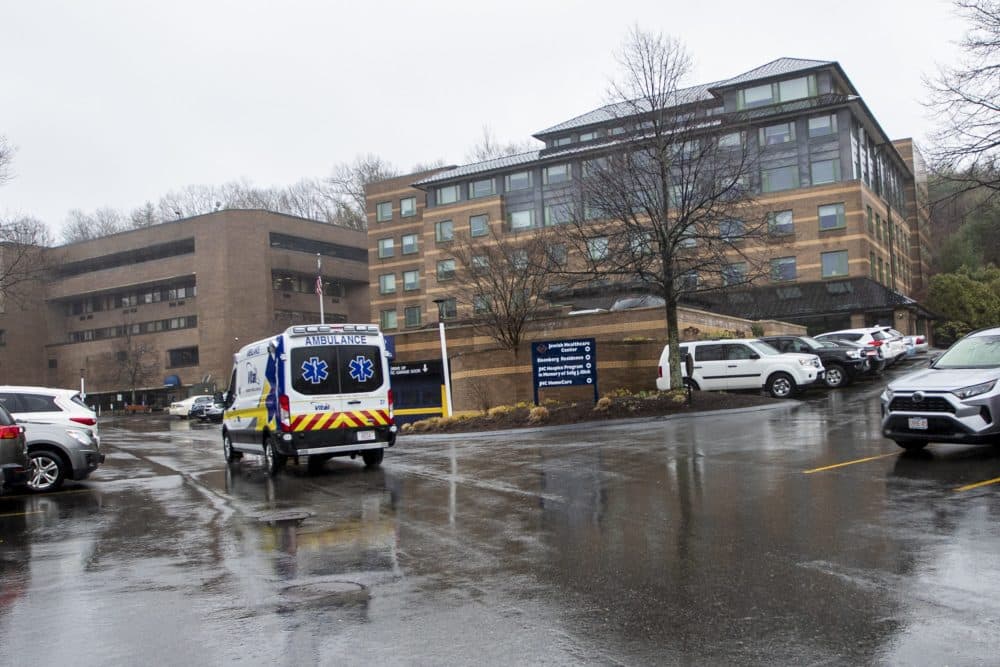 Emily Dulong, vice president of government advocacy and public policy for the  Massachusetts Health and Hospital Association said the ambulance shortage is part of the reason hospitals are so crowded right now
"It's been extraordinarily difficult," she says, "It wasn't easy pre- pandemic, but this is one of those situations, similar to what we've seen in behavioral health, has just been only exacerbated by the pandemic."
The Executive Office of Health and Human Services has tried to ease the ambulance backlog in Massachusetts by allowing operators to staff vehicles with just one trained medical worker, plus a driver, rather than the usual two.
And earlier month, the state Office of Emergency Medical Services asked fire departments, which have long provided emergency medical aid and transportation, to help hospitals and nursing homes with other types of rides.
In fact, some hospitals and nursing homes had already been calling local fire stations for assistance. Michael Winn, president of the Fire Chiefs Association of Massachusetts, said members want to help, but are worried about not being able to respond to emergencies while providing less urgent transportation.
"A fire department's responsibility is to provide life-saving efforts for the community," Winn said.
Richard MacKinnon Jr., president of the Professional Fire Fighters of Massachusetts, also said fire departments can't replace private ambulances. He said his members aren't trained to use some of the equipment, such as IV pumps and breathing ventilators, needed to transfer patients from one facility to another. And fire departments have had trouble recruiting medical professionals, said Winn of the chiefs association.
In the meantime, hospitals and nursing homes are frantically searching for alternatives.
Anthony Franchi, who runs the Ellis Rehabilitation and Nursing Center in Norwood, plans to try using a van service to take patients who use wheelchairs to medical appointments.
But the service is more limited than traditional ambulances. The van drivers will drop patients off, but won't wheel them to their appointments. So Franchi will have to assign a staff member do that or ask family members to pitch in.
"It's much more of a challenge for us, that's for sure," said Franchi, who noted his facility is also having trouble hiring workers.
Franchi has seen the consequences of the ambulance shortage first hand.
He couldn't arrange rides for one resident to dialysis. So the man had to move to another facility closer to the dialysis center
"The family wasn't happy and we weren't happy either," Franchi said.
Industry officials warn that all of the missed routine appointments for other patients in nursing homes or rehab centers could potentially increase the odds they will need to be hospitalized later and continue the cycle of overcrowding.