Meet Raquel Coronell, the first Latina to run the Harvard Crimson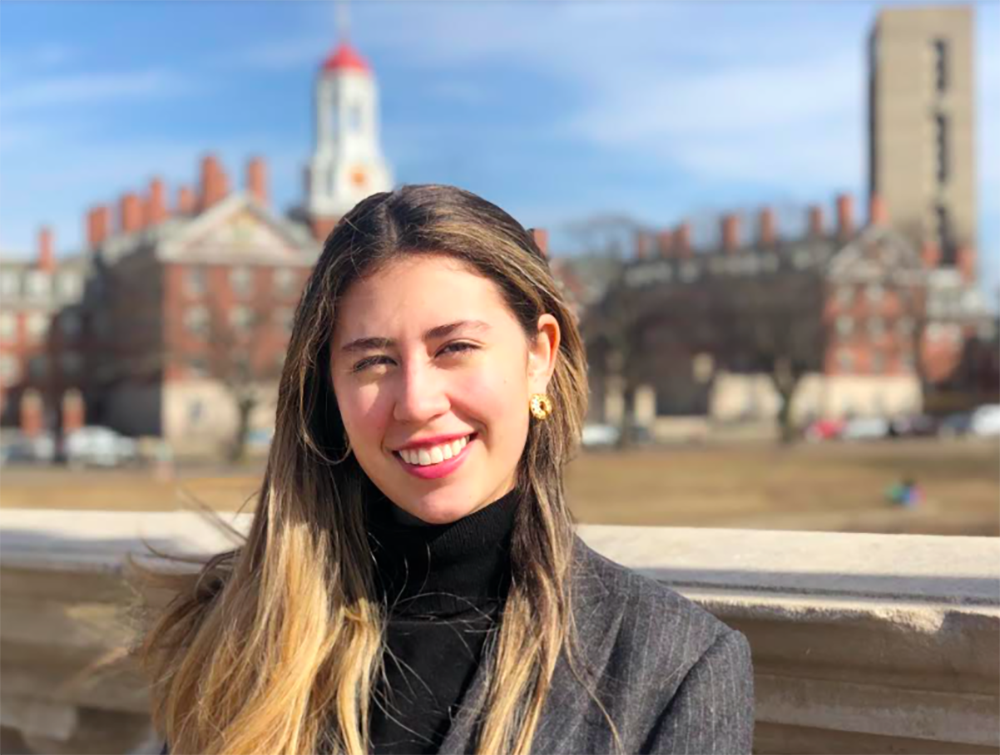 This article is more than 1 year old.
This story originally appeared in Spanish on El Planeta.
At just 7 years old, Raquel Coronell came to the United States without speaking any English. She left behind daily walks with her grandmother in the gardens of Bogotá, where she was born and spent the first part of her childhood. The incoming president of the Harvard Crimson was forced to flee to Palo Alto, California, after her family received serious death threats in her native Colombia.
"My parents are both journalists, and an investigation my father carried out resulted in threats against our family. The Committee to Protect Journalists pulled us out overnight and saved our lives," Coronell said of her sudden move to the United States.
She is the eldest daughter of Daniel Coronell, former president of Univision Noticias, and María Cristina Uribe, the former anchor of Noticias Uno. The newsroom in which they both worked uncovered allegations of corruption connected to former Colombian president Álvaro Uribe, leading to a continuous campaign of intimidation.
Forced to adapt to a new reality and far from everything she knew, Coronell quickly learned English and created new friendships. Soon her teachers started to notice her curiosity and level of preparation before every class.
"I arrived with all the readings done and ready to discuss because it fascinated me. I've always been fascinated by literature," she said.
Although she now lives between Cambridge and Miami, she keeps close Colombian giants of literature and journalism. The first one she names is Guillermo Cano, known for his important investigations into drug trafficking, which led to his assassination in 1986. But the journalist she follows with most admiration is her father, whom she has seen work in a newsroom since she was born.
During the pandemic, father and daughter worked together on a documentary podcast.
"I would like to have his work ethic and his way of investigating; I admire it so much," she said. "To see him research, for me, is fascinating."
Although it seems that journalism has always been in Coronell's life, it was not always like that.
An unexpected battle
The year she celebrated her 16th birthday, Coronell received heartbreaking news.
"I was diagnosed with leukemia, and I went through almost three years of treatment; fortunately, today I am very well, but that was a challenging moment in my life that changed many things for me," she said.
While battling the disease, Coronell and a childhood friend started a project called Bald is Beautiful, dedicated to raising funds to buy bald American dolls and give them to girls undergoing chemotherapy treatments.
"By helping others, I was able to help myself too, trying to focus on something outside of my own treatment and my own … without wanting to sound dramatic, my own suffering. It helped me a lot to move forward," Coronell said.
Although she never put aside her curiosity or desire to ask questions, this new reality took her away from journalism. Coronell decided to study medicine to heal others like her.
"When I got to university and started taking pre-med classes, I found them very interesting, but I decided to take a class on constitutional law, which made it clear to me that my thing was to write and argue," she said.
In spite of changing her focus, the goal remained the same: to help others. That desire prompted this History and Literature major to join the Crimson as a reporter, telling stories that analyze and bring accountability to the behavior of Harvard University's police force.
A new chapter at the Crimson
The first time Coronell entered the Crimson's offices, she felt that it was home.
"I remember seeing the newsroom and immediately feeling like: 'well, this is my place, I have to be here,' " she said. "And I decided right then that I was going to join the newspaper."
On that open day, during her second year at Harvard, Coronell met Alexandra Chaidez, a Latina editor at the newspaper.
"I remember well what she said: that it was like a second home for her," Coronell said. "And I thought I wanted to feel like that one day."
Soon after, she joined the Harvard Crimson as a reporter, not even fantasizing about the idea of a leadership position.
Founded in 1873, the Crimson is Harvard University's student newspaper and one of the most prestigious in the United States. It's run independently by students. The roster of former members includes presidents John F. Kennedy and Franklin D. Roosevelt; current Secretary of Transportation Pete Buttigieg; and many influential figures in the media. It's a legacy mostly dominated by privileged white men, with a profile quite different from that of Coronell.
"I doubted if I was going to be able to do it, if I was going to be successful. But this was my last chance to pursue a leadership position. And so I decided to give it a try," she said.
The Crimson elects its leadership through a process called the Turkey Shoot. To be elected president, Coronell had to receive at least 75% of the vote.
"The selection process is quite hard and long; it's like a marathon," she said. "You really have no idea how you're doing ... I didn't think I was going to win."
By the time Amanda Y. Su, the current president, called her, Coronell was ready to accept defeat. However, that moment never came. Confused and incredulous at the same time, she quickly called her family to tell them the news, which she still didn't believe herself.
"I think she has everything going for her to do a very good job at the Crimson," said her mother, María Cristina Uribe. "The most important thing is her willingness to pave the way for those, who like her, strive to change what seems unchangeable."
The first Latina president but not the last
Although the first time she stepped on the newsroom she couldn't imagine that one day she would lead it, Coronell has a very clear vision for the future of the publication.
"I want to make the newspaper a place where Hispanics, regardless of their origin, can have a leadership position and make important decisions that have consequences," she said.
Diversity and inclusion will be two of her top priorities when she takes office on January 1, 2022.
According to a study published in September by a U.S. General Accountability Office, Hispanic account for just 12% of media professionals, compared to 18% of workers in other industries. The analysis also shows that, in recent years, there was little increase in the overall representation of Hispanics in the media industry.
Coronell wants to be the Crimson's first Latina president, but not the last.
"I hope [my appointment] sends the message that Latinos have the same right to be here as everyone else," she said. "That the universities and the organizations in this country are ours as well. We have a voice and ... we have every right to be here, to aspire to the same positions."
However, not everyone who graduates from the Crimson pursues a career exclusively in the media. Coronell wants to study at Harvard Law School, and plans to follow a path similar to that of Ana Bejarano Ricaurte, a Colombian lawyer and columnist for Los Danieles.
"I think she is an example of what I might want to do one day because she is a lawyer and knows the law very well, but she also does journalism, and that seems impressive to me," Coronell said.
With less than a month to go until she becomes Crimson president, Coronell feels that this is an opportunity she does not want to waste. As she did as a child, she leaves nothing to chance and is preparing for this new stage.
"I know that there are many people who have sat in this chair who have been very important to the history of this country and who have made the Crimson what it is today," she said. "I hope I can live up to them ... but at the same time, I also want to contribute something to the newspaper, and leave it a little better than I found it."