Omicron variant arrives in Massachusetts as demand for boosters puts new pressure on clinicians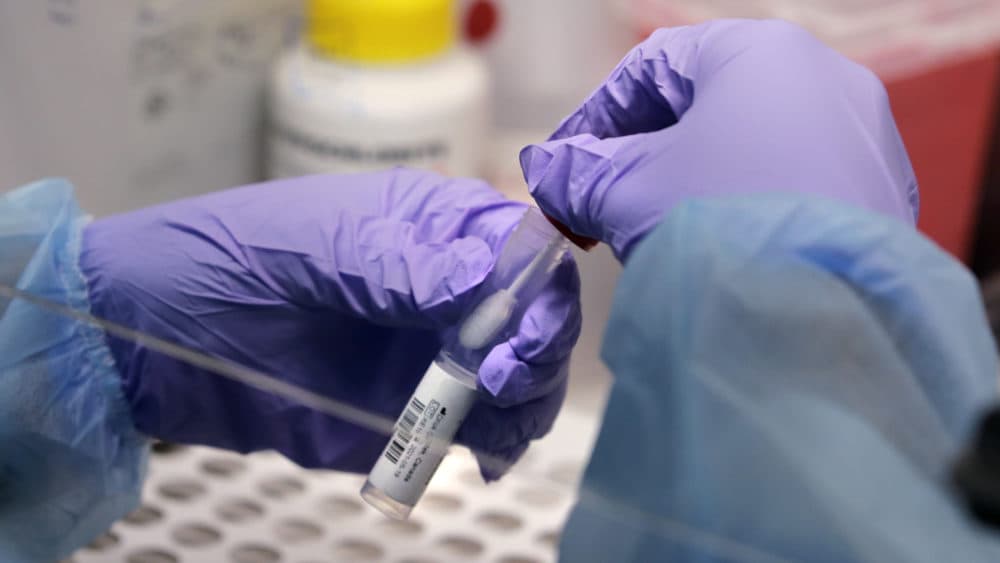 The omicron variant is here in Massachusetts.
The state's Department of Public Health says it was detected in a fully vaccinated woman in her 20s who lives in Middlesex County. The department said the woman, who had traveled out of state, had a mild case of COVID-19 that did not require hospitalization.
It's only the first confirmed case of the variant in the commonwealth, but, amid global discussion of omicron, demand for boosters in Massachusetts is sky high. So high, that staff at a walk-in vaccine clinic run by Tufts Medical Center are starting to set boundaries.
"It's becoming so overwhelming toward the end of the day that we're having to close our facilities just to allow our staff to go home at the end of the night because people are just lining up in droves," said Nick Duncan, director of operations and emergency management for Tufts.
Duncan says there's been a three to four fold increase in demand for booster shots at the walk-in clinic in the last three weeks. The facility has the capacity to vaccinate 600 to 650 people, but it's been stretching resources and serving roughly 700 people a day lately.
"Our staff has definitely stepped up, but you can start to see the stress and anxiety of the team [that is] day-in and day-out being pushed to the max to continue to administer as many boosters as safely as we can," said Duncan.
In the last week, roughly 141,000 people have gotten their booster shots in Massachusetts. That's up from roughly 129,000 during the last week of October.
Clinicians at UMass Memorial's mobile vaccine clinic are also feeling the pressure.
Dr. John Broach has been running the clinic since February. The program delivers vaccines and boosters to people in underserved areas of the state who otherwise would have difficulty accessing the shots.
"I think just people understand that although we're all tired, that the mission is really important, and that they have an important role to play in it," said Broach. "Patients we admit to the ICU are almost always patients who have not been vaccinated and patients who lose their lives are almost always those who have not been vaccinated."
It's a mission that clinicians at Southcoast Health know well. Dr. Dani Hackner, chief clinical officer, says his staff is seeing an increased demand for boosters at its three vaccine clinics in Fall River, Wareham and Dartmouth.
He says the challenge is balancing how to get boosters to those who want them and how to convince the large, unvaccinated population in the region to receive first shots.
"We've been through a number of waves and also dealt with disproportionate under-vaccination in our region," said Hackner. "So you can see that folks are visibly tired, and some will even say that. Our response to that is to really support staff where they are."
Clinicians at Somerville's Cambridge Health Alliance vaccine clinic are also working long days to accommodate the recent demand for shots.
Dr. Jessamyn Blau says upward of 1,200 people a day are coming through the clinic. That's up from the 300 to 400 people a day earlier this fall.
But, compared to when the first vaccines became available in the spring, there's something different in the air as people receive their booster shots, says Blau.
"I think it's more complicated because ... back in April when people were getting their first shots ... part of the joy was that it felt like it might be the beginning of the end, and boosters don't quite feel the same," said Blau. "And with news of new variants, I just think we have a lot more information about how complicated this all is at this point."
Blau says the focus on boosters is a "somewhat zero sum game" when so much of the world, and parts of Massachusetts, remain unvaccinated.
"You know, should we be taking some of those resources and thinking about what would help get those people vaccinated who aren't vaccinated at all, because those are the people who are still at a really high risk if they were to get COVID," said Blau.
Those who are unvaccinated who contract COVID-19 are the most likely to transmit the virus as well, Blau says.