TikTok fans embrace the soaring song of a Disney-inspired Korean American princess
Six days ago, on Jan. 8, Julia Riew had never posted on TikTok before, and the first people to follow her account were her parents. As of Jan. 14, her song "Dive" has more than 625,000 views, and stars an animated princess, singing while dressed in a traditional hanbok.
"It's important to me that she has monolids," Riew says of her idea for the next Disney princess. Her name is Shimcheong, and she, like Riew, is Korean American.
Riew is referring to eyelids that do not have a crease above the lash line, and by doing so, she is quietly taking a stand against a prevalent beauty standard in the Korean community. Monolids are a trait in Asian women that is considered unattractive and commonly surgically altered to create eyes that appear larger, more almond-shaped, and ultimately more western.
It's not that Shimcheong isn't conventionally attractive. She possesses the same wide eyes, delicate facial features and long, flowing hair characteristic of many animated heroines. But small details like the shape of Shimcheong's eyelids are what makes her distinctly Korean American, and is perhaps what has resonated with audiences online.
The song sets up a deep sea adventure and Shimcheong's personal quest for belonging. More than a hundred collaborators emerged on TikTok with covers and fan art, drawn to not only Riew's singable melodies, but what Shimcheong represents. The aspiration is Alan Menken or Stephen Schwartz, with a twist. Riew's songs include traditional Korean musical influences, like trot, a genre popularized in the early 1900s with distinct rhythms and exaggerated vocals that have a campy sensibility to modern ears. The overall effect is something that has the comfortable, pleasant ring of Disney, but also hits home for many Korean Americans who seek more of themselves on screen.
"Dive" is the first of 23 songs in the musical "Shimcheong: A Folktale," which is also Riew's senior thesis project. Riew is in her final year at Harvard. During the pandemic, she wrote, recorded and produced all of the songs herself.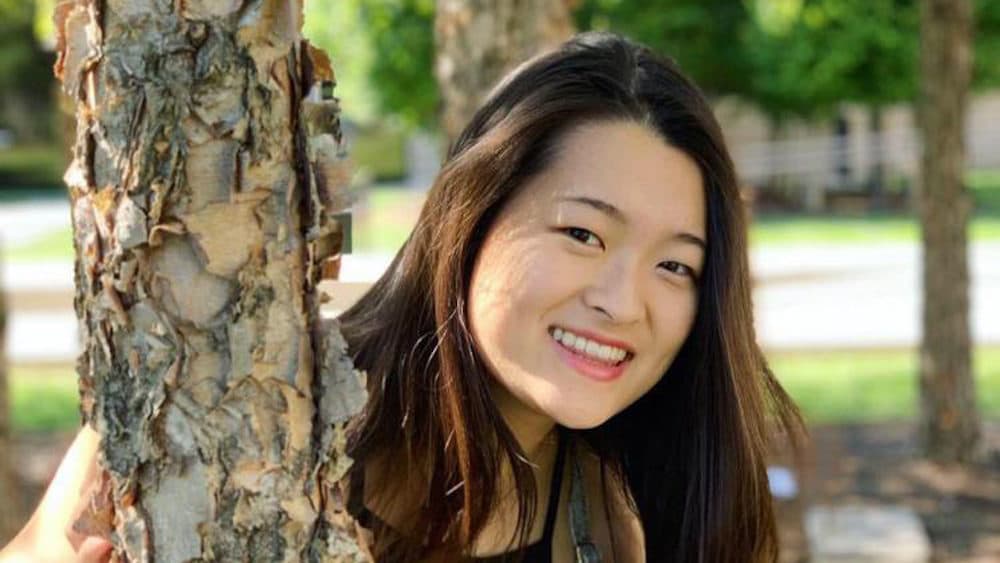 Born and raised in St. Louis, Missouri, Riew began training in violin at the age of 4, and grew up singing along to Broadway show tunes in the car. She recalls making her first musical in grade school, eventually going off to study music and theater in college. Her first serious attempts in composition were as a first-year student, and as an adult, she's created seven complete musicals, some of which were staged at Harvard and at the American Repertory Theater, and two of which are in development in New York City and Kansas City theaters.
However, it wasn't until 18 months ago that the idea for "Shimcheong" finally came together. Last year, Riew lost her grandfather to COVID-19. She started exploring her heritage when her grandmother came to live with her family, practicing Korean at home and taking Korean classes at Harvard.
"I felt quite detached in many ways from my culture in a way that I didn't want to be,"
said Riew. "I felt like it was really time to tell a Korean story — for me to write a musical that was the musical I had always wanted to see growing up."
"Shimcheong" is loosely based on a traditional Korean folktale about a young woman whose father is blind and who sacrifices herself to restore his sight. Riew's version updates the classic, focusing the plot on Shimcheong's personal journey into the sea to find where she truly belongs. She also adds a villain and a furry sidekick, a nine-tailed fox of Korean mythology.
Like her heroine, Riew is on a journey. In her attempt to connect with her heritage, Riew faced moments of doubt. She lay awake at night, asking, "Am I allowed to tell this story as a Korean American when this is a Korean story?"
The answer on TikTok is a resounding "yes."
"Shimcheong: A Folktale" looks and sounds like a plausible addition to the Disney canon. In the few days since her post, Riew says she's been approached by multiple people to take the project forward. The only question is, will Disney come calling?