12 books with New England ties to read this winter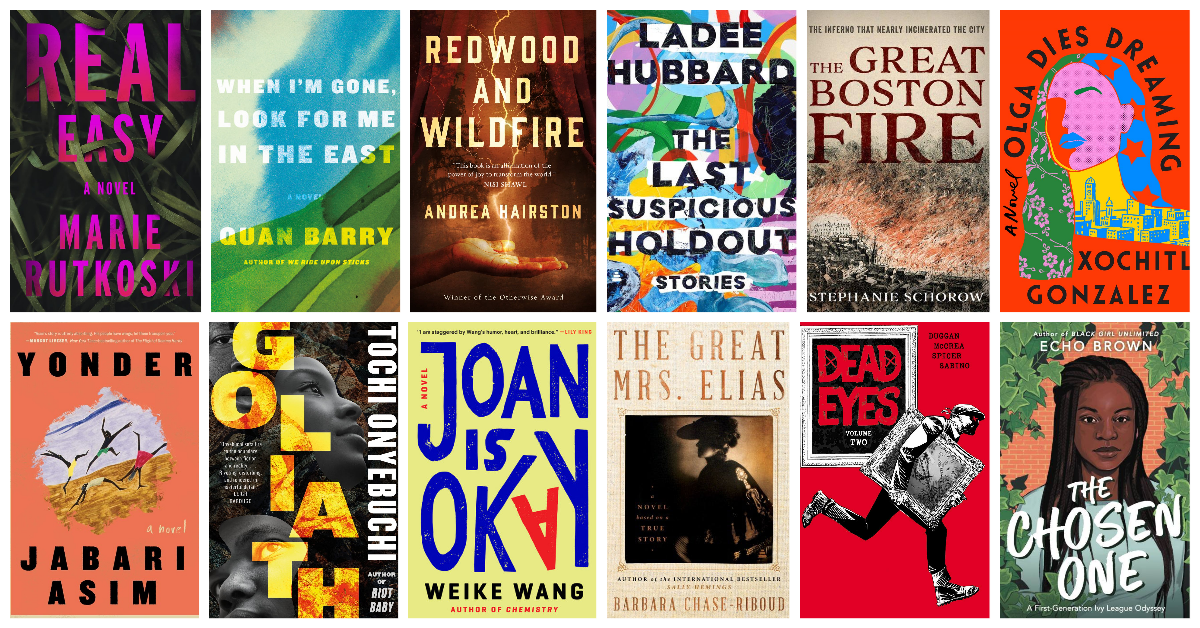 We have officially been in the pandemic for so long, there are now books being published that contend with COVID-19. (For context, most books take two years to publish, at minimum.) But the vivid imagination of authors has not been quarantined during that time either. These picks for winter 2022 also grapple with the stark differences for the children of immigrants seeking the American dream, the interconnectedness of local communities, and fearless protagonists who have been backed into a corner. Take inspiration from these authors that no matter the circumstances, humankind will persevere.
Jan. 4
Author Echo Brown has transformed the concept of "Black girl magic" into two uniquely awe-inspiring novels based on her own life. "The Chosen One" follows first-generation college student Echo at Dartmouth College, Brown's own alma mater. (Although Brown's 2020 debut "Black Girl Unlimited: The Remarkable Story of a Teenage Wizard" also features a protagonist named Echo, this is not a sequel to the previous novel.) At Dartmouth, this new Echo grapples with challenging coursework as she realizes the campus is not as inclusive as advertised. After Echo attends a college hypnotist show, suddenly she can access portals across time and space. A hearty helping of magical realism transforms this coming of age story into the titular "chosen one" fantasy narrative, but the real magic is being able to process her trauma and forge a path forward for herself. [Listen to Here & Now's interview with Echo Brown and read an excerpt from "The Chosen One" here.] 
---
Jan. 4
Brown graduate Xochitl Gonzalez tells the tale of two siblings who each splinter in different directions, avoiding the path of their radical activist mother. Olga and Prieto Acevedo grew up in New York City with their grandmother after their mother abandoned them to fight for Puerto Rican independence when Olga was 12. Now, Olga is a high-end wedding planner, Prieto is a closeted congressman, and their mother is a fugitive. With Hurricane Maria looming, Olga reevaluates her priorities and Prieto tries to fight for his district and his people. An impressive debut with rich prose, salient political intrigue, and a lot of heart.
---
'Dead Eyes, Volume 2'
By Gerry Duggan, illustrated by John McCrea
Jan. 11
In this gritty graphic novel, Martin thought he left his criminal past behind in the '90s. Not many people could double-cross the mob and live to tell the tale, so Martin hung up his Dead Eyes mask to quietly care for his disabled wife, Megan. But now the money has run dry and he has to don the mask once more without Megan, the police, or the mob knowing. Recovering the stolen paintings from the Isabella Stewart Gardner museum might be the windfall he's been looking for. He has to keep a low profile, or his eyes won't be the only thing dead about him. Equal parts action-packed, funny and poignant, this fictional hometown antihero thrives in a fictional world where Boston's criminal underbelly didn't die with Whitey Bulger, and still runs amok.
---
'Yonder'
By Jabari Asim
Jan. 11
In the antebellum South, Asim explores the complex inner lives of enslaved Black people through the eyes of four characters who have nuanced perspectives on love and freedom. William doesn't dare waste his energy on thinking of escape, while Cato — whose first love was torn from him without warning — still dreams of what life could be like if they were free. When a preacher comes to town with the promise of independence, they are unsure if they can trust the word of a man who teaches from the religious text that captors use to justify their enslavement. In adroit prose, Asim shows how the power of words, storytelling, and philosophical debate could have persevered across generations. Asim is a professor of writing, literature and publishing at Emerson College. [Jabari Asmi will be in conversation with Lily Rugo of Harvard Book Store on Tuesday, Jan. 25, at 6 p.m.]
---
'Real Easy'
By Marie Rutkoski
Jan. 18
Harvard graduate Marie Rutkoski draws on her previous experience as an exotic dancer in this layered thriller. Told through the perspective of nearly a dozen characters, the story starts with Samantha, a longtime stripper at the Lovely Lady. She takes new dancer Jolene under her wing until one evening, Jolene is found dead and Samantha is missing. Who's to blame for these tragedies? A jealous boyfriend? The shady owner of the Lovely Lady? Fellow dancer Georgia helps detective Holly Meylin collect information for the murder and missing person cases. Each vibrant new perspective twists the knife of mystery a little more. By giving depth to characters who might be reduced to stereotypes in lesser crime novels, "Real Easy" helps humanize the people who have the oldest profession in the world. [Porter Square Books hosts a virtual event with Marie Rutkoski on Wednesday, Jan. 26, at 7 p.m.]
---
Jan. 18
In Weike Wang's second novel, the titular Joan, daughter of Chinese immigrants,  feels at odds with the different facets of her identity: on one hand, she's a successful ICU doctor in New York City; on the other hand, she feels like she can't meet the familial and cultural expectations that her family has placed on her. But the death of her father is the catalyst for the stoic workaholic to do some self-reflection. In short succession, her mother returns to the U.S. after 18 years and the COVID-19 pandemic takes the world by storm. How can she help her brother take care of their now-stranded mother during one of the most challenging times in global health? Despite the high external stakes, Wang paints an intimate portrait of a family with wry humor. Wang received her undergraduate and doctorate degrees at Harvard University, and her MFA from Boston University.
---
'Goliath'
By Tochi Onyebuchi
Jan. 25
After interviewing Tochi Onyebuchi in 2020 prior to the release of his adult novella "Riot Baby," I'm excited to recommend his next novel for adults, "Goliath." By the 2050s, most wealthy people had left the climate change-ravaged Earth in favor of space colonies. In the wreckage of New Haven, Connecticut, working class laborers — the majority of whom are Black and brown — have the chance to reimagine an equitable society on their terms as they navigate daily survival. Meanwhile, the colonies yearn for a romanticized version of Earth. What starts as demand for Earth objects selling at a premium evolves into colonizers deciding to move back to the planet, gentrifying the neighborhoods they had left to rot. Onyebuchi masterfully pivots through a range of perspectives in nonlinear fashion to create this entirely believable landscape of future history. [Tochi Onyebuchi will celebrate the launch of his book in an event at Brookline Booksmith on Wednesday, Jan. 26, at 7 p.m.]
---
Feb. 1
Smith professor Andrea Hairston reimagines 1890s Georgia, steeped with hoodoo magic and haint hauntings. Redwood Phipps has the power to hold a hurricane in her hands, but even she could not stop her mother's death by a racist mob. The ghost of her mother haunts half Irish, half Seminole Aidan Wildfire after he witnesses her lynching. Redwood and Aidan connect over complex feelings about their respective heritages and magic, and decide to venture to Chicago together in promise of a safer life where they are free to be themselves. But the road is treacherous so they must perform their magic and their storytelling in vaudeville shows to survive the journey. Hairston's evocative prose speaks to a painful past, a spellbinding future, and wondrous demonstration of a Black woman coming into her power.
---
Feb. 8
The real life of Hannah Elias reads like fiction. Named the richest Black woman of her generation, in the late 19th century, Elias was imprisoned for borrowing her employer's dress, supported herself through sex work after she was released, ran off with a wealthy business owner and moved into a mansion thanks to her savvy investments — all to have her elite Manhattan landlord status called into question after one of her former tenants shot a man. So although Barbara Chase-Riboud's book can't be classified as nonfiction because she fleshed out this narrative, the story beats are based on historical events. Follow the glamorous rise and fall of a woman who society couldn't stand to see succeed. Chase-Riboud was the first African American graduate of Yale University's School of Design and Architecture in 1960.
---
Feb. 22
The expansive imagination of Massachusetts-raised Quan Barry knows no bounds. Following the success of the delightfully strange "We Ride Upon Sticks," Quan Barry returns with a sweeping tale of two estranged brothers traversing Mongolia in search of the reincarnation of a spiritual leader. Chuluun and Mun were both raised in a monastery, but after Mun renounced his monastic vows, Chuluun hasn't seen him in over a year. What would have been an undoubtedly tense journey is made all the more difficult because they possess the power to hear each other's thoughts. Barry explores large questions about Buddhist philosophy and faith in general while painting a lush portrait of the Mongolian terrain.
---
March 8
In this collection of interconnected short stories, Massachusetts-born Ladee Hubbard traverses 15 years of one unnamed Southern Black community. Everyday life and sweeping social issues are equally intimate for each character. After the city separates the neighborhood from the rest of town by a highway project, police respond with violence. When Leon Moore creates an activist group to empower the community, he receives a suspicious murder charge that his neighbors can't help but question, and his legacy shimmers across the length of the book. Businesses struggle to stay afloat, families of all shapes and sizes try to provide better lives for their children, and difficult situations ranging from infidelity to gentrification are given nuance. Whatever their situation, characters rise to the occasion with aplomb.
---
March 15
Stephanie Schorow, former Boston Herald journalist and author of eight books on Boston history, collaborates with the Boston Fire Historical Society to recount the most calamitous fire in Boston's history. The downtown fire spanned two days and would end up destroying 776 buildings across 65 acres of land. It spread easily across the wooden roofs of buildings, where the fire department struggled to get enough water pressure to put the fire out. Many fire fighting units from neighboring towns and states arrived to help. Contemporary illustrations and photographs accompany Schorow's portrayal of the unfortunate circumstances that lead to one of the most expensive fires in American history.