Maine lobstermen post record-high $725 million haul in 2021
Maine fishermen landed some $725 million worth of lobster in 2021, shattering the previous record of $541 million. It happened thanks to a sizeable harvest of 108 million pounds, but also sustained high prices at the dock.
Unlike 2020, when the lobster haul dropped below 100 million pounds for the first time in a decade, landings were back on track in 2021. And so was consumer demand.
Shipping and inventory issues related to the pandemic continued to pose some problems, but the Maine Department of Marine Resources says the lobstermen received an average $6.21 a pound last year — also a record. And that led to some surprises, like $34 lobster rolls in midcoast Maine last summer.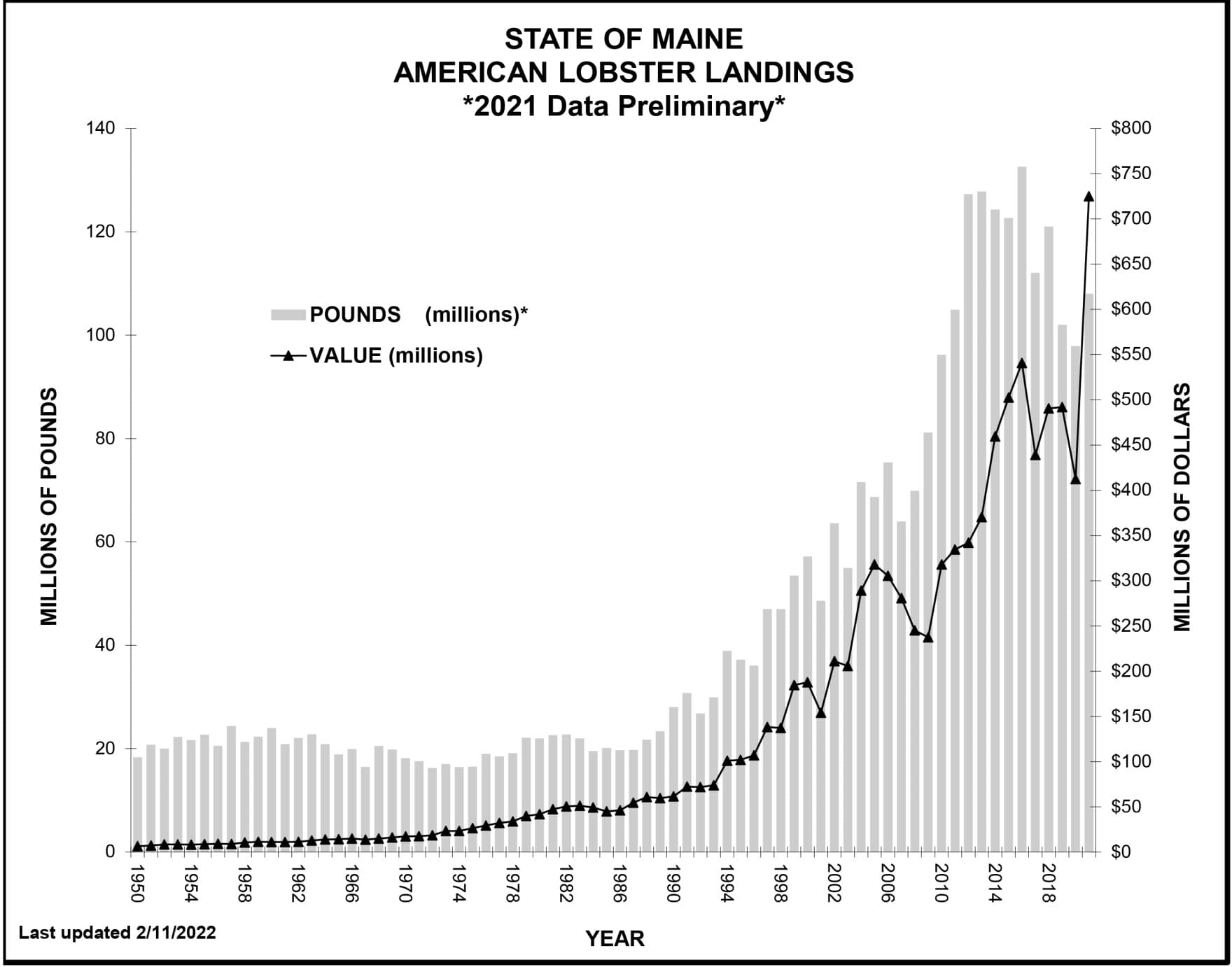 "2021 was a decent year for sure," said Dustin Delano, a Friendship lobsterman and vice president of the Maine Lobstermen's Association. In a recent interview, he said steady prices were a boost for lobstermen who are concerned about new federal regulations for the industry.
Those aim to protect endangered North Atlantic right whales from potentially deadly entanglements in trap-rope and gear. With a seasonal closure of nearly 1,000 square miles of fishing grounds to traditional gear, and new gear requirements coming in May, Delano said, the industry still feels besieged.
"So a lot of people are quite worried that if we don't see that price that we saw in 2021 in this coming year, it's going to be quite a struggle without a doubt, because of supply-chain issues with both bait and gear," he said.
State lawmakers are considering whether to give the industry as much as $30 million in general fund revenues to help defray the cost of converting their gear. Another measure would create a legal defense fund for the industry, paid for through the sale of trap tags lobstermen must purchase each year.
This story is part of the New England News Collaborative. It was originally published by Maine Public Radio.