As Massachusetts' school mask mandate ends, district leaders say shift has been smooth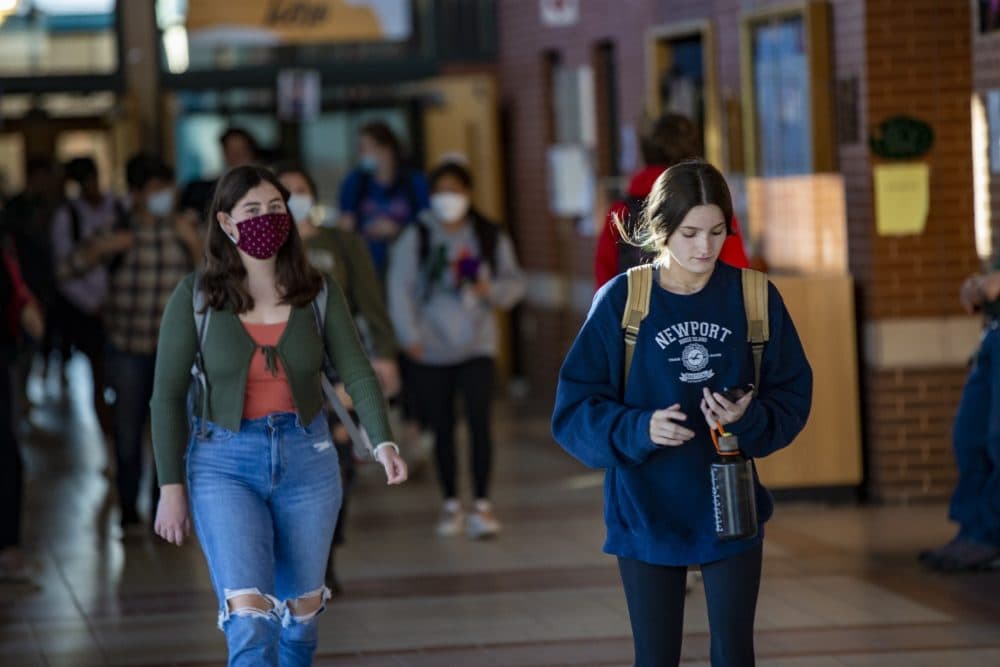 The state's school mask mandate officially ended Monday.
But some districts, including in the state's largest cities of Boston, Worcester and Springfield, have decided to keep indoor mask mandates for students and staff in place for the time being.
Gov. Charlie Baker and state Education Commissioner Jeffrey Riley announced early in February that they were lifting the statewide indoor mask mandate effective Feb. 28. But individual school districts could decide on their own masking requirements.
A week before the mask mandate was lifted, leaders with the Massachusetts Association of School Superintendents (MASS) estimated that at least half of state public school districts were planning to make masks optional on Feb. 28. Many others would be close behind on March 7 and March 14.
Boston Public Schools, Massachusetts' largest district, has not yet set a date for when students can take their masks off. At a recent press conference, Mayor Michelle Wu said the city's public health commission would be meeting soon to begin discussing health metrics that would guide the decision making process. "We're creating some plans so that as we head out of the surge, we're not just putting [COVID] back of mind, but preparing for next year as well," said Wu.
Worcester's Board of Health has a meeting scheduled for March 7 to weigh masking requirements, and the city's school committee has said it will follow the health board's recommendations.
"By and large, I think that people have taken this and worked with it probably smoother than some of the other things that have gone on in the last two years," said Tom Scott, MASS's executive director.
Scott credits the smooth transition to the high levels of communication superintendents have with each other. Much like other major policy shifts during the COVID-19 pandemic, Scott said superintendents have been regularly meeting with each other and sharing resources and best practices.
"Throughout the pandemic superintendents have relied on conversations amongst each other," explained Scott. "And that's continued."
Officials with the Massachusetts Association of School Committees (MASC) say many of their members are hoping that the shift to mask-optional policies will help ease tensions in school communities.
Enforcing mask mandates has been hard on a lot of districts. District leaders say it's hard to balance health and safety rules tied to the COVID-19 pandemic with the negative impacts of being overly militant when a student refuses to comply.
"If you have a school that is rule obsessive and control obsessive, you're going to see a lot of contempt for authority, but at the same time you're going to see a weakening of authority if people don't respect the legitimacy of the rules," said Glenn Koocher, MASC's executive director.
Koocher hopes that this move might reduce tensions in school committee meetings, too.
While many parents who testified at school committee meetings during the COVID-19 pandemic shared legitimate concerns about their child's experience in school, many MASC members felt there were also a lot of community members who opposed masking policies purely for political reasons.
"And masks are the vehicle du jour to keep everyone angry," said Koocher. "We're fearful that the people who are purely politics based on these issues will then quickly shift over to opposing vaccinations, critical race theory, and LGBTQ studies."
---
With additional reporting from The Associated Press
This article was originally published on February 25, 2022.