Boston Ballet's 'ChoreograpHER' debuts dances envisioned by women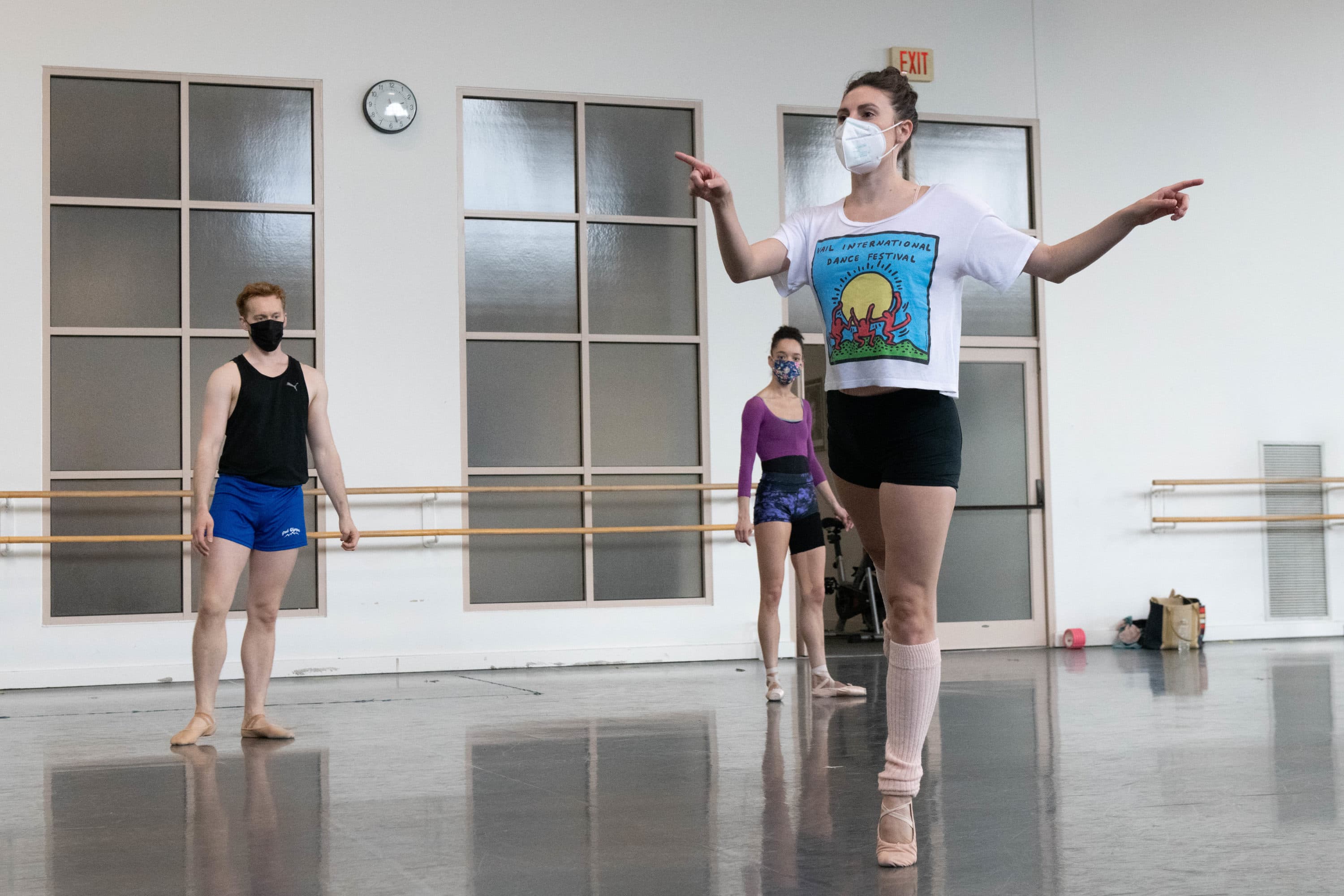 The Boston Ballet will be putting female artists front and center in its production "ChoreograpHER" (March 3-13), building on an initiative that was first launched in 2018. Five unique women creators will debut world premieres of dance performances that they have led, each boundary-breaking piece featuring a distinctive vision and voice. While female dancers make up a strong and significant part of the ballet world, historically, choreography has been directed with a male figure at the front of the room, said artist Lia Cirio. As these women artists take the spotlight through the presentation of their new works, the Boston Ballet endeavors to affect culture by empowering others to step forward and shine.
'Chaptered in Fragments' | Lia Cirio
"Chaptered in Fragments" is set to the music of four different composers: George Frideric Handel, Dmitri Shostakovich, Antonín Dvořák and Johannes Brahms. The piece features seven dancers, four male and three female, and Cirio described its style as being "Neoclassical, with these quirky arm movements." The narrative of the dance comes from segments or chapters of Cirio's life: she began choreographing in September 2020, after the pandemic lockdown. The process of trying to get back in society again and being somewhat uncoordinated in dance was disjointed and strange, she said, a feeling that she drew from for the work she created. When she came back to the piece in April 2021, she was in a different place in her life and wanted to reflect that evolution. Change is an important element in the dance, while Cirio acknowledges that we must not forget where we have come from. "I'm looking at this chapter as a full-bodied experience," she said.

Cirio said that she is excited by the Boston Ballet's challenging of norms and embracing of diversity. As a half Filipino dancer, she said that she did not have someone to look up to growing up who resembled her. "I hope that I can be that someone for that dreaming young ballerina, that might see me and think, 'That's me. I can do that too,'" she said. "Every time I go out there, I think of that and hope I inspire someone."
---
'Kites' | Shantell Martin
A visual artist by nature, Martin's process for creating "Kites" was particularly innovative. Thematically, the piece comes from the metaphorical and physical idea of a kite being an object that is uplifted, with both memories and nostalgia attached to it. With the challenges and negativity the world is currently experiencing, Martin wanted a performance that felt fun and free. The ballet starts with everyone being on the ground, in a cluster, and the characters begin to wake up, feel energy in themselves, and rise. It follows "the evolution of a day," with movements being bold, collective and linear.
Martin had never choreographed a piece before, and her approach introduced experimentation. Coming into rehearsals, she would have a list of words, such as colors and feelings. She would put on music and ask dancers to move in response to what had been introduced; when she saw a motion that resonated with her, she would stop the dancer and ask everyone to replicate it. Martin said that coming into the world of dance, she had confidence. "A part of my practice is showing people that no matter what medium you bring yourself to, as long as you bring your full self to it, it will feel like you, it will look like you, it will sound like you," she said.

---
'Point of Departure' | Tiler Peck
Set to music by Caroline Shaw, Peck's vision for this six-person dance, "Point of Departure," came from a story the composer told about an orange. The fruit is made up of individual sections that are each intricate and unlike the next one, and Peck's opening tableau is loosely based on what an orange tree looks like, with vines intertwined around a nucleus. While the dancers all gravitate toward a center, they begin to break off and have solos, duets and trios. There are moments of fast footwork in the adagio part of the music, while there is also a lovely pas de deux for the central couple. In the end, however, there is still a force that brings the dancers back together. In some ways, this piece is a "point of departure" for Peck as a choreographer, as this is her first work for a major ballet company.
Peck had experienced a neck injury in 2019, which left her with the possibility of not being able to perform again. "To be told you're never going to dance again, and then to come back nine months later, I'm grateful for every time I get to be on stage," she said. "It means that much more to me, because there was a moment there when I didn't know if it was going to be possible."
---
'Slipstream' | Claudia Schreier
The music for Schreier's piece comes from composer Tanner Porter's "Six Sides from the Shape of Us," but the dance itself is called "Slipstream." Schreier knew that she wanted to find work from a living, female composer, adding that the music had an arc that takes a listener "through every color of emotion and has joyful swells, playful percussion and stabs you in the heart." As a choreographer, she drew from her balletic background, but the performance carries a grounded sense of movement. The piece, which features 18 people, is about constant momentum and the assembling and breaking apart of shapes. Schreier was inspired by starlings, which have a unified identity within a group, but also find their own paths. It features partnering work and duets but is very much an ensemble work, she said.

As an artist who is half Jamaican and half Jewish, Schreier said that representing women of color onstage is important to her and that shifting the culture in the ballet world takes "dedication, persistence and perseverance." "I didn't grow up wearing skin-toned tights. I remember trying to buy the deepest, most orangey-pink I could, and as soon as it went through the wash and it started to lose its tinge, I would ask my mother to buy me new ones. It didn't occur to me at the time why I craved those deep pinks, and now it all makes sense to me," said Schreier.
---
'Butterflies Don't Write Books' | Melissa Toogood
"Butterflies Don't Write Books" is a dance whose name is inspired by a Mary Oliver essay, and in many ways, it mirrors Toogood's approach. When working, she does not analyze and instead tries to be open to mystery, a way of freeing her mind. Toogood commissioned composer Jeff Klein to write new music, and it begins with the sound of a heartbeat. Over the course of the dance, the performers have short solos, and there is a sense of them as individuals, rather than a group acting in unison. Toogood has had a career in modern, contemporary dance, and this piece represents the first work that she has choreographed for a major ballet company.

When Toogood began planning the dance, she was working out of a "tiny little room" in New York City during the pandemic, and she felt frustration. In some ways, that feeling influenced her art. "That first solo really had steps that aren't uncommon in ballet — tendus and brushes — but the accent is different, and the sense of energy is very bound, held, and pushed in a different way. That really came from hitting my walls, literally. I asked myself, what does it look like to create more space in your mind, even though you don't have actual, physical space?"
---
Boston Ballet's "ChoreograpHER" is being performed at the Citizens Bank Opera House March 3-13.