'Ocean Filibuster' mimics real-life climate change politics on stage
Saving the ocean and thus the world is a noble cause, but not much can save the too-plump presentation in "Ocean Filibuster" — except maybe a shorter script.
The play, now showing at American Repertory Theater's (A.R.T.) Loeb Drama Center, presents a future world where rising sea levels have turned New York into an island of memorials accessed only by ferry and Osaka, Japan, into an underwater destination.
To deal with the problem, there is a bill up for debate that proposes the government pump some excess water into caverns deep in the earth, and send the rest into outer space beyond the atmosphere. As a result, there will be more land, making rock climbing the Great Barrier Reef and bicycling from Florida to Cuba possible. And what's left of the ocean will be reduced to a more manageable seven seas.
But the Ocean (Jennifer Kidwell) does not want to be mastered. So it comes to plead its case before the bespectacled Mr. Majority (also Kidwell), stop the seven seas agenda and show senate members how inextricably connected humans are to the ocean and everything in it. But the argument to be made isn't an easy one.
As the title suggests, what follows is a prolonged discussion conveyed through speech and song. The show is chock-a-block with information, data points and even a story about the yeti crab. But the execution could use re-tooling; it's preachy and uninspiring.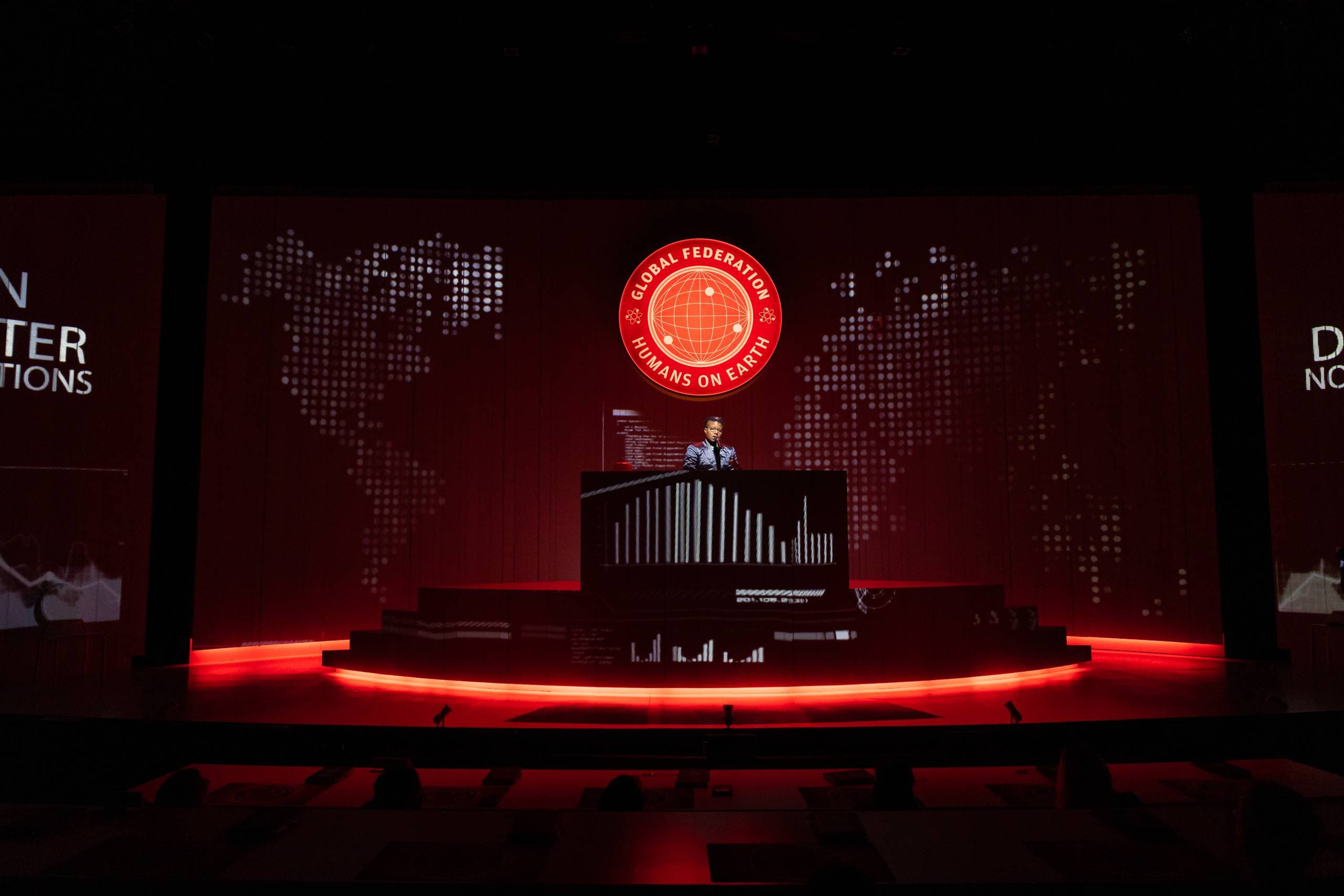 Kidwell, an Obie Award-winning actor, was entertaining, especially during the second half when they were "luxuriating" on a bed of sequined pillows.
Still, there were moments in the script when Mr. Majority and the Ocean's heated debate didn't provide much space for Kidwell to morph between the two characters. At one point, the actor started saying the Ocean's next line while still removing Mr. Majority's red glasses. The show might be better served if Mr. Majority and the Ocean were portrayed by two separate actors, but maybe the choice was made to convey the interconnectedness between humans and the ocean.
The production was spurred by a collaboration between A.R.T. and the Harvard University Center for the Environment (HUCE) that aims to make audiences consider the climate crisis by tugging at the heart imaginatively. To do this, theater artists were invited to join scientists and scholars to create new works.
Creative duo Lisa D'Amour and Katie Pearl are the playwright and director. Their Obie Award-winning company, PearlDamour, is known for immersive works that "mix theater and installation," such as "How to Build a Forest," an eight-hour performance where a simulated forest is assembled and disassembled.
This isn't the A.R.T.'s first foray into theater that centers climate change. "Wild," the fable that took an odd turn, also lacked subtlety, but was at least fun to watch despite its ending. However, "Ocean Filibuster," dragged on without much luster.
What does work in "Ocean Filibuster" is the smart set design by Jian Jung, a New York-based theater designer. It thrusts the audience into the filibuster's action. Jung's gleaming white Senate hall, complete with official seals, books and letters, doubles as a set of screens used for lighting by Thomas Dunn and gorgeous projections by Tal Yarden. Most memorable are the animations of swimming plankton, images of deep-sea life which resemble outer space and the flashing digital numbers during Kidwell's song about time.
Sxip Shirey's music selections about being in charge, like Nas' "If I Ruled the World" at the start of the show and Tears for Fears' "Everybody Wants to Rule the World" at the end, were thoughtful.
Also, Olivera Gajic, who has worked in theater, opera, dance and film, outfits the ocean choir in gauzy pleated fabric and fantastic, colorful reef-like headdresses worthy of a sea dream. And in the second half, Gajic puts Kidwell in a striking, blue-green neck accessory that seems to nod to the beauty and complexity of sea slugs.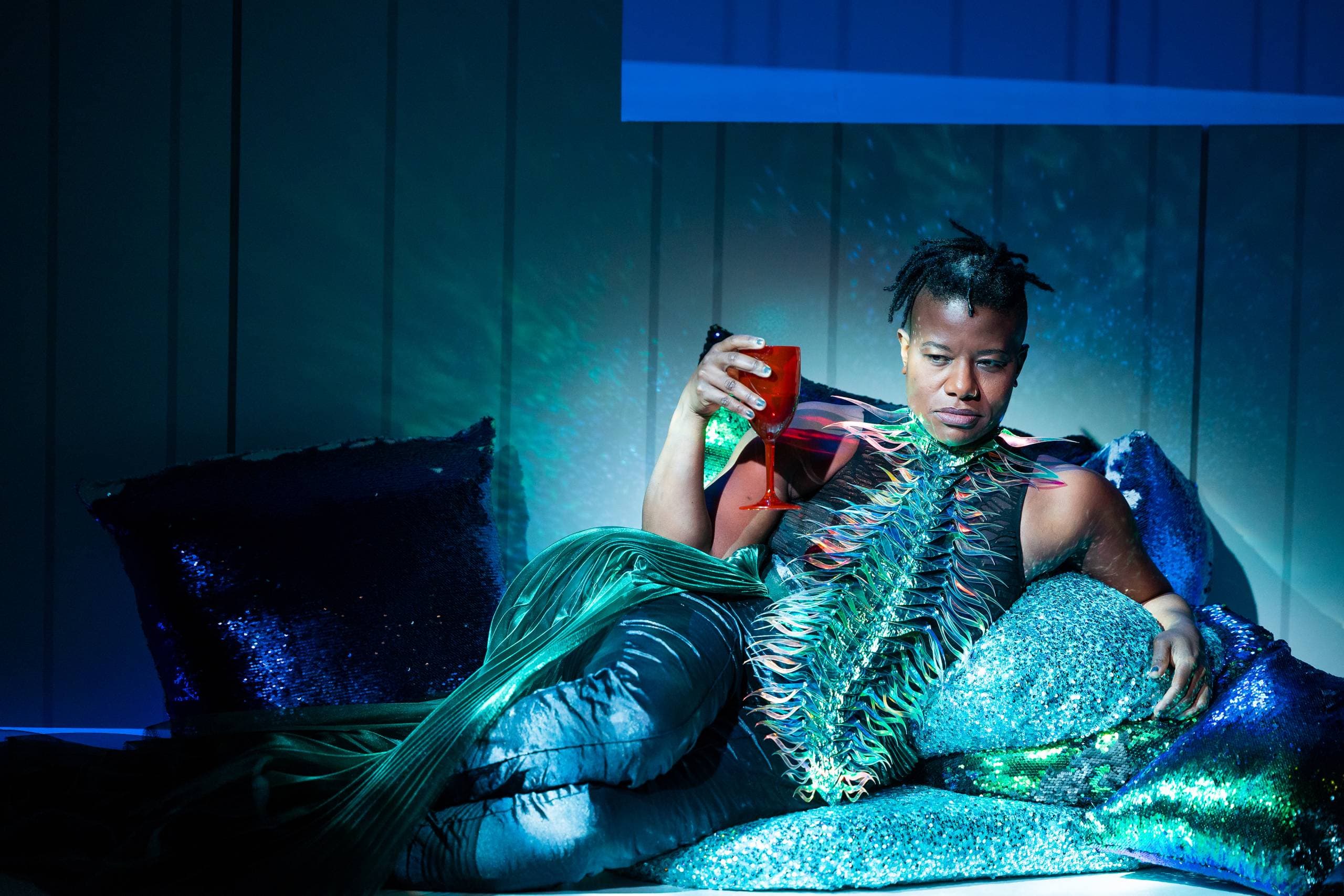 Despite the too-long show, A.R.T. and HUCE's commitment to combat the climate crisis was evident throughout. During intermission, a brilliant, bronze-sequined codfish portrayed by Evan Spigelman (also part of the ocean choir) teaches the audience how codfish reproduce, the challenges they face and how to save their habitat by signing a petition. Theatergoers could then scan a QR code and sign the petition immediately. There was augmented reality fun with the Deep Wonder app that people could play, as well as a digital program, and relevant exhibits in the hallway.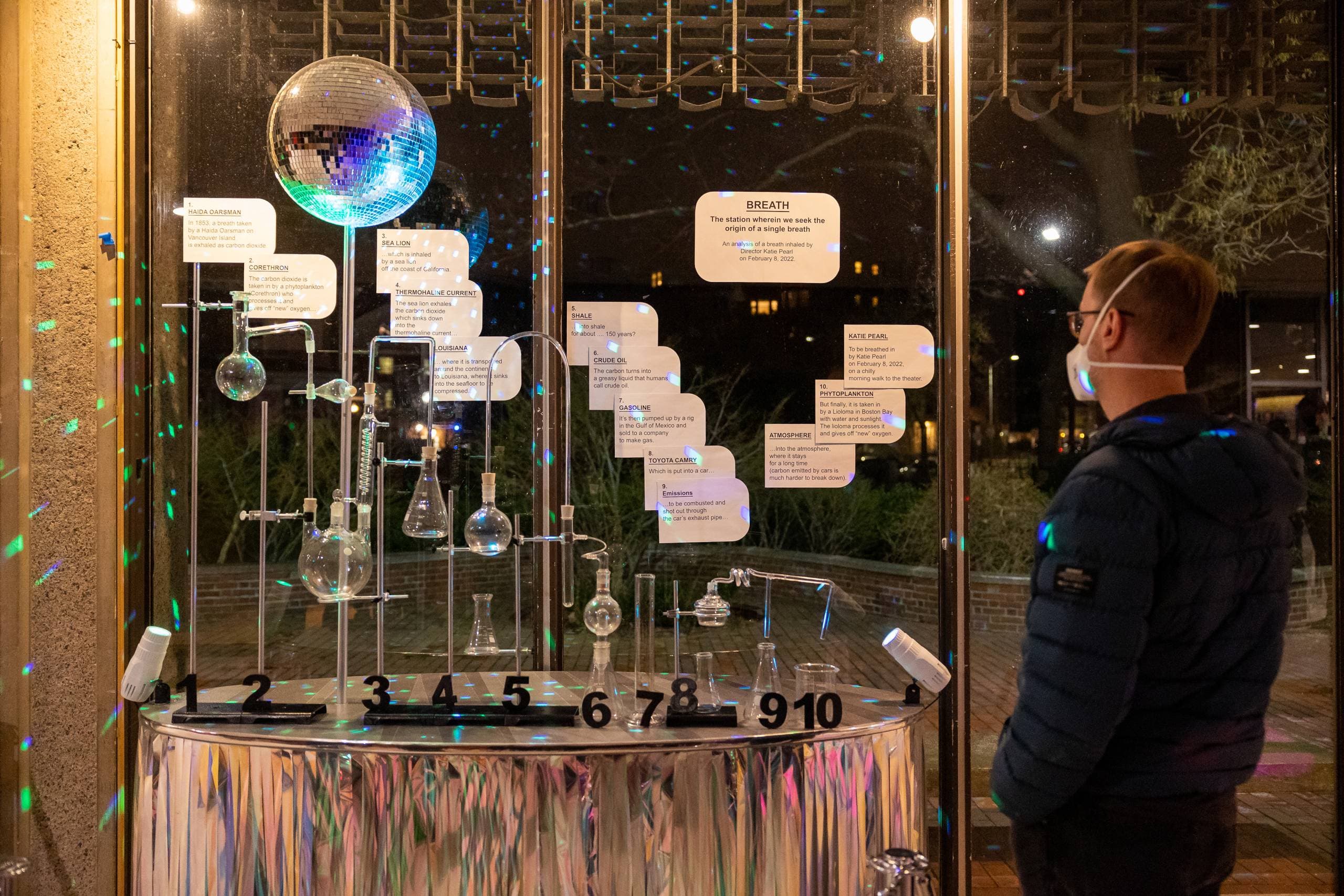 And even though "Ocean Filibuster" is a bit overstuffed for this audience member, perhaps the A.R.T. and HUCE partnership did accomplish what it set out to do scientifically: I learned some facts I didn't know before. But artistically, it missed the mark.
---
"Ocean Filibuster" runs through March 13 at the Loeb Drama Center and streams March 9-27.