Sleeping Weazel at ArtsEmerson makes Parkinson's disease the stuff of heartfelt drama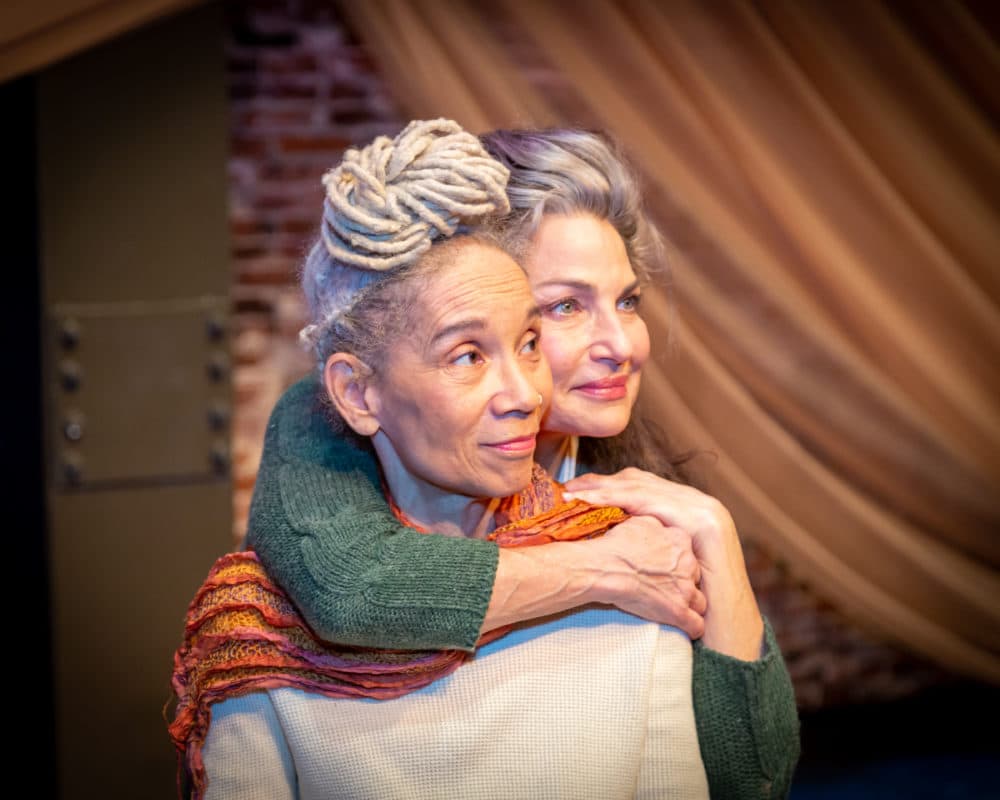 Endless phone calls, multiple prescriptions and countless doctors' appointments color the lives of the sick and the aging. But Sleeping Weazel's "Everyday Life and Other Odds and Ends" — which follows the lives of three couples battling Parkinson's disease, each with one partner caring for the other — shows that despite the anger, sadness and fatigue, there's still a lot of love to share and life to live. The world premiere at ArtsEmerson is a tender and intimate look at life's fragility. (ArtsEmerson is giving the small, local Elliot Norton-Award winning group a more prominent platform through March 27 at the Jackie Liebergott Black Box at the Emerson Paramount Center.)
Parkinson's disease is a progressive nervous system disorder that affects movement. Gradually, a tiny tremor in the arm or hand results in more significant uncontrollable movement. The disease can also cause stiffness or slowing of movement. Perhaps that is what's so sinister about it; its caterpillar-paced progression can trick one into thinking that it might not be that bad, at least for a while.

The three couples in the play go about their everyday lives: comforting each other after awakening from a nightmare, telling one who uses walking sticks and later a walker to slow down, or offering a handful of pills at the appointed hour. The fast-moving Wan (short for Wander),  who appears tough on the outside, wonderfully portrayed by Mal Malme,  is constantly being nagged by their partner to go slower. Wan explains that getting moving feels good and it's hard to stop. It's a simple statement with weighty implications. The ability to move on one's own, after all, is fleeting.
Videography punctuates the scenes, which are acted out on a floor painted like the sky with pink, purple and yellow colors and black birds. The video, played on a screen hung above the crowd, shows doctors asking questions about how they're handling life, a financial counselor helping one couple navigate bankruptcy and a dance sequence by choreographer Peter DiMuro, executive artistic director at The Dance Complex in Cambridge. The dance sequence features a variety of people with different abilities, including some with Parkinson's. DiMuro is the founder of Public Displays of Motion. His company creates dance and dance theater, "translating the humane within everyday lives into extraordinary studies of the human condition," making him an ideal choice for "Everyday Life and Other Odds and Ends."
In an author's note, artistic director Charlotte Meehan shares that the show has been in the making for years. Her husband, Steven Bell, was diagnosed with Parkinson's disease and struggled with it for a decade before passing away in 2020. Bell hoped to perform in the dance portion of the video, but his twin brother Bob participated for him.
Onstage, all the characters are allowed to vent. Through a series of shifting scenes with liturgical-dance-like movement by two unnamed bystanders (Christina R. Chan and Emily Crosta) called "Echo Movers," there's yelling and screaming, sheer frustration from being constantly surveilled, and there is the occasional creeping fear that the Parkinson-free partner might (or should) stop loving and desiring the other. But it's not all doom and gloom. One partner tells her husband about all the men who still desire her in jest, and another makes fun of their partner for still wanting them.
But all these emotions are the stuff of life. The desire for human connection, the fear of its dissipation, grappling with the body's changing.
Dealing with illness is hard. And sadly, Parkinson's has touched many lives, including my own. Growing up, my mom took care of a woman with the disease who had lost the ability to care for herself. Later, another loved one was diagnosed with Parkinson's. She asked me to clip her nails during a holiday visit, and I worried I'd hurt her as her hand moved about. It was heart-wrenching, but I did not want to deny her this tiny ask.
And the same goes for the characters in "Everyday Life and Other Odds and Ends." They're all trying to push past their fears and be there for another, for all of life's grand and small asks.
---
Sleeping Weazel's "Everyday Life and Other Odds and Ends," presented by ArtsEmerson, runs through March 27. There's also on-demand viewing of the show April 1-10