Thousands of residents left Suffolk County during the pandemic
The county that includes Boston suffered one of the biggest population losses in the country as thousands of people moved during the pandemic, the U.S. Census Bureau reported Thursday.
Suffolk County's population declined by 3.3%, or more than 24,000 people, from July 1, 2020 to July 1, 2021, Census data shows. Just six other large counties lost more people during the span.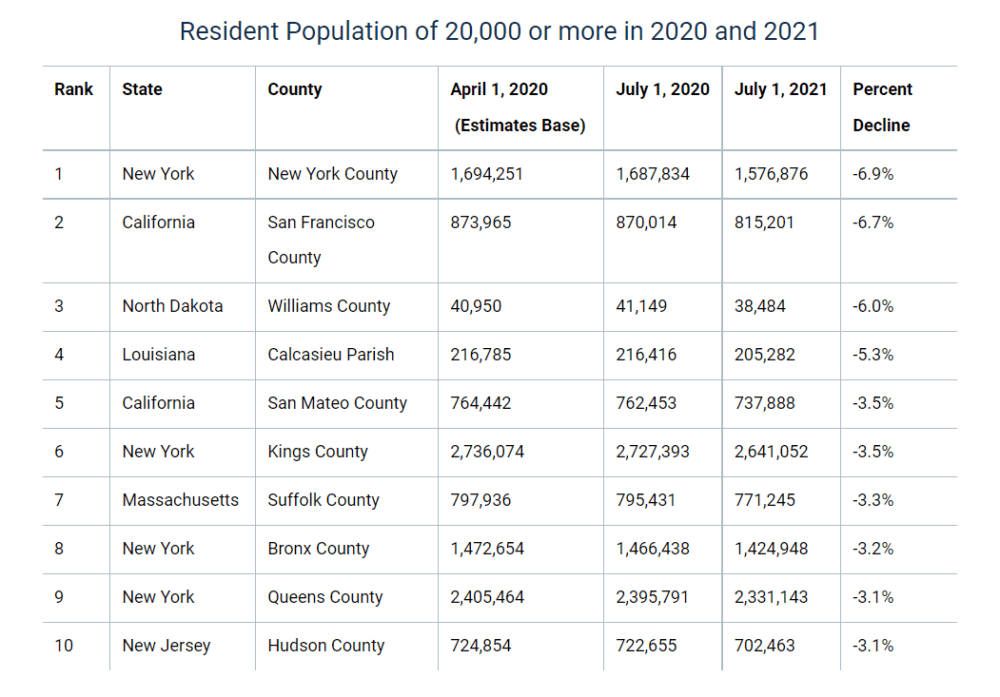 Nationally, the Census found that many residents left major U.S. metro areas during the pandemic and moved to the South and West.
The exodus was led by New York, which lost almost 328,000 residents, primarily because people moved to other places.
Metropolitan Los Angeles lost almost 176,000 residents. The San Francisco area saw a loss of more than 116,000 residents. And greater Chicago lost more than 91,000 people from 2020 to 2021. Greater Boston, San Jose, Miami and Washington also lost tens of thousands of residents, primarily from people moving away.
The Boston metro area lost nearly 37,000 residents from 2020 to 2021, a decline of less than 1%, Census data shows.
In addition, most Census counties suffered a natural decline in population from 2020 to 2021, with deaths outpacing births, as COVID-19 spread through the country. Boston estimated that more than 1,400 people died from COVID.
On the flip side, the Dallas area grew by more than 97,000 residents, Phoenix jumped by more 78,000 people and greater Houston added 69,000 residents.
Demographer William Frey told the Associated Press he believes the growth of micro areas and decreases in the biggest metros will be temporary, taking place at the height of people moving during the pandemic when work-from-home arrangements freed up workers from having to go to their offices.
"There is clearly a dispersion, but I think it's a blip," said Frey, senior fellow at the Brookings Institution's metropolitan policy program, Brookings Metro. "We're at one of the lowest levels of immigration in a long, long time, and that affects big metros like New York, Los Angeles and Chicago. That is going to come back. With the natural decrease, we will go back to normal."
---
Mike Schneider of the Associated Press contributed to this story.