In solidarity with Ukraine, artists wrap Harvard Square monument
Two Cambridge artists are raising awareness around what is lost in war with an art installation in the heart of Harvard Square.
When Ross Miller saw photographs of statues covered in protective wrapping in Lviv, Ukraine, he was struck with emotion. A wrapped statue of an ocean goddess with her arm raised reminded him of the water sculptures he likes to create. "It just was heartbreaking that amid everything else, they were also working to protect their artwork, their cultural heritage," said Miller.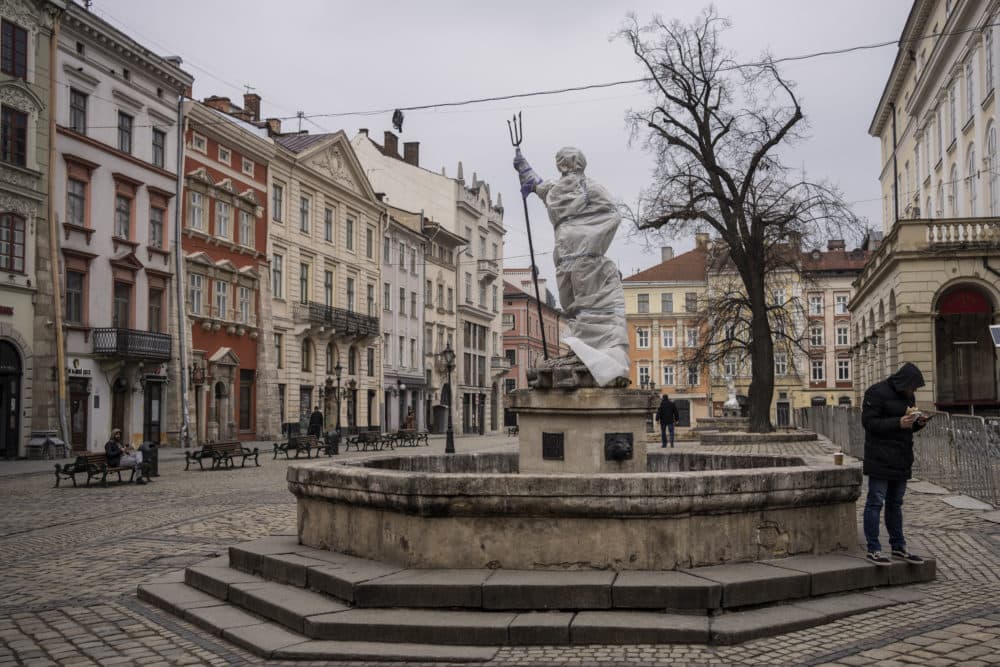 The covered structures inspired Miller and his colleague, artist Yolanda He Yang, to recreate the images they saw by wrapping a sculpture of 19th-century abolitionist Charles Sumner in Harvard Square. The artwork, "Ukraine Echo," brings awareness to one of the great horrors of war: the destruction of culture.
Lviv is a city in Ukraine with architecture that dates back to the 5th century. In the city's old quarter lies Market Square, an area filled with medieval topography, cathedrals, and centuries' worth of evidence that a wide array of ethnicities have made the city their home. Lviv was declared a UNESCO World Heritage Site in 1998. But as bombs began to fall in Ukraine last month, historic preservationists and locals alike made the difficult decision to bring ladders, fire-proof materials, and tape to wrap up valuable sculptures and artifacts.
Miller's work centers on public art, and he is especially interested in how people interact with physical space. He sees it as a way to make an offering to urban landscapes. His colleague Yang feels similarly. For her, it can serve as a powerful form of activism that invites onlookers to participate.
When Denise Jillson, the executive director of the Harvard Square Business Association, saw the artist's project mockup, she immediately reached out to the city for permits. The entire project came together in a total of four days.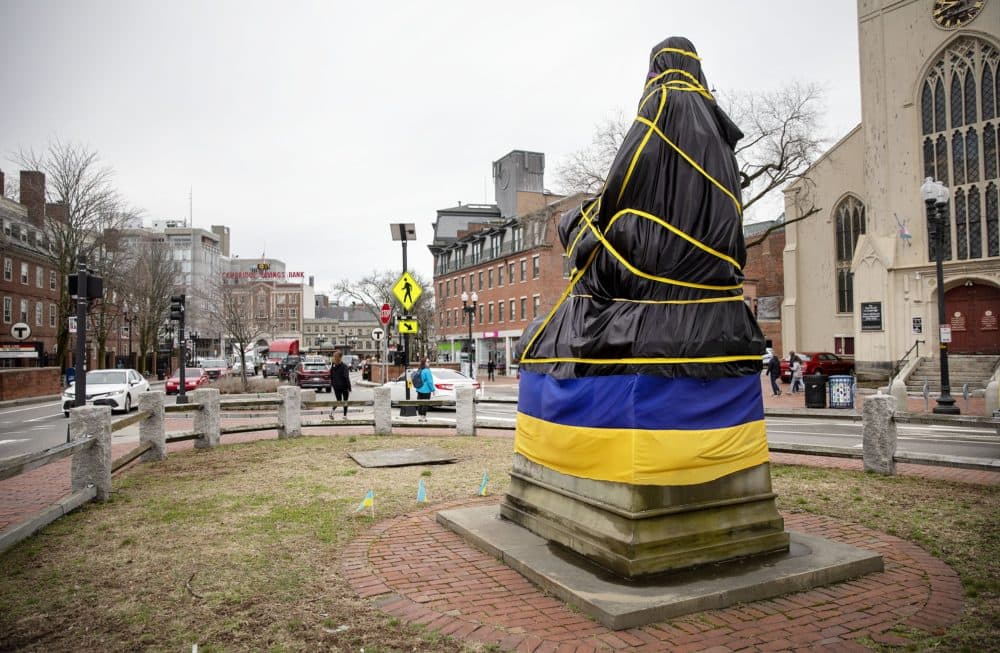 On Sunday, March 20, around 200 people were in attendance as Yang and Miller used a ladder, tarp, and tape to wrap Charles Sumner in Harvard Square while singer Olga Lisovska sang the Ukrainian national anthem. Yang brought striking brooches made out of shards of glass and painted with the Ukrainian flag, yet another symbol of the fracturing that comes with war.
Both the two artists explain that their artwork, as an action, is imperfect. It does not materially change the experience of those living through warfare. Yet, they hope to create dialogue and a sense of reflection from those who pass by the wrapped statue. "It's about all the people who have to redefine their home," said Yang.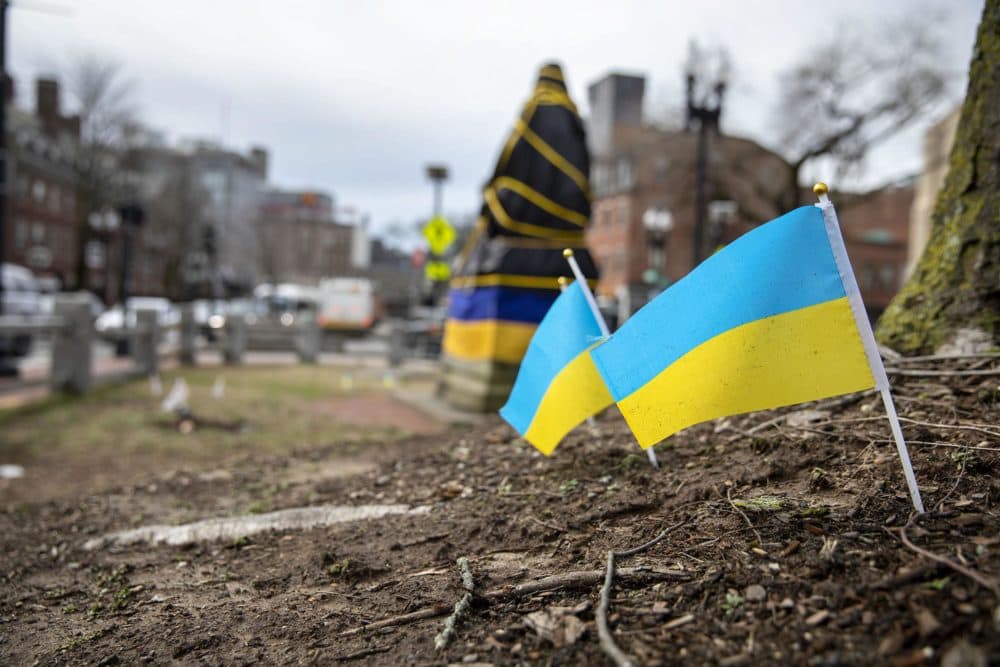 The wrapped statue is not a condemnation of Russia, but of combat. They hope that this work allows people to reflect, and to lean into the complex emotions that war's destruction causes for everyone. "To make an artwork project that claims that there's a simple story is also false," said Miller.
The two artists plan to continue the project with other statues, perhaps even in other cities. And with that, they want to keep asking questions and expanding consciousness around the horrors of war. As Yang reflected on the unwrapping of the Charles Sumner statue next week, she said, "Even if in the end if visitors say, 'People never learn,' that is also a very meaningful thing."
---
"Ukraine Echo" will be on display until Wednesday, March 30.