Somerville's Pink Noise Studios closes its doors
This article is more than 1 year old.
Tucked away in a corner in Somerville, Pink Noise Studios has been a welcoming space for musicians for seven years. Established by audio engineer and musician Dan Thorn and operating at 15 Ward St. since 2015, the studio has recorded an estimated 50 bands and musicians, served as a practice space for around 15 bands and hosted about 25 shows, according to Thorn. However, the COVID-19 pandemic has placed a strain on the studio and it will close its doors indefinitely on March 31.
Thorn said he didn't want to add Pink Noise to the list of spaces that have closed, but running the studio cost him $3,400 per month. When the pandemic hit, Thorn's business suffered. "Shows I was gonna do got postponed and then canceled. I refunded bands who were practicing. Recording sessions I was thinking about doing got rescheduled and then canceled. I've done maybe three sessions in this space before January of this year over the last two years," Thorn said.
Prior to the pandemic, plenty of Boston musicians have made good use of the studio: "Wild at Heart" by Sue Bell, "Tanked for Jupiter" by Cheap City, "Young Familiar" by Christians & Lions, "LIFE AS A THREAT" by WIMP and "That's Why They Call Him Zachy!" by The Michael Character are among the many albums recorded there.


"[Pink Noise] was a place where people could play music and hopefully make a decent little amount of money and play to a good audience," Thorn said.
The multifaceted space was large enough to house recording equipment and show space, but it still had an intimate atmosphere. "There was the open show area with no stage, which I think let people get kind of close to the musicians in a nice way," Thorn said. "So many times, the people who perform there were people who recorded there previously. And it felt really nice as a conclusion to this creative process that we've gone on together that they could sort of present their songs that we'd worked on here for so long to the world in the same space where they were recorded."
James Ikeda, who has played in Boston for over a decade, has played in The Michael Character in both solo and full band iterations — the band has released 14 albums. The Michael Character and Ikeda's "history lecture band" MCtheProfessor.GOV have both played at Pink Noise. Ikeda said he was drawn to Pink Noise because it was affordable and versatile. "We could go in and set up our stuff, soundcheck, do all that kind of stuff, practice…We had more flexibility. Also, we could play with the space. We could arrange the space how we wanted," Ikeda said. "It was in a relatively isolated place so we could really f---ing be loud…Having a space that felt like there was creative ownership over it, we could stretch out conceptually to make it work with what we wanted to do. It's really important and valuable."
Jamezie Helenski, who recorded "LIFE AS A THREAT" with their band WIMP at Pink Noise, said that they appreciated Thorn's attention to detail. "There is definitely something to be said about the effort and attention Dan would put into like the setup alone and just really going over everything with us to make sure we liked how it sounded," they said.
Pink Noise shuttering comes as yet another blow to the Boston music community. In April, a new tenant will move into the space Pink Noise currently occupies. "It'd be cool if there was another musician who could come into the space, because it's very hard to find a space where a landlord is comfortable with you making music," Thorn said.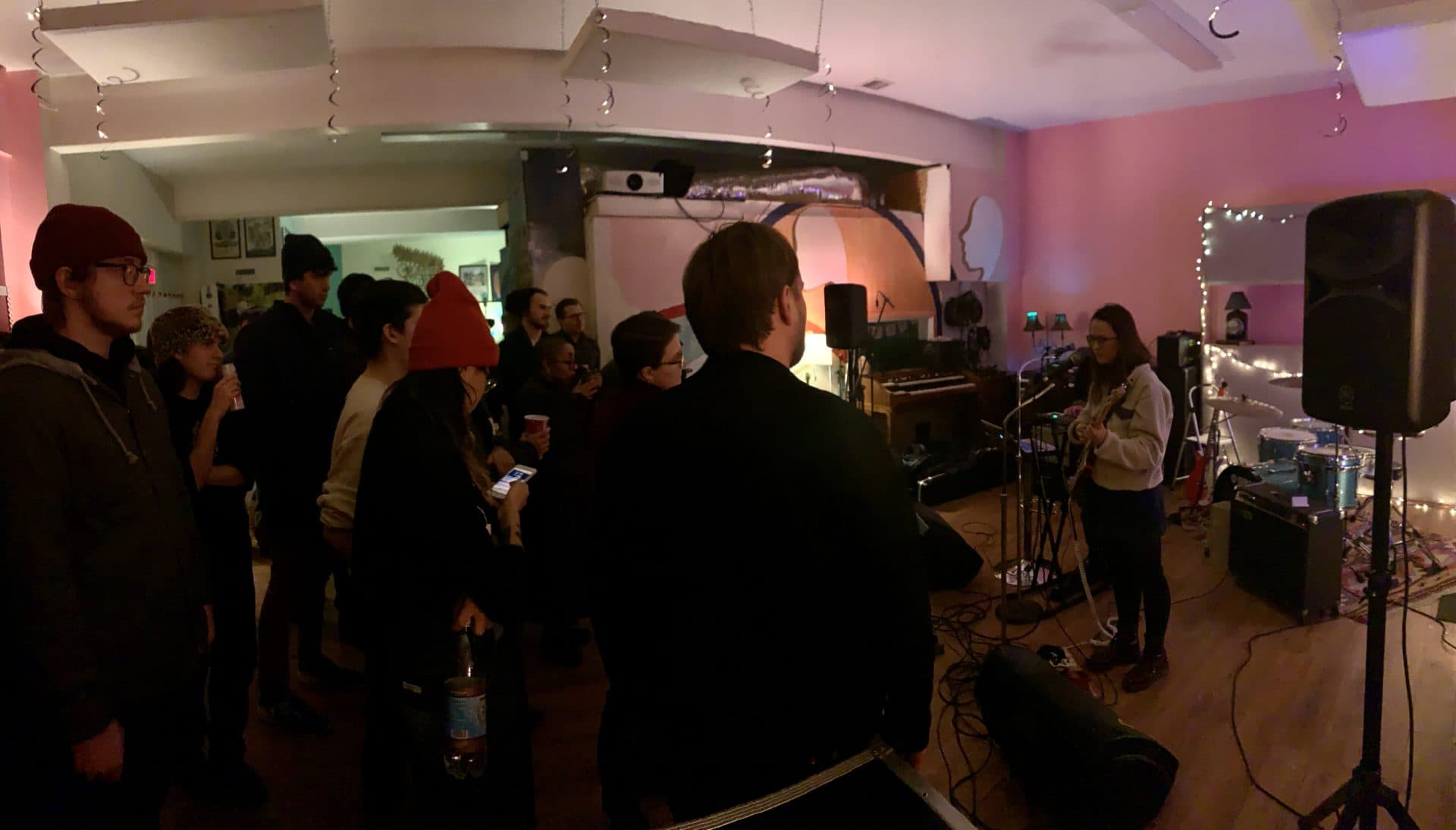 Ikeda is no stranger to being affected by the closure of recording studios, practice spaces and venues. But Pink Noise still comes as a shattering loss. "It is the cumulative gut-punch feeling…" Ikeda said. "Losing that definite space means that every single idea we have for a different kind of show we want to do, or a special event, or a record we want to record becomes a logistical problem. Pink Noise had eliminated an entire category of logistics."
Helenski added that area was already lacking spaces prior to the pandemic. "Boston didn't have very many spaces to begin with, let alone having them all close domino-style within a few months of each other. So it's not a fun atmosphere, or a terribly optimistic one to be navigating through," Helenski said. "But I think there's certainly a good handful of people in the area that are still really trying to do what they can to either preserve the spaces that they're already at or look for places that might be able to be shifted in a way that could serve the same purpose."
For now, Thorn has wrapped up projects at Pink Noise and is breaking down the studio. "I was hoping maybe I could do a Hail Mary or something and stay in there, it's a hard space to give up…," he said. "[Running Pink Noise has] been a lot of work for one person. But I'm hopeful that maybe in the future, I can work with some other folks around here and maybe try to collectively find a space and put together something that feels similar to how Pink Noise felt to people."