Following first unmasked concert, chorus members share cautionary tale
Resume
More than 30 members of the Tanglewood Festival Chorus and the Boston Symphony Orchestra tested positive for COVID-19 following a performance in Boston last weekend.
Abbe Dalton distinctly remembers seeing her spittle fly across the chorus during the performance. "I saw my own spittle glisten as it shot across my fellow singers," she said.
Shoulder to shoulder, members of the Tanglewood Festival Chorus sang Benjamin Britten's War Requiem on stage with the Boston Symphony Orchestra. The chorus had just resumed unmasked performances for the first time since March of 2020. Dalton, a contralto, says it's the nature of singing—spit happens when you enunciate your percussive consonants.
"And I thought, 'Oh my God, I need to write a sorry note. I need to write another sorry note," Dalton said. "And then I thought, 'I should just suggest that everybody should go home and shower.'"
Dalton was not positive, but fellow chorus members were. Of the 31 cases reported to the BSO, 21 were TFC members and 10 were BSO members. There are currently just under 200 members of the Tanglewood Festival Chorus. It is an all-volunteer chorus.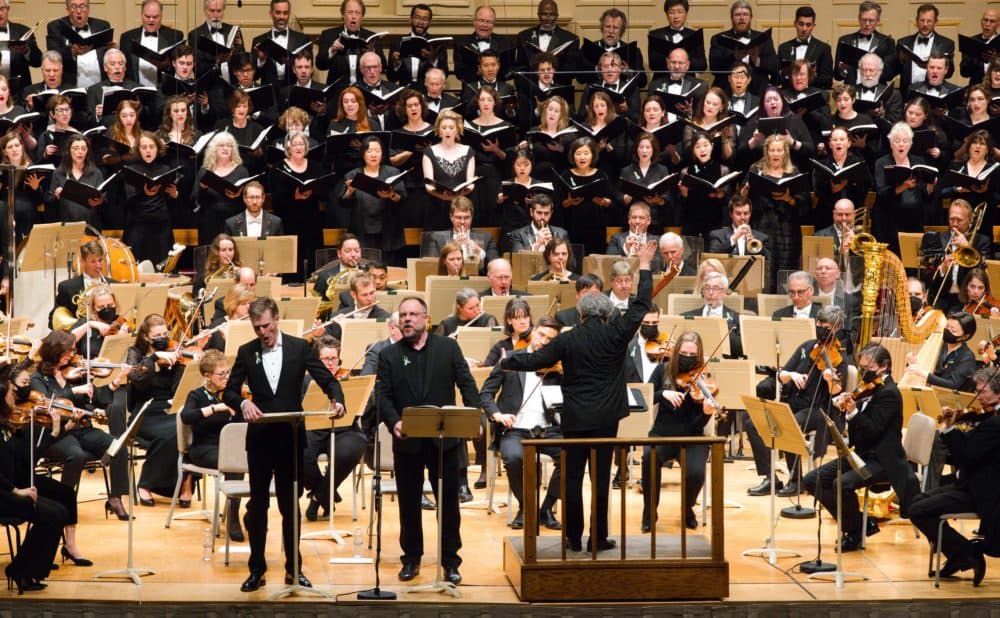 What bothers Dalton and others is that the BSO did not immediately share that a few singers tested positive prior to the concert. Those singers who were found to be positive did not perform.
In a statement, the BSO says they "stopped contact tracing earlier this year in accordance with the CDC guidelines." HIPAA privacy requirements also played a role. The statement adds that the organization has taken its response to the pandemic seriously, including rigorous safety measures such as mandated vaccines and boosters for all performers and staff, testing for all choir members, BSO brass and wind players, and vocalists daily prior to arrival, and enhanced ventilation and filtration that exceed all published guidance.
The BSO's vice president for artistic planning Anthony Fogg says caution is key as they evaluate their next steps. "Unmasked singing is not yet as safe as we think it is, regardless of the protocols," Fogg said. "So I think we maybe all need to take a pause just for the moment, especially with this sharp uprise in cases across the country and in our region in particular."
Chorus alto Lauren Boice and her husband both tested positive for COVID-19.
"Based on what we went through, we don't believe that choral singing without masks is safe," Boice says. "We learned that the hard way."
Though the chorus rehearsed in masks, Boice felt the results of multiple rapid tests provided by the BSO were unreliable. After the performance, the number of COVID cases rose to more than 30. Now, she worries this might be a cautionary tale for other choruses.
"We all want the pandemic to be over," Boice says. "Even mild symptoms of COVID are scary. And there's still that threat that you could be the lucky winner of long COVID. So this isn't about trying to limit against severe cases. This is about trying to limit against any cases."
Most cases were mild, others asymptomatic. The BSO recently canceled its upcoming tour of Europe due to rising COVID cases there and among the orchestra. They have not, however, canceled concerts at Symphony Hall. An assessment by the Boston Public Health Commission, following the rash of COVID cases after the concerts, determined that the BSO's protocols are incredibly robust overall.
"Singing is perhaps one of the greatest forms of human expression," Fogg says. "And it's the combination of the individual tone quality of a singer, the power of the text that's being delivered. There certainly is a great difference between performances when the singers are unmasked and those when they are masked. We've had various examples of that in Symphony Hall over the last year."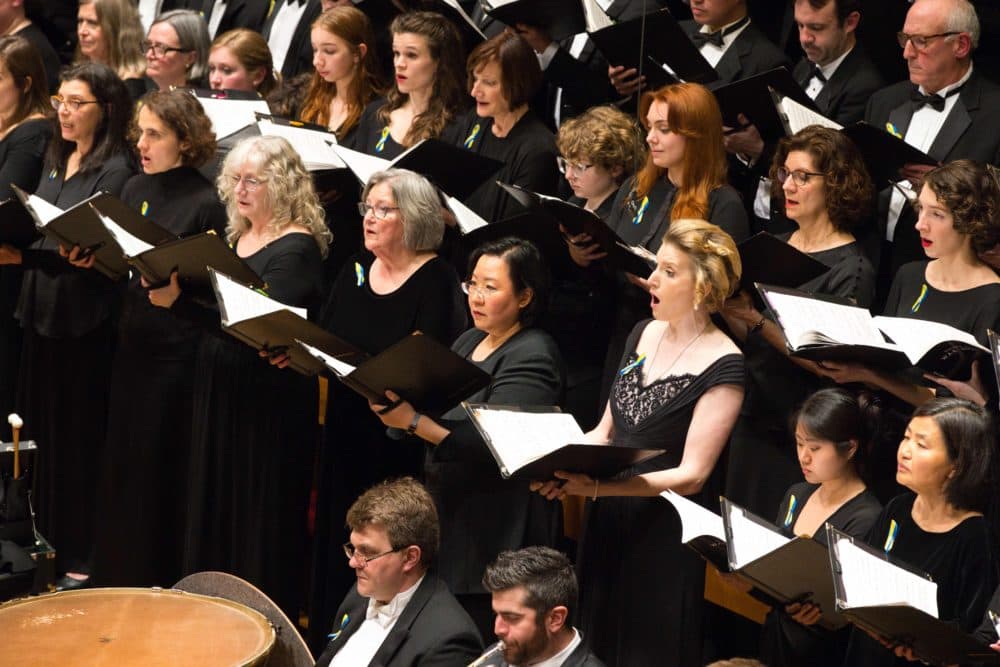 He said they decided a work like the War Requiem required a special weight of tone and the text was so important to be clearly enunciated that having an unmasked chorus was musically the direction that needed to be taken. To him, the sound with masks and without was like night and day, he says.
Virginia Bailey, chair of the Tanglewood Festival Chorus Committee, is immunocompromised. She did not sing because she did not want to perform unmasked, but she wishes she could have. Still, she trusts that the BSO had their best interests in mind.
"We've seen other choruses around the world performing unmasked and thought that we could do so safely," Bailey says. "The numbers and the science and the data all indicated that. But clearly we have to go back and revise and again still keep learning and keep moving forward."
Dalton has noticed that singing with a mask requires a focus on technique in a way she did when she first started singing decades ago.
"I loved singing without a mask last week. I really did," Dalton says. "The consequences of it didn't hit me personally, and I feel horrible that my fellow singers are paying for this. I wish we could sing without a mask, and I'm going to be so happy when it's safe to do it again. But I think we just learned that we can't. Not yet."