Teen overdose deaths are up. A new study says pediatricians need training to help
Overdose deaths among teenagers are surging. And three out of four adults who become addicted to drugs or alcohol start using these substances before they turn 18. But most pediatricians do not get the recommended training needed to spot or treat an addiction. That's one finding from a survey of U.S. pediatric residency programs out in the journal Pediatrics.
"This is an important cause of illness and death for young people across this country," said the study's senior author, Dr. Scott Hadland, chief of Adolescent and Young Adult Medicine at MassGeneral Hospital for Children. "It's clear that we don't have the education for pediatricians to tell them how to treat it."
The survey of 120 programs showed just 41% offer instruction that includes how to screen for a substance use disorder, intervene and treat the disease. The percentage is slightly higher, 46%, in counties where overdoses are more common.
Training related to prescriptions for naloxone, the drug that can reverse an opioid overdose, or fentanyl, the opioid fueling the recent rise in deaths among teens, is even more limited. It is offered in only 21% and 23% of pediatric residencies respectively.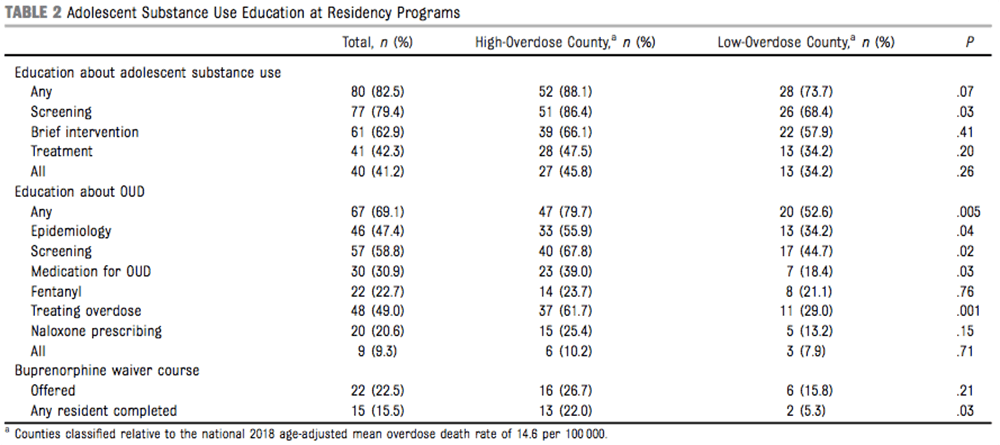 The study lists three reasons for these gaps: not enough senior pediatricians with knowledge of substance use among teens, an already packed course schedule and a lack of available content. Hadland says other specialties such as emergency medicine, obstetrics and internal medicine have worked through these barriers to make substance use education a priority. He argues pediatricians may have an even greater obligation to do so as well.
"It's much easier to turn around a young person who's been struggling with addiction in the short term than it is with somebody who's been struggling for a long time," he said. "The stakes are also higher because these are young people who have many years of health and longevity ahead of them."
Hadland, who is both a pediatrician and an addiction medicine specialist, has helped author some online curricula that could relieve one of the barriers to better addiction education for both pediatric residents and doctors who've already completed their training — the lack of available educational materials.
Hadland says the American Academy of Pediatrics is taking this issue seriously and developing clinical practice guidelines. No one from the AAP was available to comment on the study.