Officials break ground on Boston Common MLK memorial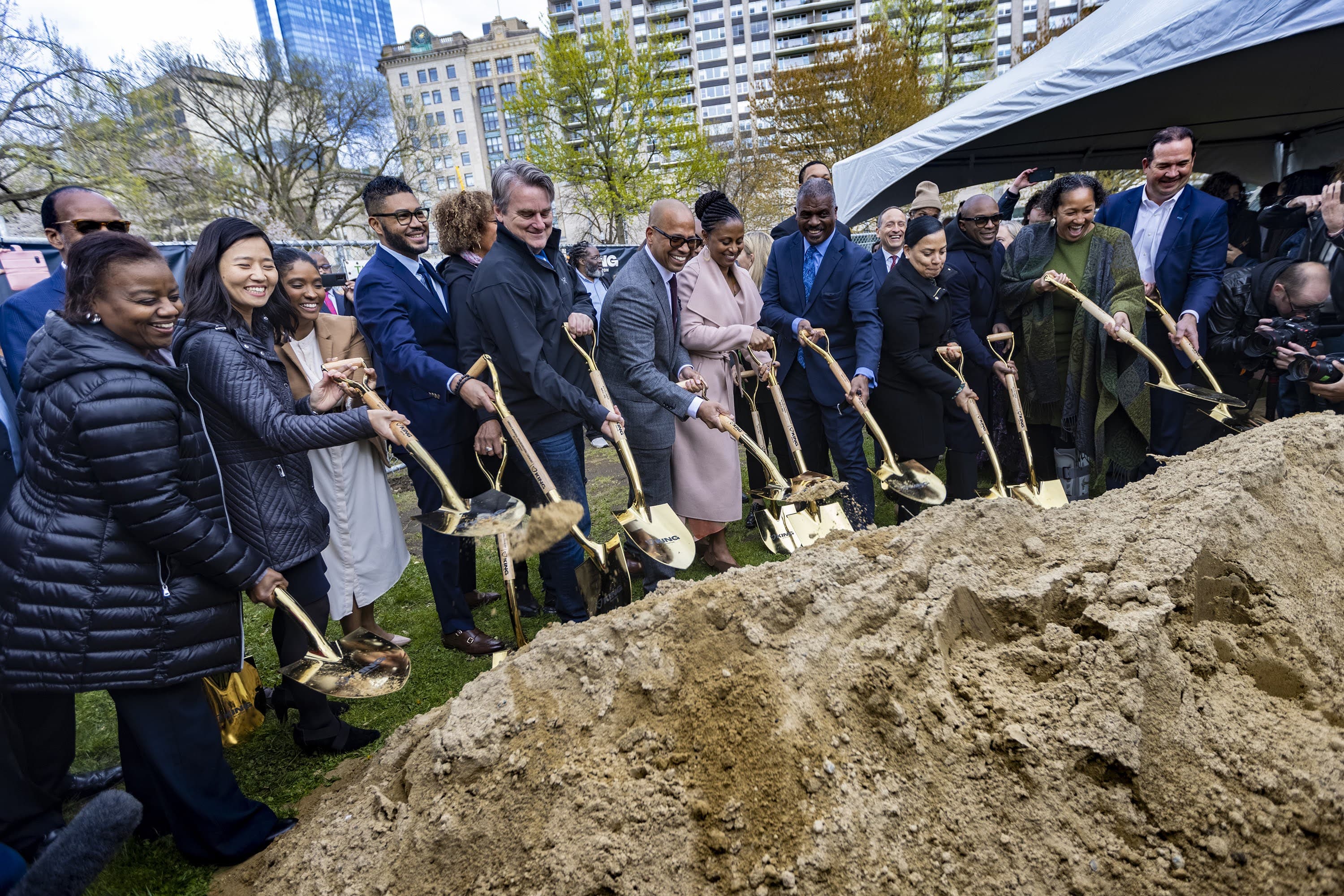 On what would have been Coretta Scott King's 95th birthday, in the place where she and the Rev. Martin Luther King Jr. fell in love, the city of Boston broke ground on a monument that will honor Black love.
City and state leaders gathered en masse for the groundbreaking of "The Embrace," where a 20-foot-high bronze sculpture of clasped hands will be installed.

More than one person noted how very difficult it was to go through the permitting process and to $10.5 million so that a new memorial could be placed in the country's oldest public park. The last project to come to fruition on Boston Common was the memorial to Robert Gould Shaw and 54th Regiment, which was dedicated in 1897, according to Rev. Liz Walker, senior pastor at Roxbury Presbyterian Church. Walker --  together with King Boston, a non-profit organization — helped convene the art committee that began shepherding the design process for "The Embrace." That group of visual artists, educators, and curators coordinated meetings in neighborhoods across Boston to get public input on the best ways to celebrate and advance the Kings' work in Boston.
"We are making history today, but it is not enough to know history. It must inspire, provoke, elevate, anger, and teach us. History must move us and change us," Walker said. "We are at a critical moment in this nation's history. As optimistic as I would like to be, none of us is certain where this country is headed. These are troubled times, but this day gives us great hope. That we will learn from and embrace the lessons from our past and then act on them."
She challenged those in the audience telling them they have a "greater responsibility to do something more for freedom, justice and love." Other speakers at the event included Gov. Charlie Baker, U.S. Attorney Rachael Rollins, former State Representative Marie St. Fleur and Mayor Michelle Wu. Wu spoke of belonging, of what it felt like to grow up in an immigrant family and to wonder if spaces were built to include them. She said that today in this season of breaking fasts, they got to break ground on something that would root them more to their community and to their purpose as a city.
"Whether you're rooted here six generations deep, whether you just came to this country, whether you're here for school. Planting your feet on the ground. This is a city that is a city for everyone," Wu said. We're a city that will take on the legacy that Dr. King and Ms. Coretta Scott King fought for, waging war against injustice and racism in all its forms, in every corner, but also doing so from a place of love."
Hank Willis Thomas, the artist who designed "The Embrace," also showed up to acknowledge this momentous occasion.
"I wanted to take a moment to register gratitude for not only [Coretta Scott King] and her parents and her ancestors, but all of our ancestors who have walked in this space with hopes and dreams for millennia," Thomas said. "And all of the descendants will now walk by this place. And actually, because of the work that so many people have done here, reflect on the possibility of love."
The memorial will be unveiled to the public on Martin Luther King Day holiday in 2023.