Felipe Ortiz's bright colors burst on walls around Massachusetts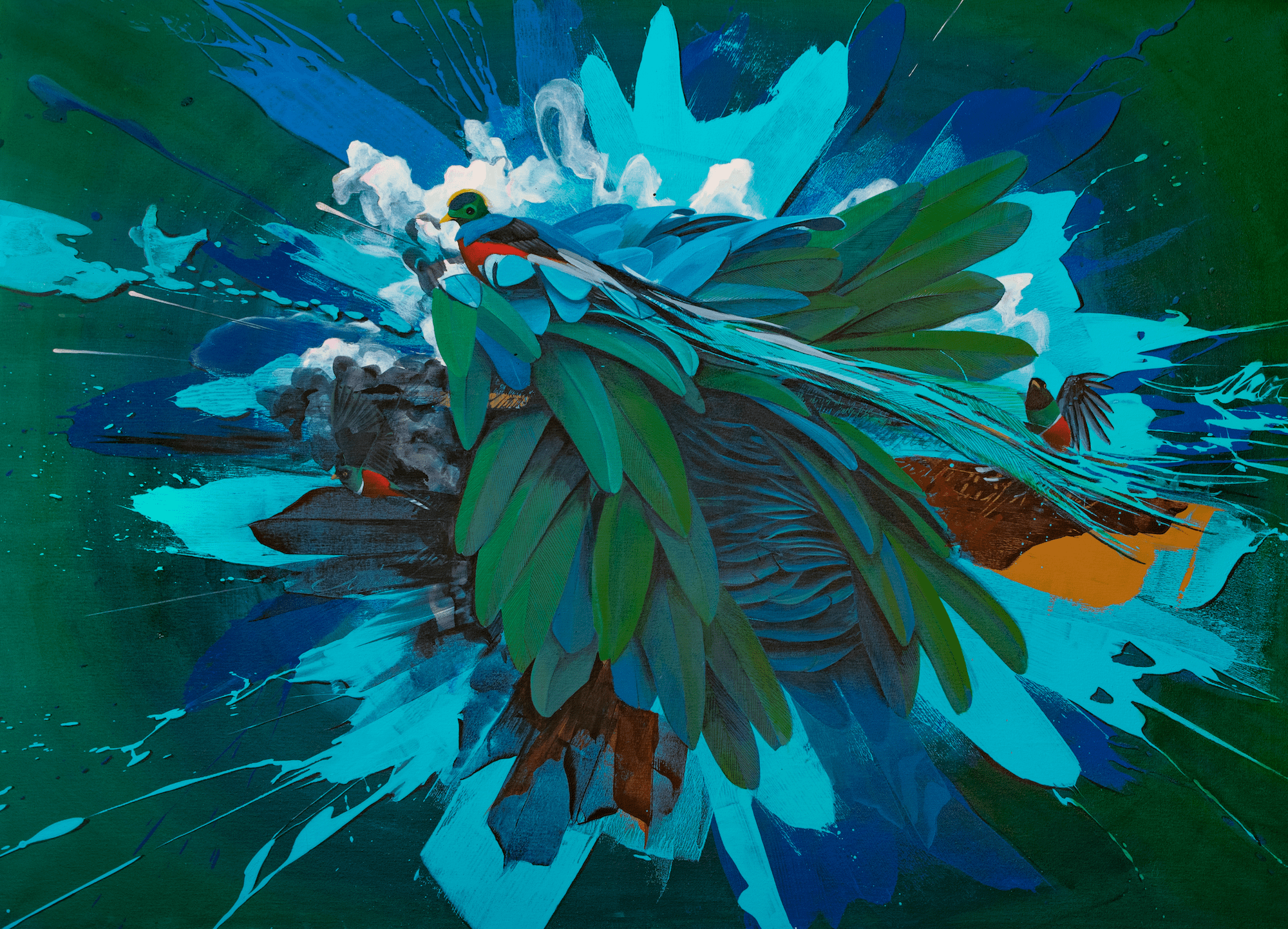 When Felipe Ortiz was studying at MassArt, his professor, Jamaican painter Kofi Kayiga, used to tell him, "The journey of an artist takes a lifetime." For Ortiz, a transplant from the city of Cali, Colombia, it's a lived truth, as it took nearly 30 years before the art caught up with the artist.
You can see the heartbreak in Ortiz's 2014 painting "Explosive", one of the first entries in his ever-expanding series "Explosive Nature." Painted in the wake of losing his brother in a tragic accident, deep red streaks cut across the canvas to create a dramatic backdrop. But you can also see the painter's love, not only for his family, but in the attention to the wilds of his childhood home. Brilliantly colored birds, hidden huts and the unique native fauna of Colombia emerge at the center of his work. Those carefully detailed snapshots of life, overrun with color, is what's so engaging about Ortiz' work.

After nearly a decade of exploring "Explosive Nature," Ortiz, who now lives on Cape Cod, has slowly spread the colorful work throughout Boston and New England. He's painted large scale iterations for Beyond Walls in Lynn, SeaWalls in East Boston, the Punto Urban Art Museum in Salem, in Mission Hill and the massive 5,000-square-foot Oystercatcher mural in East Boston. He also recently completed a mural inspired by the band Modern Lovers for the new Roadrunner venue in Allston/Brighton, and he's showing his work at a debut show at the Rugosa Gallery in Eastham.
Ortiz points to seminal moments in his artistic career with ease, and there are at least three. The first, he said, came after increased violence led his family to flee Colombia in 1999, and he found respite in art as he made a new home in America as an immigrant teenager. The second came in 2008, just as he was finishing up his degree in fine arts at MassArt.  There he studied with Kayiga, whose art seeks the "primitive" in the sense of exploring the essence of human consciousness. At the time, Ortiz was using washed out colors, layering them to create abstracts, trying to find a focus for his art.

"I stayed with [Kayiga] for three years but it wasn't because of academics," Ortiz said. "I learned about art and the spirituality of it, the connection to energy. He taught me how to be more receptive and perceptive to the world around me."
When Ortiz left Cali for the first time with his parents at the age of 14, he left behind an older half-brother and half-sister. Despite the distance, he and his brother Juan Pablo remained close, so when Juan Pablo came to America in 2008, Ortiz said it helped awaken him to his early life in Colombia. Juan Pablo's visit would also change Ortiz's art.

"He basically said, 'Is this the best you can do?'," Ortiz recalls Juan asking when he first saw his work. "I had been going to school for art, and even though he was making fun of me, he was right. That was a turning point to push myself, more and more."
After years of trying, Ortiz secured a visa and lined up a trip home to Colombia in 2013. But just days after he arrived, tragedy struck.  His brother died in a diving accident. All their plans to reconnect, dashed. Looking back, Ortiz said the trip, the time with his family, and the rediscovery of his home pulled together to deliver "Explosive Nature." As he returned to places from his childhood, and explored the culture his brother had told him about over their 14-year separation, he dove back into Colombian art and nature.
During his childhood, Ortiz's father served as an on-call doctor for a local scuba team in Cali. Thinking back, even now, Ortiz said he can still remember the crush of the tropical forest, the dripping humidity, the small villages along the coast and the fulmination of color. Now, mostly during the New England winters, he returns to places like San Cipriano, Valle del Cocora, Nuqui and Gorgona, breathes in the environment, and paints.
"I want to show the magic and beauty of these places through my artwork and highlight the importance of protecting our natural environment," he said. "In a way, my artwork represents the nostalgic memory and presence of my native Colombia. The movement, the color, the dancing, the music, even the extremes of hope and tragedy. It's all in there."