5 musical acts to watch at this year's Boston Calling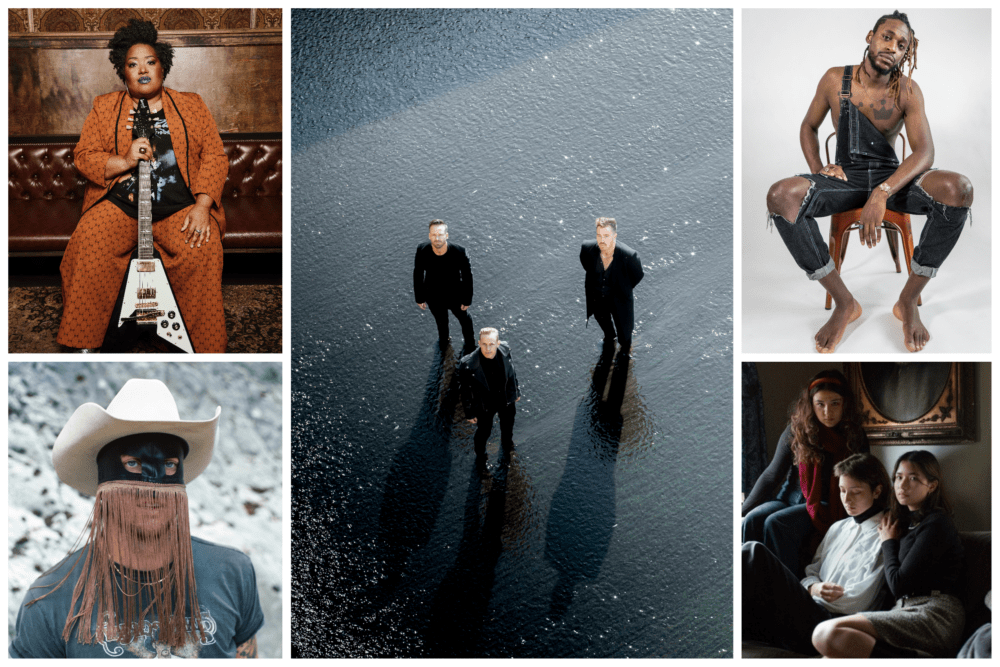 This year's Boston Calling music festival — lighting up multiple stages at the Harvard Athletic Complex in Allston — features over 50 performances across three days, kicking off Memorial Day weekend (May 27-29) on a musical note. Industrial rock band Nine Inch Nails, the Strokes and Metallica headline Friday, Saturday and Sunday respectively, with musical acts in every genre under the sun joining the festival's fray. While you're likely familiar with the pop-rock beats of Haim and Weezer, here are five additional acts not to miss when they come calling.
Celisse
Multi-hyphenate maestro Celisse's list of accomplishments rises as sky-high as her soaring guitar licks. The Manhattan-based singer-songwriter and multi-instrumentalist has shared the stage with the likes of Kesha at the Grammy's in 2018 and shredded on the main guitar for Lizzo during her 2020 performance of "Truth Hurts" on "Saturday Night Live." Add in the performing credits — starring in the Broadway tour of "Wicked" and the revival of "Godspell," appearances on the TV show "White Collar" and more — and it's any wonder that she finds time to write her own music. But thankfully, she does. Just take the searing protest anthem "Freedom," where she asks, "We're told this land is for you and I/ Then why are we the ones to die?" Then soon after, she seems to answer her own question with her soulful voice cutting through the distortion-heavy guitar: "We are standing up/ We will be the light/ We all deserve the right to freedom." The work draws on her present as a spoken word artist, and rock's past as a blues-based artform pioneered by Black creatives. She's a rare artist as masterful in spinning stories with lyrics as with her hypnotic guitar hooks. Feel the freedom when Celisse hits the Red Stage on Saturday, May 28 at 3 p.m.
---
Cliff Notez
CliffsNotes are those study guides beloved by high school students everywhere (teachers, not so much) that summarize works of literature, distilling down the plot points and themes. Cliff Notez, then, is a fitting name for the Boston-native musician and multimedia artist whose lyrics seem like a cheat sheet into his soul. "I ain't here for your enjoyment/ I'm rapping for brothers that's living in unemployment," he raps in the track "Happy." Then, "Spill henny to fill the void/ One penny could heal your voice/ And a dollar and a dream ain't everything it seems." Over an uplifting beat and bright keyboard chords, these are the kinds of soul-bearing lyrics found throughout his work, where he spins rhymes of his journey with mental health and life as a Black man in Boston and America. He's been busy the last several years, releasing two albums ("When The Sidewalk Ends" in 2017, followed by "Why The Wild Things Are" in 2019), a 30-minute short film called "Vitiligo" in 2019, and bringing home Boston magazine's Musician of the Year award in 2019. And he's helping the next generation find their voices, too, teaching songwriting at the Berklee College of Music. Take note of the striking storytelling when Cliff Notez takes to the Delta Airlines Blue Stage on Sunday, May 29 at 2:15 p.m.
---
Horsegirl
Now's the moment to see Chicago-based indie rock outfit Horsegirl before their international tour gallops away from Boston. The talented trio consisting of Nora Cheng, Penelope Lowenstein and Gigi Reece will be performing tracks off their upcoming debut, "Versions of Modern Performance," which is out on June 3. "Modern" is right there in the title, but if tracks like "Billy" are any indication, their sound is a welcome throwback to the lo-fi alternative rock of the late '90s and early aughts. Like "Billy," a kind of sonic poem that paints a character with sharp lyrics, "Billy recounts all the time he spent on counting change/ The changes that he never made will make him wish he stayed and prayed." And "Anti-glory," which sees a relentless drumbeat and pitchy guitar meshing with lyrics that hint at aimless drives and young restlessness. The jam-session vibe feels like you're eavesdropping on friends jamming in their garage. Race to the Red Stage when Horsegirl performs on Sunday, May 29 at 2:50 p.m.
---
Orville Peck
What do you call a country song about an ill-fated brief tryst between two men by London's River Thames? If you're musician Orville Peck, you call it "Blush," and feature it on your album "Bronco," released in April 2022. The subversive country star highlights the art of artifice: South African born and Canada-reared, he sports a fringed mask, glam-Western wardrobe, and doesn't reveal his identity (the curious can Google it, but that ruins the fun). Though his rich baritone occasionally lets slip scant details (shout-outs to South Africa in the lush and gorgeous "Kalahari Down") just as easily as he weaves tales of his stage persona's possible origins ("Take me home to Mississippi," he tells his love interest in the track "Daytona Sand"). The musician grew up immersed in the work of musicians like Willie Nelson, Patti Smith, and Dolly Parton and casts similarly boundary-breaking music with a queer edge, drawing from his life experiences as a gay man. "Still there's something 'bout men that I don't understand/ They're always leaving wherever they've been," he continues in "Blush." And though he draws from common tropes in the genre — running broncos, lonely highways, growing up on the farm — he proves that there's no one way to be a country musician. Saddle up when Orville Peck rides onto the Delta Airlines Blue Stage on Sunday, May 28 at 5:50 p.m.
---
RÜFÜS DU SOL
Queue up the latest album, 2021's "Surrender," from Australian powerhouse trio RÜFÜS DU SOL and plug into electronic euphoria right from the jump. Plunky piano notes give way to shimmering synths and simple, confessional lyrics, like on the song "Next to Me": "And when the lights come down/ I wanna feel you standing next to me." And when the engineered sounds build to a cinematic crescendo? Listeners list off to a rave in the desert, with disco lights shimmering down like rain. The album is emblematic of the balm-for-your-blues beats that the hit-makers — keyboardist Jon George, drummer James Hunt, and vocalist-guitarist Tyrone Lindqvist — are famous for since their founding in 2010. With six albums under their belts (including 2020's "Live from Joshua Tree," with its accompanying music video showcasing dreamy visuals of the band performing at sunset alone in the rugged landscape of Joshua Tree National Park in California), the band's world tour for "Surrender" kicks off here in Boston. Catch the bright sounds when RÜFÜS DU SOL hits the Red Stage on Friday, May 27 at 7:20 p.m.