'Crimes of the Future' posits a world where self-mutilation has become performance art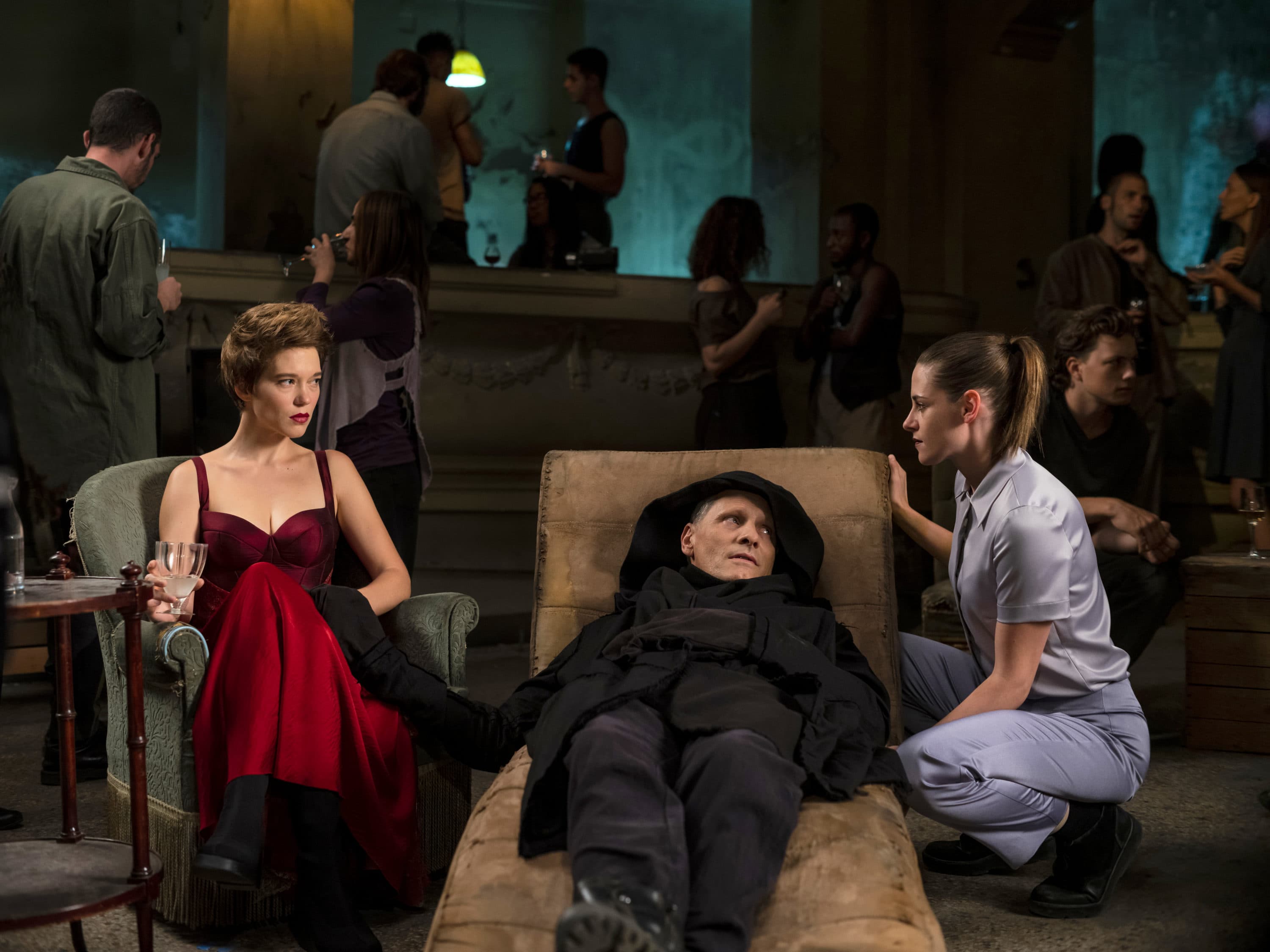 "Long live the new flesh!" cried the characters in David Cronenberg's "Videodrome" nearly 40 years ago. If you've seen it, you've certainly never forgotten the vision of James Woods inserting a Betamax tape into an orifice in his abdomen before his hand mutates into a fleshy pistol — the writer-director's none-too-subtle commentary on the warping of a culture addicted to pornography and violence. (Watched again today, Cronenberg's notion of a television signal causing brain damage and making James Woods even more unpleasant feels like a canny anticipation of Fox News.) This idea of the new flesh — code for the messy metamorphoses and evolutions of our increasingly endangered species — has been a central preoccupation of Cronenberg's filmmaking career, which is now entering its sixth decade with the droll, delightfully disgusting "Crimes of the Future."
Returning to his body horror roots with his first original screenplay since 1999's indelibly icky "eXistenZ," Cronenberg borrows the title from his otherwise unrelated 1970 second feature. (Understandably, as it's an even better double entendre than his "A History of Violence.") Set during an unspecified era when human beings no longer suffer pain or infection, "Crimes of the Future" posits a world where self-mutilation has become performance art. Viggo Mortensen stars as Saul Tenser, an artist afflicted with "Advanced Evolution Syndrome," meaning his body keeps growing additional organs that would appear to serve no purpose. He and his former trauma surgeon wife Caprice (Léa Seydoux) make the most popular show in town out of removing them, via heavily sexualized performances on a modified, mechanized autopsy table. Fans line up around the block to watch.

For starters, this is a blisteringly funny satire of the art world. But Cronenberg has more on his mind than just sending up the "inner beauty pageant." (Which is exactly what you think it is. Innards.) The film is mostly concerned with what makes us human, and who gets to decide. There's an 8-year-old miracle child who was born with the ability to digest plastic. His mother murders him because she thinks he's a monster. But the boy's father (Scott Speedman) heads an underground terrorist movement that believes the child to be the next step in human evolution. To them, the only way to keep society sustainable is if we can learn to consume our industrial waste. They consider our hero a heretic, cutting out these gifts from nature for the entertainment of vulgar, cheering crowds. Saul's in danger, informing on adversaries for a vice cop (Welket Bungué) investigating crimes they haven't made laws for yet.
There's a lot of impenetrable bureaucratic intrigue that might remind you of the Interzone segments in Cronenberg's adaptation of William S. Burroughs' "Naked Lunch." In fact, you'll find bits and pieces of a lot of his previous films in this one, which feels at times like a cross between a greatest hits album and a grand summation of conversations Cronenberg has been having with audiences since the 1970s. It's got some of the kinky, transgressive kick of his 1996 masterpiece "Crash," in which characters could only get sexually aroused by automobile accidents, as well as oozing, organic technology fusing with its users a la "eXistenZ" and "Videodrome." Everything in this movie looks sticky and like it smells bad, the scenes set in dingy offices and garages. (Cronenberg's vision of the future remains the exact opposite of an Apple Store.) And in that classically Canadian style, it's all played as a horny, poker-faced comedy of manners, trying to get you turned on and grossed out at the same time.

This is Viggo Mortensen's fourth film with the director and the two fall right back into their simpatico rhythm, the actor cutting a sublimely ridiculous figure walking the streets of Greece at night in a monk's cassock. Seydoux is perfectly tuned in to their very specific frequency, throwing herself with gusto into some soon-to-be-notorious erotic interludes, as when she unzips an incision in her lover's sternum and performs oral sex on his internal organs. But the whole show is stolen outright by Kristen Stewart, playing a jittery fangirl who speaks in breathy, high-pitched whispers and darts around the margins of the film like a malevolent mouse. It's one of the funniest performances I've seen in ages, playing every scene as if on the precipice of orgasm and coining the film's catchphrase: "Surgery is the new sex."
Cronenberg's usual Toronto stomping grounds have been replaced here by Greece, in part because that's where the film's financing came from, but I also imagine he couldn't resist shooting a story about the inevitable end of mankind in the birthplace of the modern world. For all its appalling images and apocalyptic overtones, I found "Crimes of the Future" surprisingly sunny in its outlook. I suppose as one gets older, the idea of human beings as something the world is going to evolve beyond becomes more and more appealing. Long live the new flesh.
---
"Crimes of the Future" opens Thursday, June 2 at AMC Boston Common, Kendall Square Cinema and in the suburbs, and on Friday, June 3 at the Coolidge Corner Theatre. Additionally, during the month of June, Coolidge After Midnite will be screening six Cronenberg classics, including the aforementioned "Crash," "A History of Violence" and "Videodrome."