Cirque du Soleil soars on ice with show 'Crystal'
They've done it in the air, they've done it on the floor of a stage, they've done it on tall walls and under water. They've even done it (tastefully) nude in an adults-only residency in Las Vegas. Now, they're doing it on ice.
"They," of course, is the sprawling Montreal-based company Cirque du Soleil, which began in 1984 and is now the largest circus producer in the world. The company has done more than 30 shows with seven currently up and running.
This particular show at the Agganis Arena is called "Crystal," and the ice-skating emphasis is a new element for Bostonians, if not for the Cirque itself. "Crystal" went up four years ago — and took the requisite pandemic hiatus — but made its area debut June 1, the first of 15 performances that run through June 12.
It was spectacular, and a joy to behold from start to finish. And, in many ways, a novel joy. The hitch with Cirque is that, as dazzling as the shows are the first few times you see them — and I've seen nearly every one that's been here — eventually, the bloom falls off the rose. As in, "Wow, that was great, but been there, seen that." The physicality and artistry may not vary in quality, even if the fantastical "plots" differ, but often the takeaway — expectations met — leads to a curious sort of fantastic-but-meh duality.
Not here. Or, as artistic director Rob Tannion told me beforehand, "Acrobats on ice, clearly a game-changer." Their challenge? "How do we get them to flip in a safe way? With specialized footwear and gloves. And prior to that, a whole acclimatization about feeling safe pitching someone up in the air and catching them."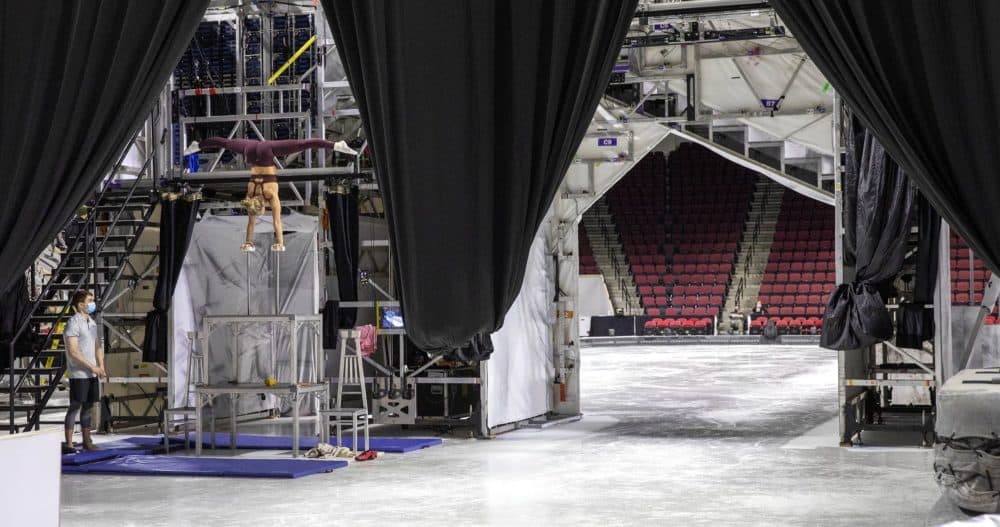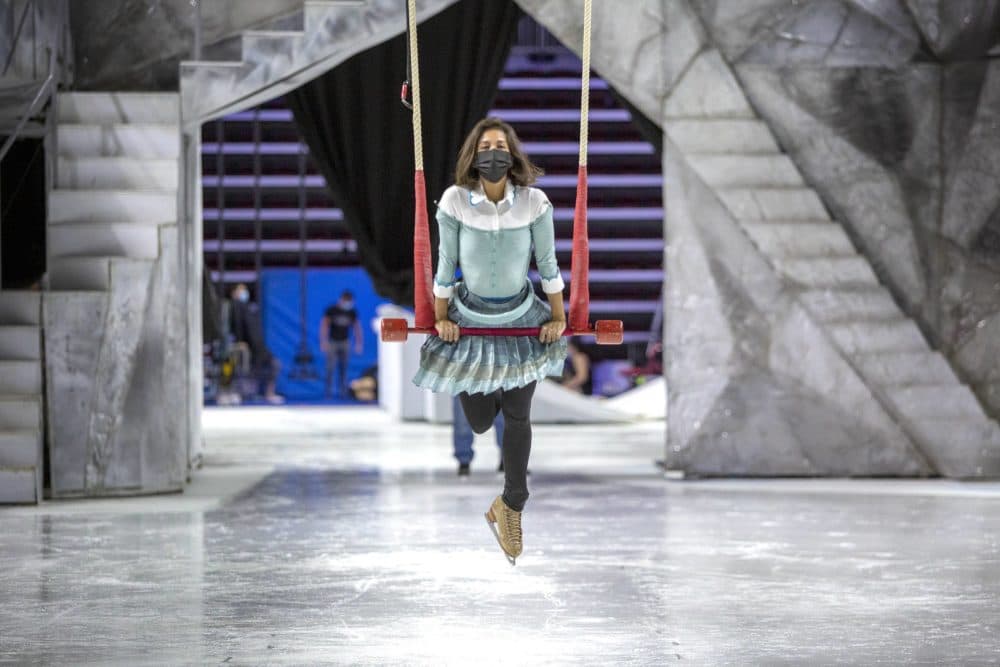 So, yes, there are trapeze artists on specialty skates. On the ice one moment, in the air the next, and back again. The skates stay on almost all the time, save for some three-person handstand towers and the like.
One of the figure skaters, Scott Smith, trained at Boston Skating Club when he moved to Boston at age 20. He's 40 now and is one of the suit-and-tie "businessmen" who try to one-up each other with stunts. "The most dangerous trick I do is I backflip over another person," he said. "It definitely takes some practice to perform safely over and over again, four weeks."
The plot — generally the convoluted and/or beside-the-point element in a Cirque show — has more coherence and resonance here. The scene is a town square next to a frozen pond. Young red-haired Crystal is a teenage misfit, who yearns to write, to use her pen and imagination to create something beyond the mundane. At the beginning, on a small dining room set high up on a multitiered quartz wall, she sits arguing with her parents about being creatively stifled. Her other family members have been seduced by the comfortable numbness of TV.
Crystal goes skating on the pond. In no time, she breaks through the ice, music soaring and multimedia video projections creating the illusion, as she comes down from the venue's ceiling on a cable, lands on the ice (representing an underwater fantasy) and meets these Alice in Wonderland-type characters, ones she has perhaps envisioned and created. "My thoughts became their actions," she says. "I can write my own joy." Crystal also has a doppelganger or shadow self — at the start, one of them, later three — who acts in consort or clash with her as they skate and dance.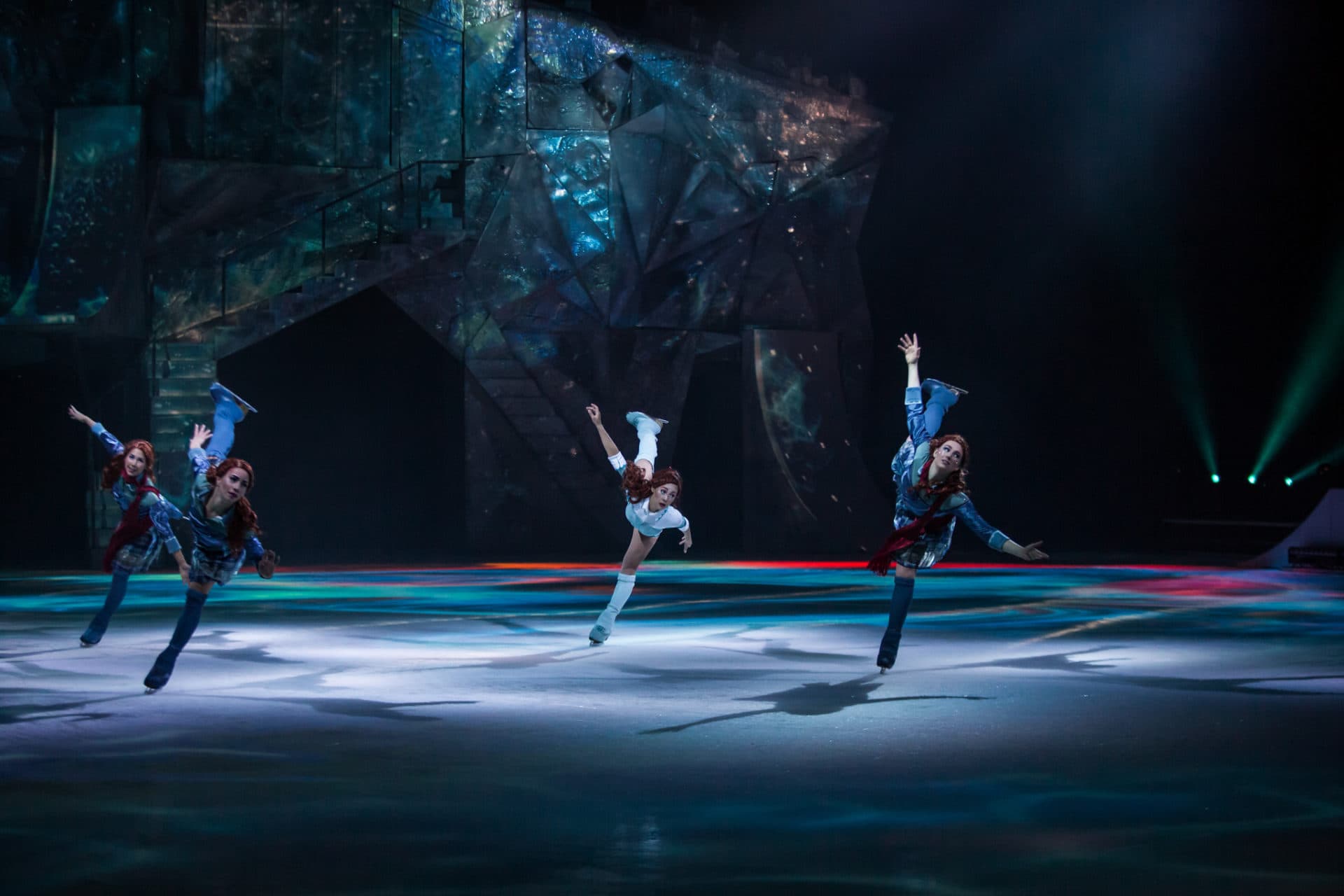 The ice and the side wall become canvasses for projections. The action from the 44 cast members is near-constant and, for us, it appears a meld of grace and danger. Speed skaters using ramps zoom into the air, just missing each other, an acrobat held up high executes a slow 360-degree turn on one hand, a plethora of businessmen and women tote briefcases, boasting stoic faces, zooming every which way, accompanied by a fast-paced, killer version of Nina Simone's "Sinnerman" (vocals pre-recorded). The skates are sometimes miked, so you hear the slashing swoosh as you see the ice shavings scatter. There's a live-action large-scale pinball match. Shortly, a hockey game breaks out — Crystal's a Bruins fan (here at least), sporting a B's jersey, her name and the number 22 on the back. (That's the retired number of Bruin wing Willie O'Ree, the first Black player in the NHL.)
Over two acts, there are solo works, duets and bits where it's pretty much all hands on deck. Pole acts, juggling, clowning — all part of the mix. As is another forever Cirque concept: Whatever the main act in front of you is, there's almost always a charismatic corps of performers on the periphery, providing a near-equal rush. Yes, you'll miss something — you can't not — as your head swivels side to side in an attempt to keep up. There's a mesmerizing set piece called "At the Office," where a multitude of skaters mimic robotic office workers to a clickety-clack typewriter soundtrack.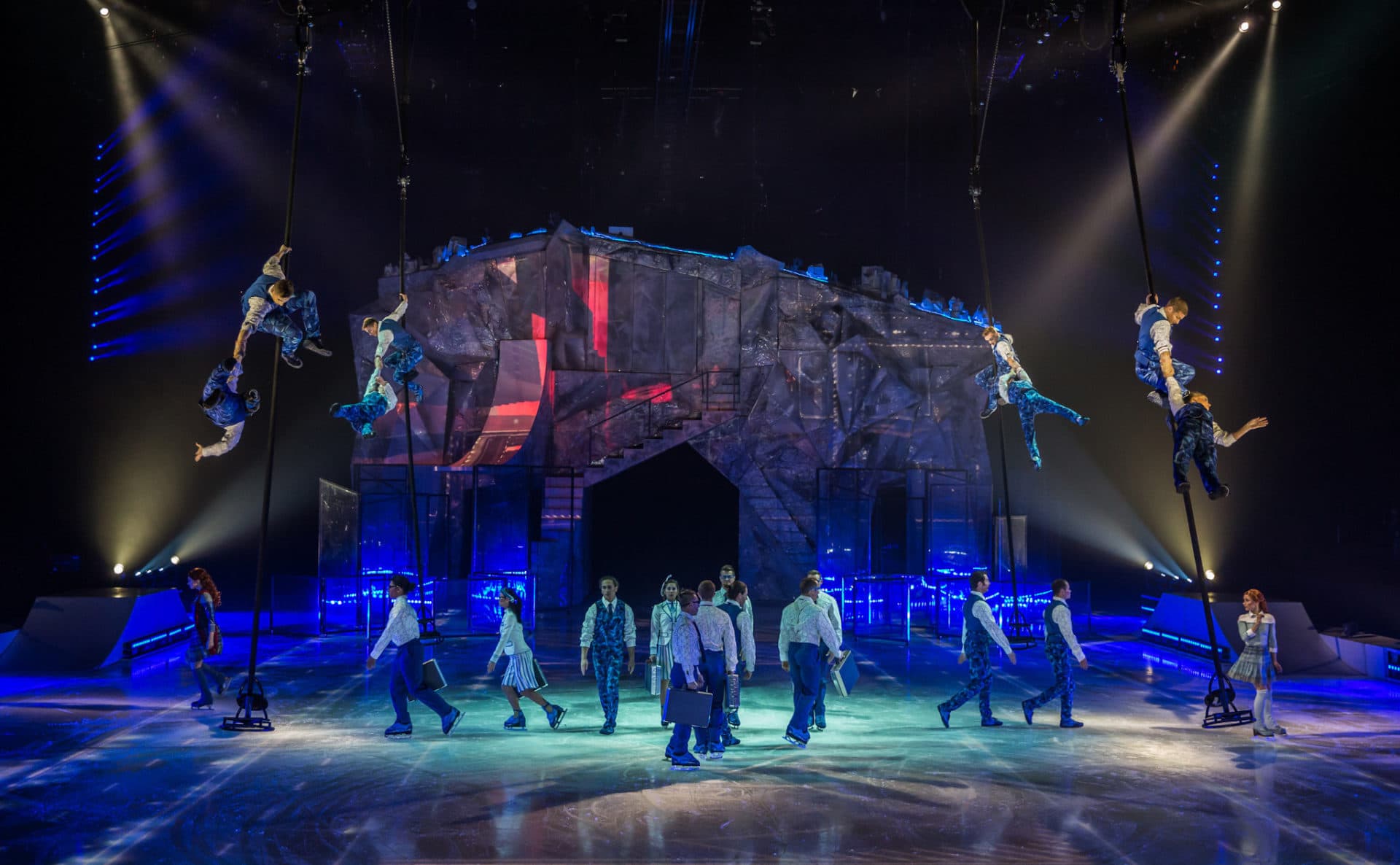 The music? Aces, as always, a world music juxtaposition, from dramatic propulsive throbbers to klezmer to finger-snapping jazz, some sizzling violin playing, Dropkick Murphys-esque Celtic rock and more. One highlight is a gorgeous, full-throttle rendition of Sia's "Chandelier" (vocals pre-recorded) with Crystal high up in the air, majestically swinging on a trapeze. (Ignore the alcoholism lyrical theme; get lost in the sweep of sound and vision.) The music is by Montreal composer Maxim Lepage. The cover versions of pop songs are a first for a Cirque show.
"It's like a live movie score," said band leader Conrad Askland, who graduated from Berklee School of Music's online undergraduate program in 2017. "The band is in the back, unseen mostly throughout the show, only when they come out for different parts. I'm operating a computer live show with multiple screens. In my mind, if the music is done well, you don't necessarily notice the music at all times, like a good movie."
It's not all thrills and chills. At one point, Crystal finds love and romance during courtship and ballroom dance acts. And that bit about Crystal rejecting her family at the onset? It's probably not much of a spoiler to say there's a reconciliation, as Crystal breaks back up through the ice and, at the end, a grand finale featuring a pinwheel ensemble of acrobats and skaters.
Opening night drew only about 2,000 people, a third of the house. I hope my enthusiasm here boosts that figure. In a world long bereft of live entertainment — to say nothing of multileveled live entertainment — "Crystal" serves up two hours of jaw-dropping, smile-inducing fantasy. It transports you to another world, familiar, yet surreal and surprising. Oh, and if you go, dress warmly. It's chilly in there.
---
Cirque du Soleil's "Crystal" runs through June 12 at the Agganis Arena.