4 takeaways from the last-minute deal between Boston Public Schools and state officials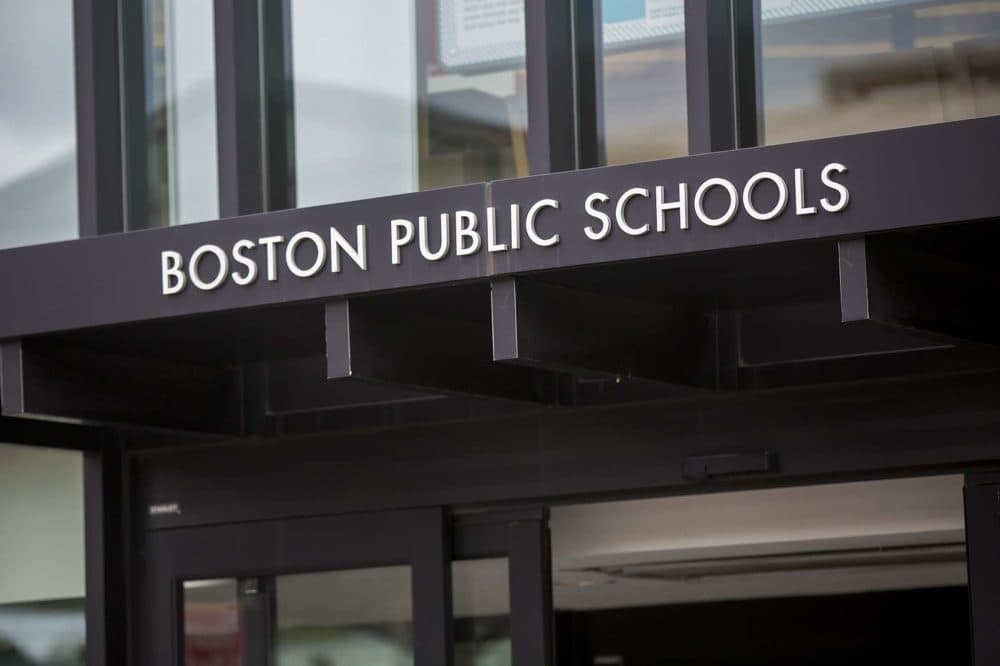 After over a month of negotiations, Boston Public Schools arrived at an agreement late Monday with state education officials over an improvement plan — and headed off a state takeover or a downgrade in status for now.
The new memorandum of understanding, dubbed a "systemic improvement plan," supplants a March 2020 agreement between city and state officials, and includes key benchmarks and target dates for improvements covering areas such as student safety, transportation, facilities, data collection, special education services and more. It expires in three years, on June 30, 2025.
Monday's deal was reached on the eve of an education board meeting in which members were set to vote to reclassify BPS as an "underperforming" district, on state Commissioner of Elementary and Secondary Education Jeff Riley's recommendation.
The deal, for now, ends a contentious back-and-forth between the city and state, with Mayor Michelle Wu having cast the state's timeframe as "unrealistic" and accusing it of threatening "top-down control."

But the deal doesn't mean the district is off the hook for making big change quickly.
Here are four takeaways from the improvement plan signed by city and state officials Monday evening.
The Boston Public Schools have less than two months to implement major changes.
Just 15 hours after the deal was signed, Wu and Jeri Robinson, chair of the city's school committee, appeared before the Board of Elementary and Secondary Education on Tuesday morning with a can-do spirit.
"Boston is ready to roll up our sleeves and get to work," Wu said.
And there's plenty to do. The agreement's first wave of deadlines comes in just six weeks, on Aug. 15.
By then, the district has committed to update its system for addressing parent complaints, initiate an independent student and staff safety audit, conduct a facilities review of all school bathrooms, and hire a team to help revamp its special education services — among other things.
Earlier this month, Wu, Robinson and outgoing Superintendent Brenda Cassellius raised concerns that the cluster of deadlines would result in "rushed and flawed" outcomes, but they remain in place in the final agreement.
Furthermore, the city has made a commitment to ensure 99% of its buses arrive at schools within 15 minutes of the opening bell to kick off the new school year, which begins after Labor Day. Lengthy crosstown routes have bedeviled the district and its budget for years, and resulted in persistent delays.
All the while, district officials will have to report progress to their state counterparts on at least a monthly basis for the first year of the agreement.
The state will have a limited but important oversight role for the foreseeable future.
While the agreement stops short of a wholesale or partial takeover, the state will remain deeply involved with BPS in other ways.
For one, BPS's data will be scrutinized by an independent auditor hired by Riley, a former principal in Boston and onetime receiver overseeing the Lawrence Public Schools.
That person or team will be granted office space in one of the district's buildings and have unfettered access to BPS data on transportation and facilities — which the state charged has been inaccurate in some key areas.
The two sides wrangled over the scope of the audit before finally agreeing that access to data beyond those areas will be "jointly determined by DESE and BPS" — a small win for city officials anxious about sprawling state scrutiny of their day-to-day operations.
State officials expect to receive a data-quality report based on the audit by February 2023.
More extreme state interventions for Boston Public Schools are not off the table.
A footnote to the five-page agreement makes clear that nothing in it "limits any authority … of the Department of Elementary and Secondary Education" or its commissioner.
In other words, if the district is seen to be withholding information or struggling to meet its deadlines, state officials could revive threats of a takeover — known as receivership — or other punitive steps down the line.
And those steps would have supporters on the state board.
At Tuesday's meeting, member Michael Moriarty of Holyoke refused to join in on the celebratory mood, saying he felt the agreement was a victory for Boston's "large urban bureaucracy," which he said "successfully preserved as much control as possible."
While he stopped short of saying he favored receivership, Moriarty encouraged the commissioner to "drop the other shoe and recommend [it]" at further signs of "intransigence" from officials in Boston.
The deal shows the state education department making a pandemic "pivot."
Meanwhile, Riley — appearing via livestream on a computer monitor after he recently tested positive for COVID-19 — sounded a more collegial note.
When he took over as DESE's commissioner in 2018, Riley said, the department's role was seen as "all compliance, all the time." The department placed three school districts — Lawrence, Holyoke and Southbridge — under receivership under his predecessor, Mitchell Chester.
Riley said during the pandemic, his department's role began to change as DESE gave districts additional guidance, distributed masks and oversaw testing.
"We've been able to start pivoting to be a supportive agency," he said. "We want to continue that, both statewide and with this BPS systemic improvement plan."
Some board members applauded Riley's tone, like Darlene Lombos of the Greater Boston Labor Council and Amanda Fernandez, who leads the nonprofit Latinos for Education.
Fernandez said she doesn't favor "punitive measures" at a time when many schools, students and families are still reeling from the pandemic's disruptions. She applauded the last-minute agreement that made those measures irrelevant for now, saying of the moment: "I do believe that, if we don't come together, we are at peril."