Muralist Yenny Hernandez wants Bostonians to talk about their dreams
Artist Yenny Hernandez has transformed the Prudential Center's glass entrance on Boylston Street into a vibrant tapestry of nature. It's saturated with colors—bright green leaves wrap around the edges of the building, yellow and red flowers dance across the entrance's reflective surfaces and a hummingbird and parrot fly above a mango and a traditional stovetop espresso maker. "Let your dreams take flight" is written in blue script on two sides of the entrance in English and Spanish. At night, the 2,500-square-foot mural is illuminated with rainbow lights. It's eye-catching, but the artist says there is more to it.
In the early phases of the project, Now + There, the organization that curated the project for Boston Properties, noticed that many Latinos worked in the neighborhood. Hernandez, who is of Puerto Rican descent, latched on to that idea. "I remember thinking, wow, what could I say to the community?" She reflected on how highly trafficked the area was, with workers from all across Boston shuffling in and out of the building, and the idea of dreams rose to the top of her mind.
Hernandez's colorful work is a nod to Latinx culture, using images that function as a sublanguage. "I wanted people to think, 'Oh, I recognize that,' or, 'That flower grows on my island,'" says Hernandez. But she hopes her work will resonate with everyone who passes by. "I wanted to have those moments of identification and connection," she explains. "But for everyone else, I also wanted a moment of beauty."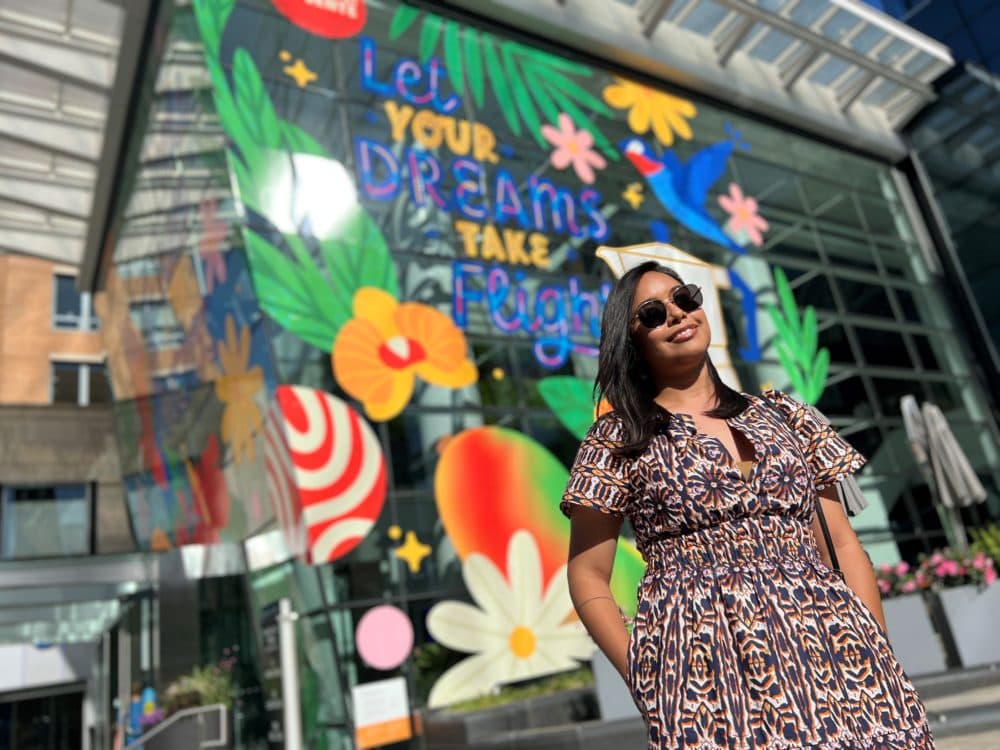 The line "let your dreams take flight" comes from a poem the artist's mother wrote for her when she was a child. It's encouraged Hernandez throughout her life, seeping into her creative process. Positivity and words of encouragement are central to her work, and she decided that this project was the perfect opportunity to share the message her mother gave her many years ago. "I truly believe that words have the ability to transform our outlook on life and how we position ourselves," says Hernandez.
Hernandez adds that public art enriches a community. To her, beautifying a space is a kind of love. "You create something that people identify with, and maybe they'll cherish that space a little bit more," says Hernandez.
She hopes that people on their way to work or strolling around the neighborhood will feel moved by her message and start an internal dialogue about their own dreams—perhaps even prompting them to express those thoughts out loud. We all have dreams. Because of that, Hernandez feels that when we talk about them, our empathy for one another grows.
---
Yenny Hernandez's installation "Ponle Vuelo A Tus Sueños/Let Your Dreams Take Flight" is on display now.