MBTA safety fixes imperiled by labor crunch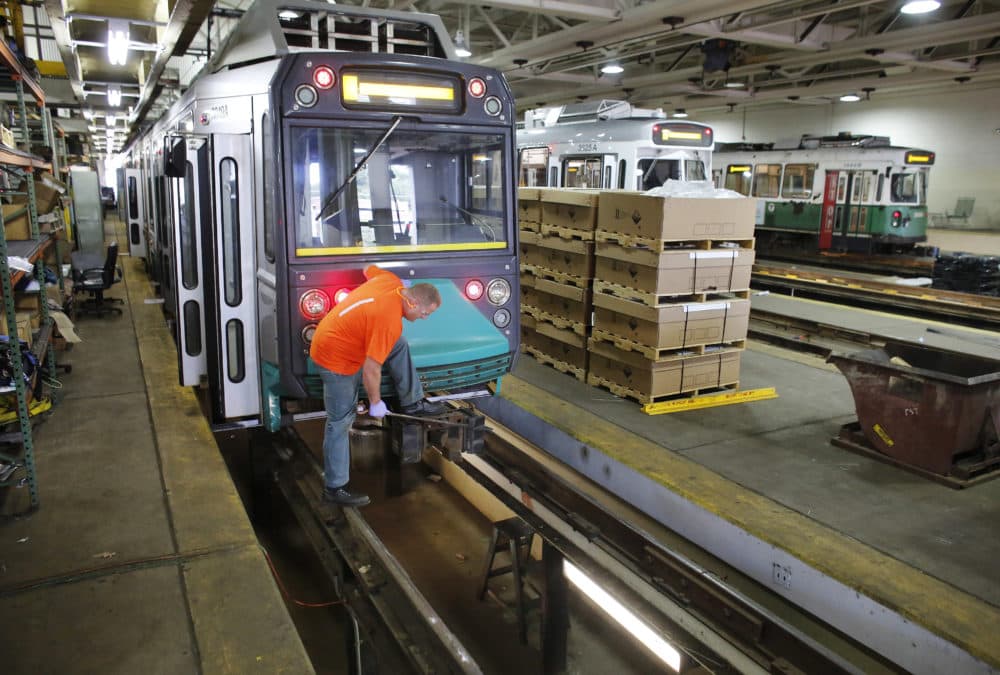 MBTA officials want to hire roughly 2,000 workers over the next year, an ambitious effort with ramifications for the transit system's safety, service frequency and maintenance.
And the trick, T General Manager Steve Poftak said Tuesday, will be onboarding that many people while working in "one of the most constricted labor markets, in my experience, that I've ever seen."
Poftak and MBTA Chief Administrative Officer David Panagore outlined a hiring plan for the fiscal year that started July 1, targeting a goal of adding 330 workers funded by the capital budget and 1,759 workers funded by the operating budget.
Nearly 900 of those positions across both capital and operating are existing vacancies, and another 447 would be added on top of the headcount in last year's budget. The plan also estimates the T will need to backfill another 744 positions to cope with attrition as workers retire or resign.
Nearly 600 operating budget vacancies are safety-related, according to Panagore, which could put additional pressure on the T amid a federal investigation into safety failures at the agency.
Summarizing the hiring projections for the MBTA's board, Panagore described them as "the mountain to climb."
"One of the themes you've heard from us in a lot of our discussions about service levels, operations, much of the safety management inspection — much of what underpins it is the need to add additional staff and additional resources at the T," Poftak said. "We are doing that into the teeth of one of the most constrictive labor markets, at least in my experience, I've ever seen. That is not an MBTA problem per se, that is a problem across multiple sectors of our economy."
Hiring has been a tricky process for the T, where federal investigators flagged an overstretched dispatcher workforce as a safety risk and bus driver shortages led to service reductions in the winter.
MBTA and Baker administration officials on Tuesday sought to link their struggles to broader challenges across the economy.
"This ain't going to get any easier going forward in the future," said MBTA board member Travis McCready in response to the hiring plan, which he praised. "No matter who I talk to, no matter what transportation modality, no matter where in the United States, the entire transportation sector is suffering a human capital problem. It is structural. It is not a flash in the pan. It is structural."
McCready suggested MBTA officials consider crafting a "five-year strategic plan" for staffing, rather than single-year proposals, like they do for capital spending. Getting ahead of the pack will be important, he said, because "the situation's not going to get any better — it's actually going to get worse in terms of hiring for transportation."
The MBTA is not alone among public-sector agencies struggling to attract enough workers. Last month, a Department of Transportation subcommittee endorsed a collective bargaining agreement that would boost salaries and offer $5,000 signing bonuses amid difficulty adding and retaining civil engineers.
State Highway Administrator Jonathan Gulliver at the time called it "perhaps the hottest market we have seen for civil engineers."
During Tuesday's meeting, Transportation Secretary Jamey Tesler said hiring struggles featured in recent conversations he had with peers and transportation officials at the federal level. He attributed the challenges in part to the new infrastructure law, which made trillions of dollars available to states and municipalities who in many cases are now vying to hire the same contractors.
Massachusetts lawmakers this month are expected to pass a bill calling for more than $10 billion in spending tied to the federal infrastructure law. The state's unemployment rate in May was 3.9%.
The secretary said other agencies like regional transit authorities are feeling the pressure as well, as are school districts facing a shortage of commercially licensed drivers for buses.
"What everybody recognized is: if we're competing against each other, the pool isn't growing and we're just borrowing from each other the same people. We need to grow the pool of people," Tesler said.
"We don't want to compete against our peers in the RTAs, we don't want to compete against our other peers across the country, because in the end, we'll just be raising the costs on each other," he added.