MBTA will shut down Green Line service from downtown Boston to Somerville for nearly a month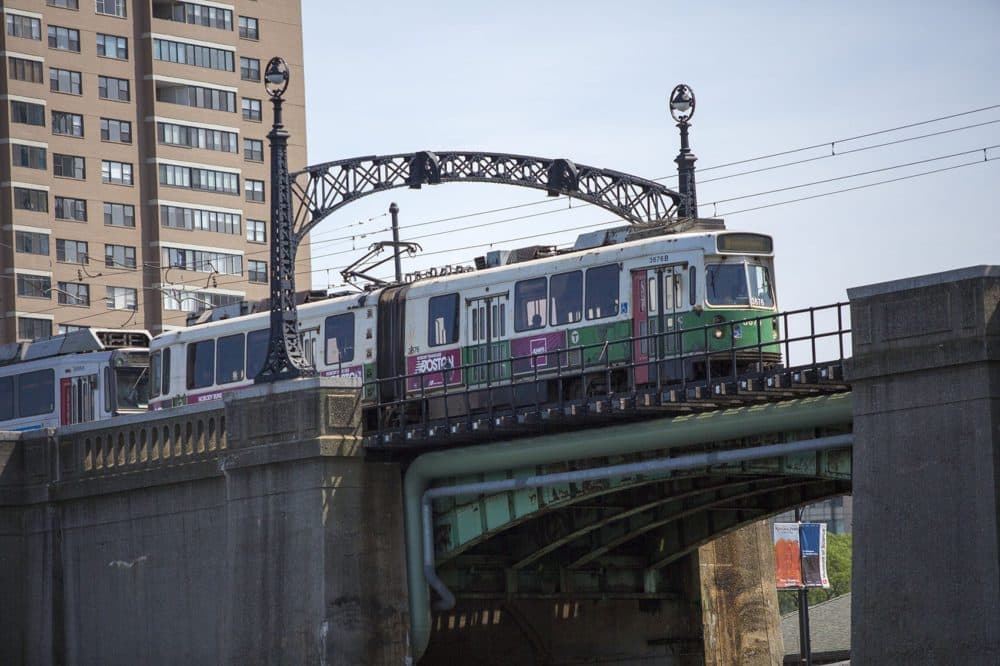 A portion of the Green Line will shut down for nearly a month at the end of the summer, and the planned extension into Medford has been delayed until November, MBTA General Manager Steve Poftak announced Friday.
Green Line service from Government Center station to the newly opened Union Square station in Somerville will be replaced by shuttle buses from Aug. 22 through Sept. 18. The shuttle buses will be free.
Poftak said the temporary closure on a portion of the Green Line is needed to allow work to continue on the Government Center Garage project. The demolition of the garage, by a private firm, has resulted in the death of a construction worker and several service cancellations due to structural issues at nearby stops on the Green and Orange Lines.
In addition, the MBTA says the closure will allow for work necessary to open its planned extension into Medford. The updates involve adjusting overhead wires to eliminate speed restrictions, testing track switches and signals and installing sound wall panels, a statement from the agency said.
Poftak says the shutdown will advance the T's efforts to improve safety and reliability.
"We don't like to be in the position of pulling service back like this, but in this case, it also helps get us in position to get the Medford Square branch open as well," he said.
This announcement comes amid scrutiny by the Federal Transit Administration (FTA) after a slew of safety incidents, including a Green Line collision and the death of a man who was dragged by a Red Line train. Riders have expressed growing frustration as delayed maintenance and breakdowns have interrupted service.
Earlier this week, MBTA officials announced that the entire Orange Line would shut down from Aug. 19 through Sept. 18, overlapping with much of the partial Green Line shutdown. Many riders now forced to alter their commutes said they were upset with the beleaguered transit system's decision, with some saying the T should have made the repairs during the height of the pandemic when ridership was lower.
The T is also about to shut down the Green Line's E branch from Copley to Heath Street from Aug. 6 through Aug. 21 to make track improvements. The Red, Orange and Blue Lines operate on weekend schedules, in response to the federal regulators' concerns, because the agency cannot fully staff a dispatch center.
Poftak acknowledged on Friday that the Orange and Green Line shutdowns are disruptive, but says these closures allow the T to make big changes and provide a better experience by the end of it.
"I'm a regular commuter, I talk to folks on the T. I know that there's a sense of frustration," Poftak said. "And I've heard and felt that folks wanted bold and decisive action and what we are doing is bold and decisive."
Poftak also announced the opening of the extension into Medford — the Medford/Tufts Branch — has been delayed from sometime this summer until November. Poftak attributed this delay to the need to re-test the "Medford Branch's power systems."
"We have also had, as an organization, some of our operational, operational engineering and safety resources have been reallocated as a consequence of our our work on the FTA special directives," Poftak said.
The mayors of Melrose, Malden and Medford have requested the MBTA provide more express buses and run the commuter rail more frequently during the shutdowns. The T says it is considering it.
"I appreciate the T trying to make changes and maintain equipment and keep the T safe, but yes, I'm frustrated," said Medford Mayor Breanna Lungo-Koehn. "I wish this information was given to us sooner."
When asked about the closures, Boston Mayor Michelle Wu said: "It's not going to be pretty." But she says she hopes these disruptions will allow the project to be completed efficiently.
"This will condense years of work into one sitting," she said. "Again, it's not ideal by any stretch for our Boston residents, and workers, students, people coming back into the city. I'm hopeful that this means we'll see better service afterward."
On WBUR's Radio Boston Friday, U.S. Rep. Ayanna Pressley said that T riders are owed transit options that accessible and reliable.
"Because of decades of underinvestment and mismanagement, of delayed and deferred maintenance, we find ourselves in a situation where they are having to do these massive shutdowns, which are disruptive and devastating."
Pressley says she's particularly concerned what these shutdowns will mean for commuters and their children as the beginning of a new school year approaches.
---
With reporting by WRUR's Newscast Unit
Editor's Note: An earlier version of this story indicated shuttle buses would not stop at some of the Green Line stations due to incorrect information from the MBTA. The agency has updated its information on the service and this post has been updated to reflect that.