Activists stage sit-in to demand name change of Faneuil Hall Marketplace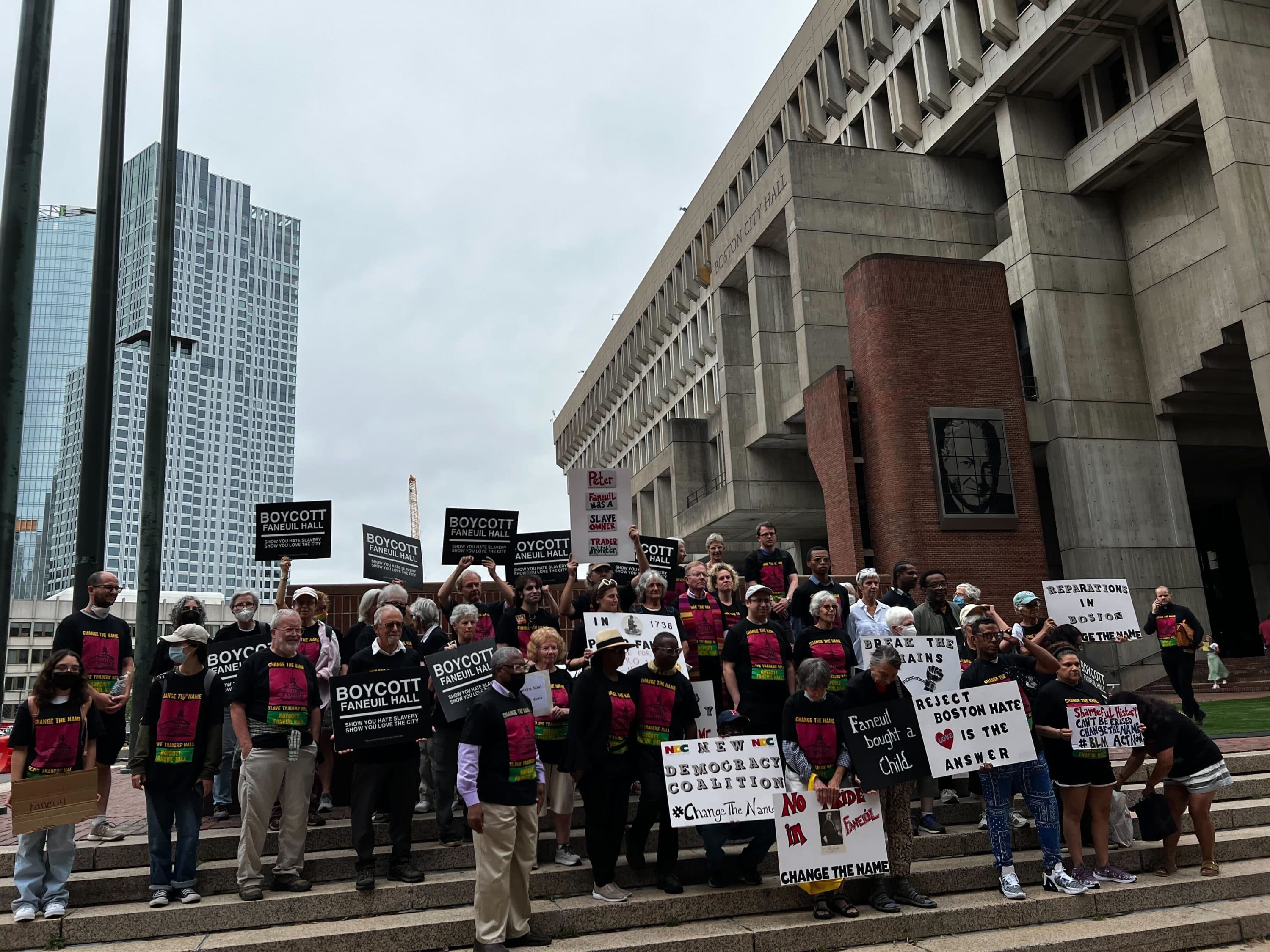 Faneuil Hall is one of the most famous sites in Boston. There's a longtime effort in the works by activists and ministers to rename it because of its namesake's role in the slave trade. The Rev. Kevin Peterson sees this fight as a spiritual one.
"On a certain level, racism is a spiritual crisis represented in our nation," Peterson said. "Peter Faneuil was a racist and a person who represented anti-Blackness. So I'm here passionately trying to help rewrite the story in Boston about how we need to be a multiracial democracy."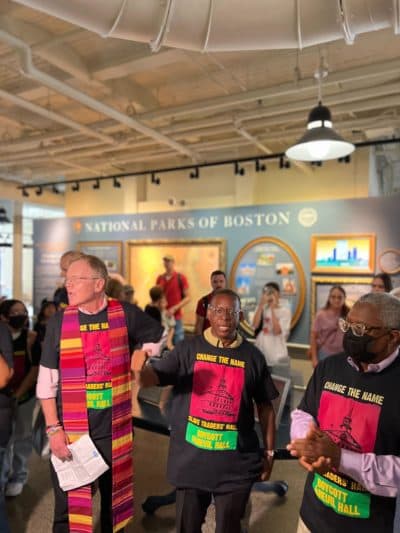 Over the years, he and other activists have fasted about it. They've prayed about it. They've certainly meditated on it. And on Wednesday, Aug. 10, they sang about it, riffing off the Destiny's Child classic "Say my name."
Peterson and more than two dozen people gathered in front of Boston City Hall to once again demand the name change because Peter Faneuil was a known enslaver. The merchant amassed his fortune in part by trafficking and selling human beings, according to the National Park Service. He was complicit in and benefited from a white supremacist system.
"At the time of his death, Faneuil's will recorded his ownership of five enslaved individuals," an article on the NPS site read. "Although the sources that directly tie Faneuil to owning enslaved individuals and the slave trade are limited, they speak to a merchant willing to ignore human costs in order to make a profit."
Samuel Pierce from nearby Dorchester supports changing the name. He said it's a continuation of recent efforts to address civil rights in the city. Nubian Square is no longer Dudley Square. Yawkey Way is now Jersey Street. In June, Boston city officials apologized for its role in slavery and committed to repairing past and present harm to Black Americans.
"Congresswoman Ayanna Pressley often said that the people closest to the pain should be closest to the power," Pierce said. "And so to me, that translates into making sure that the government does not have buildings, streets or anything that it's responsible for named after slavery or oppressive people."
Before going upstairs in City Hall, Pastor Valerie Copeland of the Neighborhood Church of Dorchester led a prayer.
"We mourn the countless hearts that were broken as human beings removed from their African homeland face lives of perpetual enslavement in a strange and hostile land," Copeland said. "Those of us who are descendants continue to know that hostility and the denial of full citizenship. But we are brothers and sisters with our mind stayed on freedom. Understand that, we demand, we cannot ask for, we demand reparations, which begin with facing our history, bringing truth to light and correcting our wrongs."
Their songs about freedom soon echoed through the lobby of City Hall. Upon reaching council chambers, they silently filed into the room in shirts that read, "Change the Name. Boycott Faneuil Hall. Slave Traders' Hall." Then after several minutes, they left. Peterson said they were welcome there, a sign of support from the new administration under Mayor Michelle Wu.
The mayor's office released this statement soon after the demonstration: "The City of Boston is recognized throughout the world for our role in this country's founding, but it is critical to acknowledge and address the role of slavery in our nation's founding and the deep inequities that remain today. As we work to build an equitable Boston for everyone, the city is committed to advancing racial justice and learning from our past and right wrongs."
From there, the group made their way across the street chanting and making speeches through Faneuil Hall before stopping to do a sit-in at Quincy Market. In the midst of the lunch hour rush, the crowd took up space and forced tourists to walk around them. Those eating took notice. Some seemed annoyed, others intrigued and at least one group of teenagers visiting from Maine said the solution seemed obvious.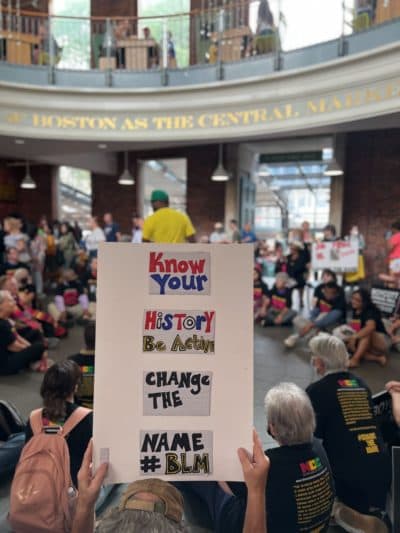 "Why not change it?" one said. "Before coming here, I didn't know the backstory and now I do and it should be changed," said another. "It's giving very oppressive [vibes]."
But others including Cregg Paul and his family from Buffalo felt like the name change wouldn't actually do much.
"Why? Why? I would say why," Paul said. "I'm pretty sure he's dead now, right? He isn't buying any people right now, is he? So what's the difference? … It's history. You can't erase it all. You don't like it, then? I don't know what to tell you."
Faneuil Hall sits in the middle of downtown Boston. It sees millions of visitors a year. Peterson says the activists expect to see legislation filed soon to address the name change. In this way, he says they change the narrative in the city. By changing the narrative, they change the future.
Perhaps then, he says, it will actually live up to its nickname as the "Cradle of Liberty."