Everything you need to know about Massachusetts' new sports betting law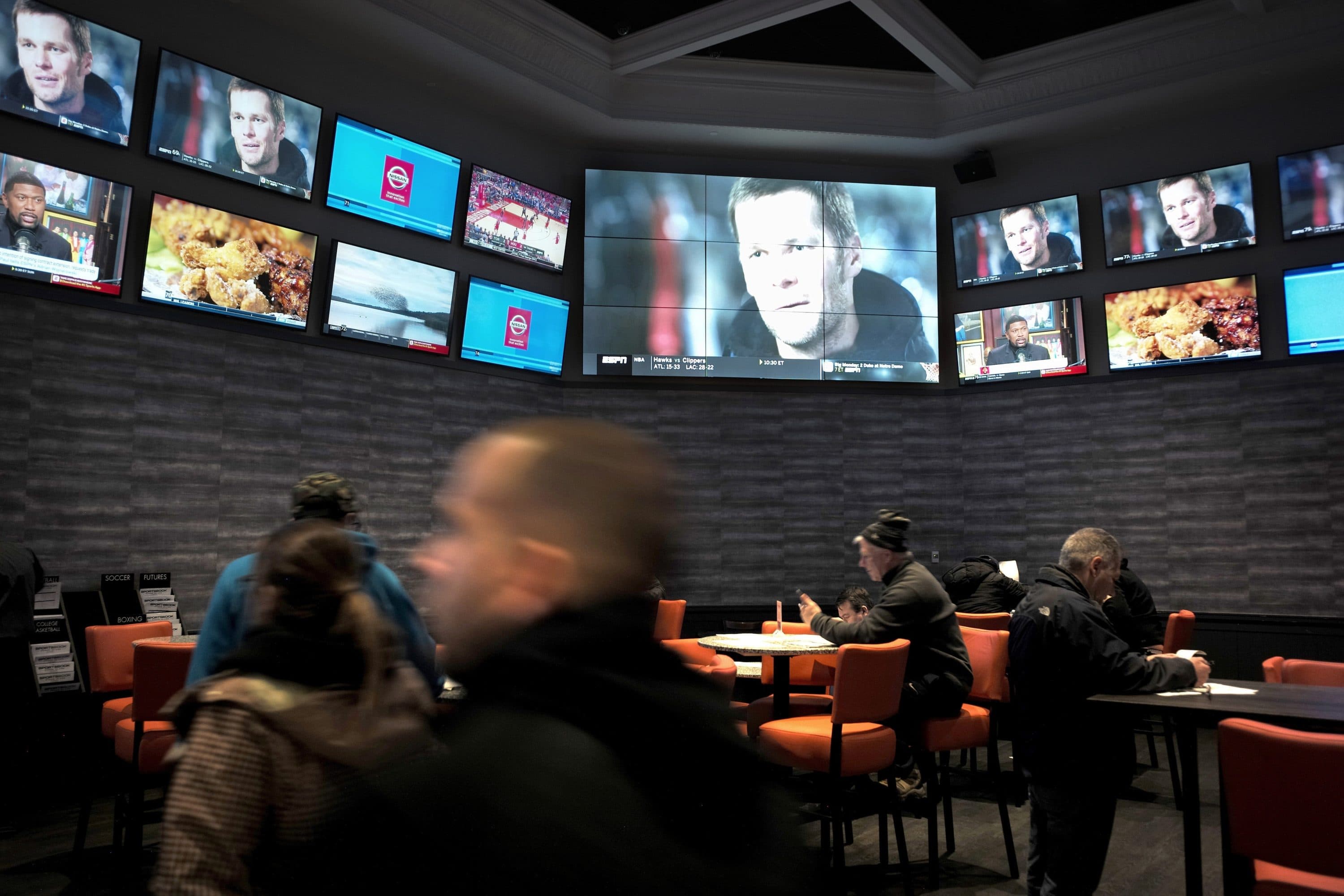 After several years of uncertainty, sports gambling is a sure bet in Massachusetts.
Gov. Charlie Baker signed a bill to legalize sports betting Wednesday, officially joining a wave of states that moved to allow wagering on everything from the Super Bowl to college athletics after the Supreme Court struck down a federal ban in 2018.
"I am glad to be able to sign this bill into law today," Baker said in a statement Wednesday, noting that his administration first proposed a sports betting bill in 2019.
According to the American Gaming Association, the new law makes Massachusetts the 36th state in the U.S. to legalize sports betting.
However, the Bay State's new law differs in several ways from sports betting schemes in neighboring states, and it's going to take some time to set up.
Here's what you need to know:
Who's allowed to bet?
You'll have to be 21 years or older to bet on sports in Massachusetts, just like gambling at one of the state's casinos. That's in line with Connecticut, but it's a bit stricter than New Hampshire and Rhode Island, which allow those as young as 18 to bet on sports.
What exactly can you bet on?
Professional and (most) collegiate sports are fair game. You can also bet on e-sports. But betting on high school and youth sports remains prohibited.
There is one nuance for college sports: no betting is allowed on in-state college teams, unless they're playing in a tournament.
For example, all regular season Boston College basketball games are off limits (at least in Massachusetts). But you can bet on them if they're playing in March Madness or their conference tournament. You also wouldn't be able to bet on a Massachusetts college football team's postseason bowl game — unless they're in the four-team College Football Playoff (then again, we probably don't have to worry about that).
Where will I be able to place bets?
The new law allows the state's existing casinos all to apply for a license to host in-person sports betting. In fact, Everett's Encore Boston Harbor and the MGM in Springfield have already built sports bars in their casinos that are basically sports books-in-waiting. The Plainridge Park Casino intends to set up a sports book, too.
But traveling to a casino will be far from your only option.
The law also allows Raynham Park and Suffolk Downs — which have continued to host simulcast betting on dog and horse racing — to open on-site sports books. Additionally, the three casinos, two race tracks and up to seven other companies (think: DraftKings or FanDuel) will be able to launch mobile sports betting apps.
The law says you have to physically be in Massachusetts when you're placing a bet. So, you won't be able to take your phone to, say, Vermont and place bets across state lines. (Exactly how that will be enforced hasn't been outlined yet, but other states with mobile sports betting use geotagging on websites and apps to verify the user's location.)
At some point in the future, there's also the possibility that you'll bet at businesses like restaurants and hotels in Massachusetts.
The new law directs the Massachusetts Gaming Commission to conduct a study on the feasibility of allowing retail locations to operate sports betting kiosks and report back to the Legislature with recommendations by the end of the year.
When will betting begin?
That part is a little unclear.
The new law doesn't include any timelines or deadlines. What it does do is task the Commission to create a licensing process — as well as a host of other rules and regulations — for the new industry.
That could take a while.
Despite optimism from some lawmakers that wagering could be up and running in time for the start of this year's football season, members of the Gaming Commission cautioned last week that it will likely take several months at a minimum.
While several commissioners emphasized that they've been studying other states and preparing license applications, the task in front of them is sizable.
All in all, Gaming Commission spokesman Tom Mills told WBUR in an email that they need to decide and formalize "over 200 regulations." That includes everything from licensing and technology standards to advertising rules to addiction safeguards. They also have to hire staff to lead a new sports betting division, draft the regulations, take public input and formally vote on all the rules.
Carrie Torrisi, a lawyer for the commission, noted that the process of putting forward and adopting all the rules — after they're drafted — could take two to three months.
In some states, like Maine and Ohio, the rollout is taking as much as a year or more.
"I want the public to understand, as we as commissioners are starting to understand, that this isn't something that's going to happen overnight," Commissioner Brad Hill said during a meeting last week. "This is going to take a little longer than people probably anticipate, and I'm OK with that because I want to do it right."
How exactly do you place a bet?
Here's another important point: No credit cards.
That means you'll likely need a debit card or bank routing number to set up mobile wagering accounts. The rule is intended to keep problem gamblers from going deep into debt.
"The idea that somebody somewhat impulsively could rack up massive credit card bills from their couch who might have an addiction issue or otherwise have a gambling problem — that's a big concern," state Sen. Eric Lesser, a co-author of the law, said at a State House News Service forum this past spring.
Are there any other safeguards?
Yes. While much of those rules will be determined by the Gaming Commission, there are some basic measures set by the law.
For one, people with gambling problems — or anyone, really — can add their name to a "self-excluded persons" list. The list will be shared with operators, who must ban those listed from placing bets on their properties or online platforms. (The list will otherwise be kept private.)
The commission must also set rules against deceptive or excessive advertising, as well as guidelines for casinos and other operators to promote "responsible gaming." Online and mobile betting platforms will be required to show the phone number and website for the state's problem gaming hotline every time a user opens the app.
Is the industry taxed?
You bet. 
But unlike the state's sales tax or marijuana excise tax, consumers won't see it imposed on their wagers or winnings.
Instead, the law calls for taxing the overall monthly revenue that casinos and other companies bring in from sports betting. The rates are a 15% tax on revenue from in-person wagering, a 20% tax on revenue from mobile wagering and a 15% tax on revenue from fantasy sports.
That's actually much less than the tax rates in New Hampshire and Rhode Island, both of which impose a 51% tax on operator revenue. Richard McGowan, a Boston College professor who studies the gambling industry, told WBUR the lower rates in Massachusetts may help the state compete against peers with more established sports betting industries.
"Because they're late coming to the table of sports gambling, maybe they think they're gonna certainly make it more interesting for the operators to come here if it's a lower tax rate," McGowan said.
Lawmakers estimate that the taxes will bring in $60 million in state revenue each year in addition to $70 to $80 million from initial licensing fees, which must be renewed every five years.
Where does all that money go?
The law divides the state's wagering tax revenues into several different funds:
45% of the money will go to the state's General Fund, which is the giant pool of money that lawmakers use for the yearly budget and can spend how they want.
27.5% will go to the Gaming Local Aid Fund, which is distributed to cities and towns to spend how they like.
17.5% will go to a newly created Workforce Investment Trust Fund, which will provide grants to promote job opportunities in low-income communities.
9% will go to the state's Public Health Trust Fund, which invests in various programs to prevent and treat problem gambling.
1% will go to a new Youth Development and Achievement Fund to provide financial aid to local college students, after-school programs and youth sports.
What happens to unclaimed winning?
Individuals have up until to one year to claim their winnings from a bet on a game or event. After that, operators are required to deposit unclaimed winnings into a fund that pays for the Gaming Commission's work to oversee sports betting.
With reporting by WBUR's Newscast Unit