Boston Public Schools are 'confident' they are ready for new year — with some caveats
As Boston Public Schools students head back to classrooms next week, it may feel more like a "normal" school year with masks optional starting from the first day of school.
But to parents and state officials, the stakes still feel uncommonly high as concerns loom over sufficiency of health guidelines, transportation and staffing.
At a school committee meeting Wednesday night, some community members gave voice to alarm over what they called an inadequate plan over COVID safety measures and steep shortfalls in staff.
Meanwhile, state education officials will be looking for swift change in the district — from renovated bathrooms to timely school bus arrivals — after prolonged negotiations resulted in a "systemic improvement plan" this summer.
It puts the district's acting superintendent, Drew Echelson, in a high-pressure spot until he turns the job over to Mary Skipper in late September.
Echelson's message Wednesday was that — after an unusually busy summer — he is "100% confident" that the district is prepared for its Sep. 8 start for grades 1 to 12.
But he also anticipates "hiccups" with respect to transit due to the ongoing shutdown of the city's Orange Line subway, which is scheduled to last until Sept. 19. BPS will be providing additional transport vans to take students to outlying schools to enable school bus drivers to drive more city routes.
To date, 429 BPS families have requested waivers to allow older kids to ride yellow school buses as the Orange Line repairs take place. The district estimates that about 4,600 BPS students live in close proximity to an Orange Line stop.
Staffing shortfalls
As part of a presentation on schools' reopening, deputy superintendents Linda Chen and Sam DePina detailed hiring shortfalls in the district.
Chen counted 211 teacher vacancies of a total 4,783 positions, a 4% vacancy rate. But Chen noted that four or five schools are "carrying the vast majority of the teacher vacancies."
She did not name which schools those were, but said that the district might rely on additional substitute teachers while hiring is completed. There are also pronounced shortages among food-service workers, paraprofessionals and safety specialists.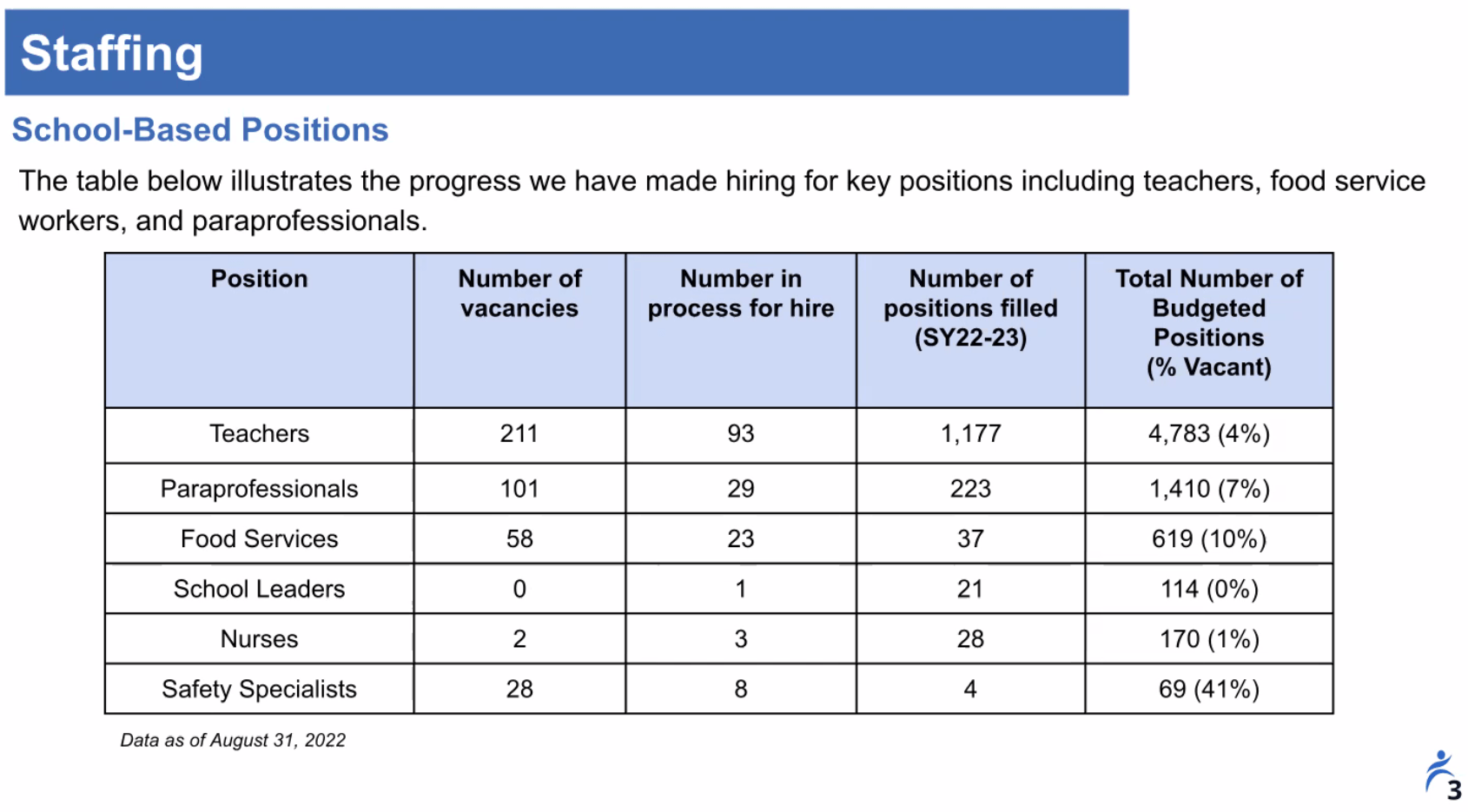 Timely bus transportation is a prominent part of the district's agreement with the state. But the Orange Line closure has snarled traffic and will likely delay hundreds of students as they head to school, Echelson acknowledged.
Students will not be penalized for showing up to class late due to any transit challenges and will still be able to access free breakfast after the first bell, Echelson said.
DePina — who oversees operations and transportation — noted that the city's aggressive hiring push for bus drivers has had an impact. This spring, the city signed a new agreement with its school bus drivers and its transportation contractor Transdev.
BPS sought to attract new drivers by offering on-the-job training to secure their commercial drivers' licenses and a $4,000 signing bonus.
The result, said Echelson, will be "a significant number more drivers than we've had in BPS history," falling just short of a goal of 90 new hires — though only about a third possess a commercial driver's license. Among bus monitors, who were offered much smaller signing bonuses and only earn $18,000 a year, the 21 hired have fallen well short of the district's goal of 150.
Due to illness and travel, the city's seven-member school committee operated for most of Wednesday night's meeting without a quorum.
But three members lingered for public comment, as BPS families and health experts faulted the district's plans to begin the year "mask optional," though they will still be required in school health offices, and to base any decisions around safety protocols on city epidemiological data and weekly at-home testing alone.
The group commended the policy for conducting symptomatic testing, instructing students who are symptomatic to stay home and alerting parents in response to "clusters" of three or more COVID cases — but said it was insufficient.
Julia Raifman, an assistant professor at the Boston University School of Public Health, said based on data from Chicago Public Schools, which opened on Aug. 22, and elsewhere, the district should anticipate "surges" as schools reopen.
Raifman stressed a recent Massachusetts-based study that found that masks inside schools work to protect against the virus, and urged the city to tighten masking protocols after even small surges.
BPS, the largest school district in Massachusetts, has a total student enrollment of 50,980 this fall across 125 schools though an official count will be available in October.