Industry nights offer service workers an opportunity to connect
Bartenders, servers and other restaurant industry workers started trickling into Brighton's Charles River Speedway on a Tuesday afternoon, but they weren't all there to serve food and drinks. This party was for them. They browsed through records, comics, vintage clothes and handmade art while music played in the background. Notch Brewing poured beer, Topo Chico handed out free seltzers and Buenas and Wanderlust Global Food Truck provided food. Industry Night at Garage B, hosted by musician and show booker Cody Rico and multimedia artist and O'Briens Pub show booker Tyler Hallett drew over 700 people total, raising a total of $674 for The Trevor Project and Planned Parenthood through a raffle.
Industry nights are events typically held at restaurants and bars that specifically cater to workers in the service industry. Sometimes it's more of an informal gathering, sometimes, like in this case, it's a planned event with vendors and DJs. It's an opportunity for people from different restaurants and bars to gather together on their night off and enjoy deals on food and drink. A longstanding tradition, industry nights have always rewarded service workers after their busy weekend shifts, but since the COVID-19 pandemic, they have become even more pertinent for workers who do not have the flexibility to work from home.
Hallett has worked in kitchens for almost two decades and Rico has been working as a bartender for seven years. "The one thing I never get to do with those people when I go on my particular nights off is drink with them," Rico said. "Maybe here and there a bartender can do a shot with you but being able to be like, 'Oh, you're the bartender from [this place]. You make great drinks, you've served me, you're so nice. Can I buy you a beer?'"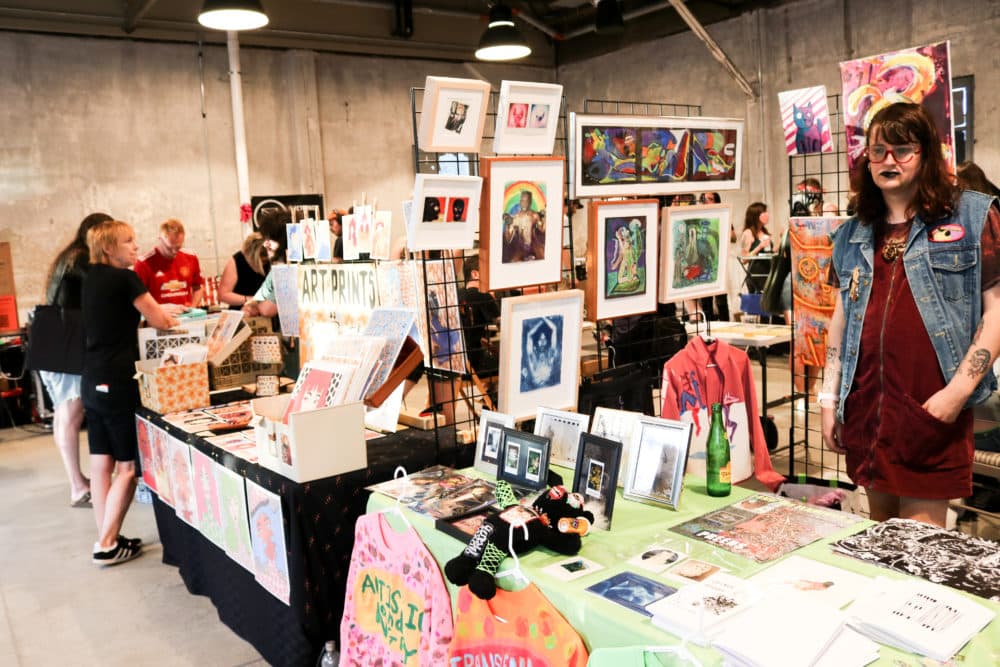 During the spring of 2020, food service workplaces had the state's third highest death rates by occupation from the virus, according to researchers at Massachusetts College of Pharmacy and Health Sciences. Most restaurant workers don't have paid sick leave and service occupations had the highest percentage of hourly paid workers earning at or below minimum wage, according to a 2020 study by the US Bureau of Labor Statistics. While industry nights do not solve the problems of labor inequality laid bare by the pandemic, they offer an opportunity for workers to enjoy perks and a fun night off.
Rico had the idea for a massive combined industry night and reached out to Hallett, who started his own monthly event for service workers at O'Brien's. "There's a ton of restaurant industry nights at restaurants, but there's not a lot of nights that are more focused on the music end of things…I think with the amazing space we have here [at the Speedway]...allows more flexibility for people to come in and out."
Alec Fletcher, who runs a media and comics pop-up shop called Gotham Arcade, had a table at Industry Night selling comics, cassettes and VHS tapes. "I've been working in the service industry since I was 18 or 19. It's really cool that there's something that's on a Monday or [Tuesday]...so that people can actually come to it. There's so many things happening on the weekends that we can't go to because we're working," he said. Fletcher, who's been to other industry events like Monday Industry Brunch at Trina's Starlite Lounge, said that working in the service industry means being a part of a great community, but it also comes with challenges like dealing with customers and not being tipped well, especially when servers rely heavily on tips.
Trina's has hosted Monday Industry Brunch every week from noon to 4 p.m. since 2012. According to Emma Hollander, co-owner and director of operations at Starlite Management Company, the idea for the event was born out of the opening bar staff's desire to get restaurant workers together to enjoy a meal they are usually busy serving.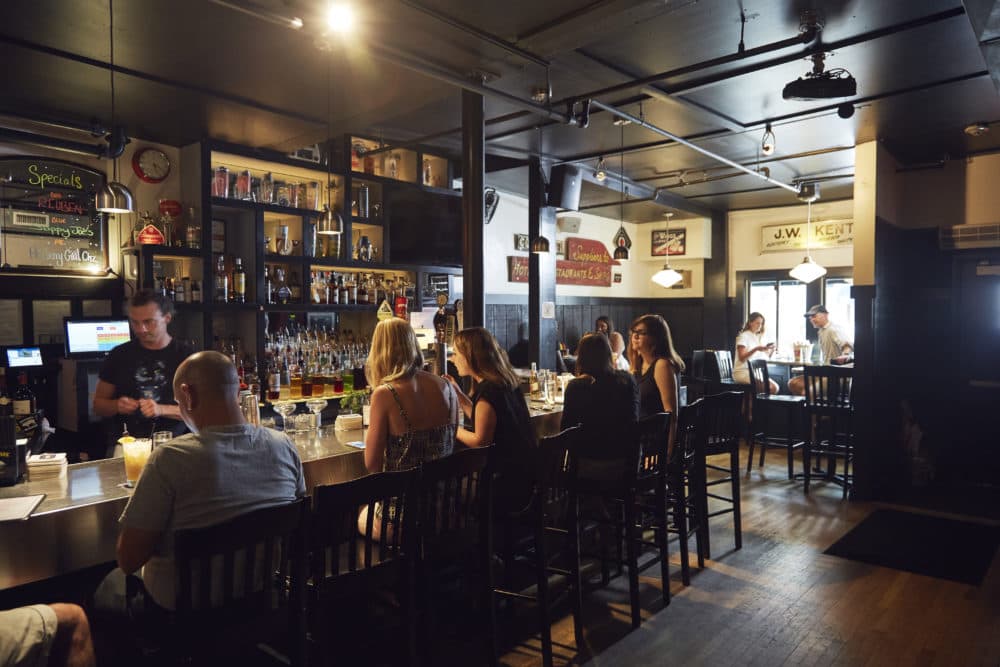 Hollander, who's worked in the service industry since she was 14, still bartends Monday Industry Brunch a decade after it started. She says the event's consistency is key to its success. "We decided that we were going to put cartoons on the television. We decided that we were going to play loud hip-hop, and everybody was just gonna party all day. And that has not changed at all," Hollander said. Monday Industry Brunch also served as a vehicle for fundraising — according to Hollander, the brunches have raised $30,000 since its inception, benefiting groups like BAGLY, Transgender Emergency Fund and more.
Similarly, Rico and Hallett incorporated a mutual aid component to Industry Night. "It doesn't really take a lot of work to [put] out a donation bin…dropping off the donations at the end of the night after some events, it takes minutes. So I don't see why it shouldn't be an aspect of almost any of them. If you're coming into a community, try to help the community," Rico said.
Rico and Hallett also curated an environment for industry workers to enjoy, while organizing a food drive for community fridges. The 240-person capacity, open-air space at the Speedway was built for mingling. They plan for more industry nights going forward on a bimonthly basis. "It'll give the opportunity for people in the industry to connect, talk about each other's jobs, spark interest in other specific parts of the industry, whether it be food or cocktails or libations," Rico said.
Gia Greene, a musician and former longtime barista, said she went to Industry Night after hearing about it from Rico. "I like how it not only allows people who are current or former industry people to get to know each other, but it also gives people the opportunity to vend their wares and [make] connections across the board," she said. "Even just looking out right now I see so many people that I know from my life, people that I'm friends with. So it just kind of all goes to show that it's such a small, tight-knit community, tight-knit scene and I really appreciate that."
What makes Industry Night at Garage B unique is its focus on art and entertainment, with vendors, DJs and even video projections. According to Rico and Hallett, there's a lot of crossover between the music and artist community and the restaurant and bar industry. "A lot of people in the industry are artists, run labels, run workshops, run community organizations. They do a lot of extra things outside of work and usually, to be able to bankroll and make those things happen, they work in jobs where their weekends get taken. They don't necessarily have the same living hours as everyone else," Rico said.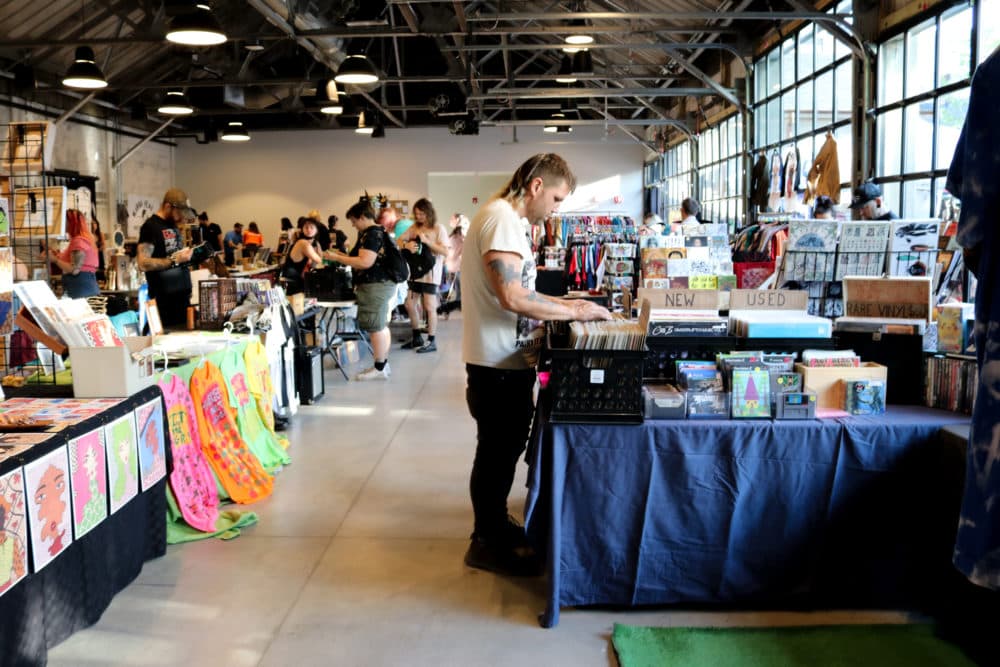 Hollander is all too familiar with demanding hours and shifts. "Restaurant people are incredibly underappreciated…they work physically and mentally hard. People rely on restaurants to go to celebrate. They rely on restaurants and bars to go and mourn…it's important to make restaurant employees feel like they are deserving of this big party in the middle of the day and that they get to take their day off and spend it with like-minded people who can sit the bar and be like, 'You won't believe what happened to me on Saturday night.'"
Hollander said that the more industry events, the better, especially since many restaurant workers worked throughout the pandemic, and for not a lot of money. Rico agrees, and that's why they're going to host more Industry Nights going forward on a monthly basis — the next event will take place at O'Brien's on Sept. 21.
"We have taken a lot of loss recently," Rico said, lamenting the closing of arts spaces that they relied on for creative opportunities, the loss of life and the increased risk of serious illness. "Those losses hurt and I think it's important to have an event where people can come together and heal."