A quick chill set an icy glaze atop Mount Washington
A cold front moved in from the northwest Thursday morning, creating a wintry scene on the region's highest peak.
By around 8 a.m., temperatures on Mount Washington dipped to 27 degrees Fahrenheit, the lowest of the season. An icy glaze soon formed at the summit.
The snowy effect was not caused by actual precipitation, according to the Mount Washington Observatory, but by ice made from supercooled liquid in the air smacking solid surfaces.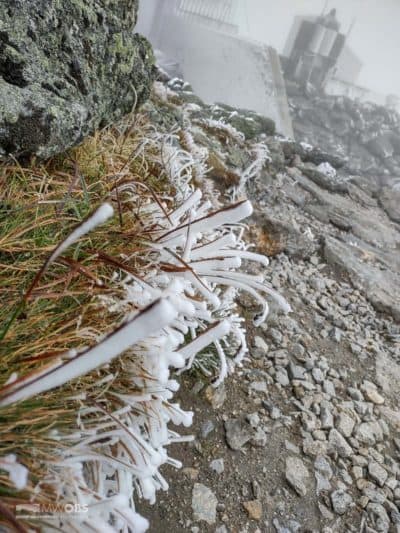 "We are in the clouds all night and all morning," said Mount Washington weather observer Sam Robinson. "The cloud stays as a liquid form. But then, as soon as it touches a surface that's below freezing, it freezes on contact."
The icing crystalized on patches of mountain vegetation, still deep green from the summer sun. The feathery ice deposits are called rime ice.
Cold snaps this time of year are not uncommon, Robinson says, but often occur intermittently.
"It's possible all twelve months out of the year for us to see temps below freezing," he said. "They are definitely not the normal, but it's also not unheard of."
Besides the icy conditions, the summit also experienced "hurricane-force" gusts overnight and into this morning, with winds up to 90 miles per hour.
Conditions were expected to return to more typical meteorological autumn weather in the near future. That means the summit should stay above freezing for at least the next week.
Due to rapidly changing temperatures and weather conditions that may vary at different elevations, the observatory urged visitors and hikers to review the "Higher Summits" forecasts before climbing the mountain.