The first fare gates on the MBTA's commuter rail turn on this week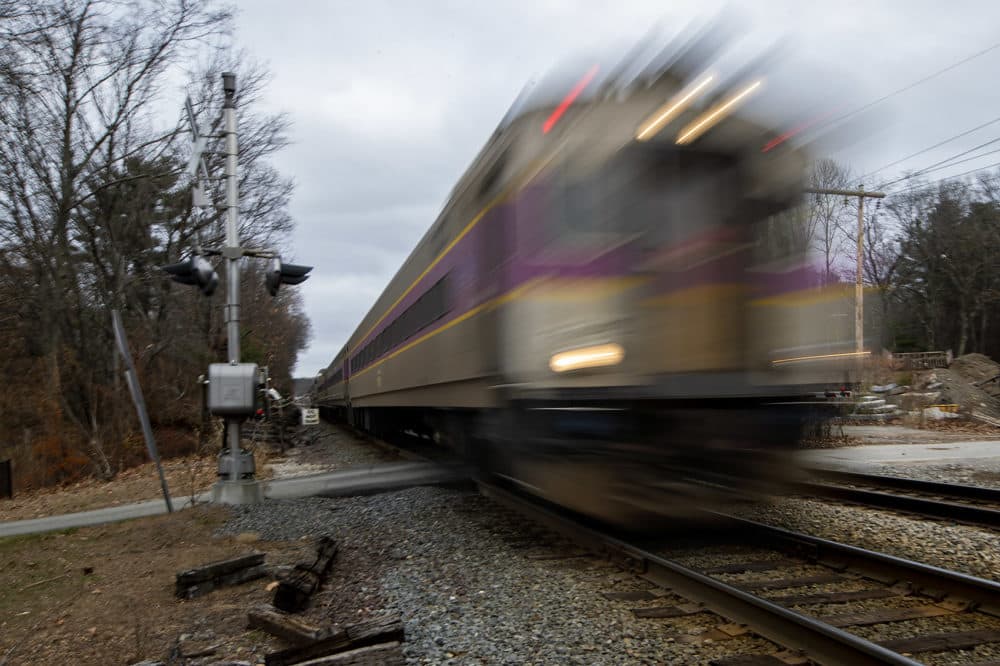 Editor's Note: This is an excerpt from WBUR's daily morning newsletter, WBUR Today. If you like what you read and want it in your inbox, sign up here. 
---
Get your telescopes ready — actually, you might not even need them; Jupiter is coming the closest it has to Earth in 59 years tonight. The giant gas planet will be so big and bright that you may even see it from a city (and it won't come this close again for over 100 years).
Meanwhile, NASA is planning to ram a spacecraft into an asteroid in a Hollywood-style planetary defense test around 7:14 p.m. Eastern time.
So, yes, the news today is out of this world. But there are a few things to know closer to home.
Starting this weekend, you'll actually have to scan your ticket to get on the commuter rail at North Station. The MBTA says its long-planned fare gates — the first in all of the commuter rail system — will be turned on this Saturday. They'll look similar to what riders encounter on most of the MBTA's subway system, but one key difference is that riders will have to "tap out" to exit the platform area at North Station as well.
The gates will take commuter rail and Amtrak tickets — but not monthly tickets loaded on a CharlieCard. That means you'll need a CharlieTicket or a CharlieCard with a printed zone and date.
Fare gates will also be installed at Boston's two other busiest commuter rail stations: South Station and Back Bay. (Officials previously said there's no plans to expand them further.) It's part of an effort to cut down on fare evasion. While the gates mean no more platform door ticket checks, riders should still expect to get their passes checked by conductors on the train.
PSA: Today is the first weekday of the first of three nine-day closures of the Green Line's D branch this fall. That means there are shuttle buses between Kenmore and Riverside.
One of the largest communities in Massachusetts is entering its second week under a strict outdoor water use ban. Due to drought conditions and low levels in the city reservoir, Lynn officials are threatening to fine and even shut off water for violators. They're also telling restaurants to only serve water if requested.
According to the Lynn Item, the city will issue warnings to first-time offenders and $200 fines for second offenses. Water service will be terminated for residents who violate the ban up to a fourth time.
While statewide drought conditions have improved due to the rain over the past few weeks, much of Massachusetts — including Boston and the North Shore — remain in a Level 3 critical drought. As of Sept. 2, 160 cities and towns had mandatory water use restrictions in place.
Stoughton Police Chief Donna McNamara is seeking to bar three of her former cops from serving anywhere in Massachusetts, after an investigation by the town found they had "inappropriate" relationships with a young woman who committed suicide last year.
McNamara is asking the state's new Peace Officer Standards and Training Commission to decertify the three officers, calling them "unfit to serve" during a press conference Friday.
According to The Boston Globe, the woman was pregnant at the time of her suicide and said one of the officers was the father.
P.S.— Boston Mayor Michelle Wu's monthly "Mondays with the Mayor" appearance on Radio Boston is coming up on Tuesday this week. (Apparently, she has a busy schedule.) But it's never too early to send in your questions. Just tweet them at @RadioBoston or send them by texting BOSTON to 617-766-0382.