It's been 30 months since the pandemic shut its doors, but the Lizard Lounge is back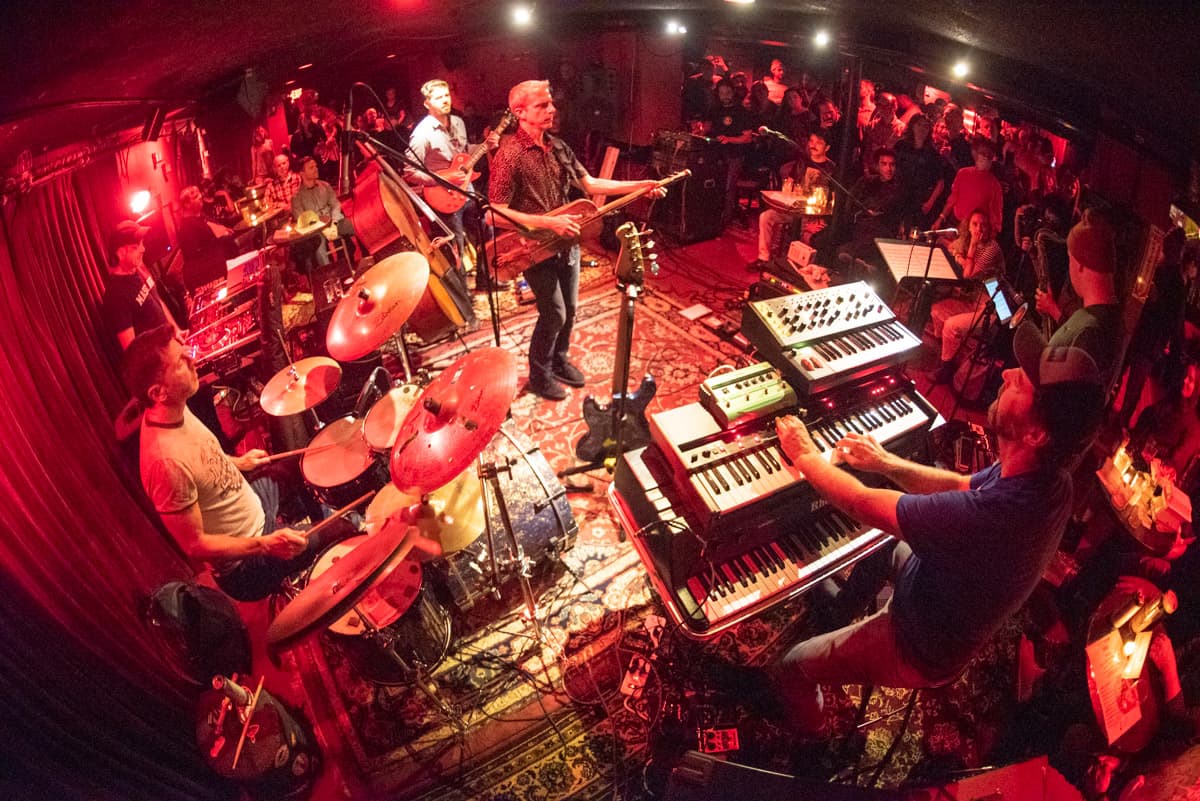 All lizards shed their skin as they grow. To protect from predators, some change color with their surroundings or they extend brightly colored throat fans, bob their heads and wave their extremities to distract and intimidate. On the last day in September, many of them slithered into a basement in Cambridge, embodying the red color that enveloped the low room, and bobbed along in a ritual led by Club d'Elf's Mike Rivard.
"We're going to ask you to do something that may be contrary to what you're feeling right now, and that is just be quiet."
Rivard greeted the packed house of newly-molted reptiles, unmasked mostly, hugging less awkwardly than they were even a few months ago. The Lizard Lounge is one of the last clubs around to reopen, and its return feels symbolic, a passing over into a new stage, less ruled by public health mandates but still with ever-present dangers and crises lurking.

"Let's start this off like it's kind of a sacred event, because it is for us," said Rivard. "It's been a long time. We've lost a lot of people in the last couple years. It's been a hard time. So put away your devices, let's lose track of time for a little bit." The bass rolled as the lizards ascended on a two-hour journey, protected from the potential dangers idling in their pockets.
The Lizard Lounge is owned by Holly Heslop and her husband Charlie Christopher. The pair also own Cambridge Common upstairs from the Lizard Lounge, Christopher's Restaurant and Bar, and Toad bar and music club in Porter Square. The Lizard Lounge opened in 1996 and has since been a creative incubator where musicians can improvise, meet each other, form bands and hold long term residencies that evolve into other bands and side projects.
"Our goal has always been to be a kind of accessible neighborhood hang out," said Heslop. "You never know what to expect. And I love the variety and excitement of it. It's unimaginable how great it feels to have music coming from this building again. It really has just made everyone here so happy and so excited."
Staffing issues have contributed to the Lizard Lounge's delayed reopening — it was closed for 30 months — but mostly, it's the nature of the venue.
There's no stage — instead, the musicians play in the center of the room, surrounded by the crowd. There's no way to social distance, and the energy of a shoulder-to-shoulder crowd is part of what makes the Lizard Lounge so special.
"It feels like the audience is part of the band," said Zoe Knight, a musician and longtime patron who has been coming to Lizard Lounge since January 2005. "I have such fond memories of being here. Seeing Club d'Elf for the first time broke my brain open. This is the place that showed me what was really possible with music and improvisation."

Bassist and sintir player Mike Rivard is the leader of Club d'Elf. He formed the band with a bi-weekly residency at Lizard Lounge in 1998. While members have come and gone over the years, the band currently includes Andrew Fogliano on tenor sax and flute, Paul Schultheis on keys, Jeff Misner (Mister Rourke) on turntables, Dean Johnston on drums and Alex Lee Clark on trumpet. Lyle Brewer of the band Neighbor joined the group on guitar.
Their sound is unexpected. It's a psychedelic ride with Moroccan and trance influence and a lot of experimentation and humor. When musicians of that caliber are improvising in a cozy but buzzing space with a present audience, something happens that can't be recreated and spit back out to you by artificial intelligence. After 30 months of being too afraid to gather like this, the need for spontaneous, shared interaction was palpable in the space. Rivard described the experience as "charged."
"We shuffle all these elements but it really takes that element of an audience who you can see, who you can practically touch," Rivard said. "It's like you're in a living room together. And everyone's just dialed in. And there's something that happens with the music when there's that level of contact and intimacy with the sound."

Heslop said they felt like now was the right time to open the space again, and they are taking precautions to keep the public safe, like requiring proof of vaccination. Heslop herself was one of the few people in the crowd wearing a mask.
Rivard said he was ready to be back. At the end of the show he thanked the audience for participating in his waking dream.
"I really appreciate that everyone was able to honor that request and turn off your devices and just be here. That's very meaningful to us as musicians to play with that kind of attention," he said with a steady earnestness in his voice. "We have some tough times ahead out there maybe, but here it feels like we're all in it together."
The lizards cheered.