Cape Cod shelter for Martha's Vineyard migrants to close this weekend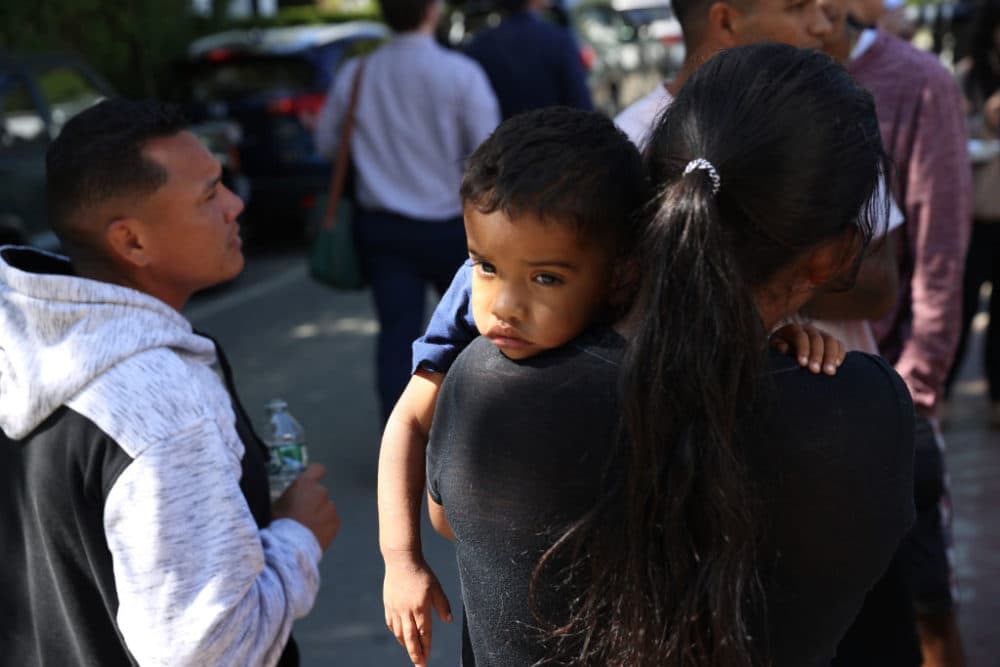 Editor's Note: This is an excerpt from WBUR's daily morning newsletter, WBUR Today. If you like what you read and want it in your inbox, sign up here. 
---
Tzom kal to everyone observing Yom Kippur today. NPR has a list of expert-recommended dishes (and tips) for breaking your fast.
State officials say the shelter at Joint Base Cape Cod — where many of the migrants who were flown to Martha's Vineyard last month have been staying — will close this weekend, as case managers work to find the group more sustainable housing. According to Gov. Charlie Baker's administration, 14 of the 49 migrants who moved to the temporary shelter have already left the base for "for opportunities in and outside Massachusetts." The other 35 are expected to leave this week as they finalize housing plans.
Immigration attorney Susan Church told Radio Boston on Tuesday that the largely Venezuelan group has asylum claims ranging from "great" to "average." But they're also seeking a different type of visa for individuals who were victims of a crime.
What's next? Local elected officials and lawyers for the migrants have been calling for a federal investigation into the woman who lured the group onto the plane and Florida Gov. Ron DeSantis for interfering with federal immigration enforcement. (A local Texas sheriff has already opened a criminal investigation.) Church says Attorney General Maura Healey's office should also look into possible violations of Massachusetts civil rights laws.
One of this morning's newly minted Nobel Prize winners hails from Massachusetts. Lexington native and Harvard alum Carolyn R. Bertozzi was one of the three people awarded this year's Nobel Prize in chemistry for taking both click and bioorthogonal chemistry to a "new dimension." Basically, the trio created an easier and faster way of "snapping molecules together" for chemists building new molecules for things like drug development. Last year's prize when to scientists engaged in similar work.
Bertozzi is sharing the prize with Morten Meldal and K. Barry Sharpless. Sharpless also went to Harvard and taught at MIT.
With home energy bills expected to rise sharply this fall and winter, the entire Massachusetts congressional delegation is calling on federal officials to expedite the release of recently approved, low-income heating assistance funds. Lawmakers say the Low Income Home Energy Assistance Program (LIHEAP) funds have been released in early November in recent years, but that past data show it is possible for them to go out as soon as mid-October.
Last week, President Biden signed a spending package that included a $1 billion increase in LIHEAP funds — about $37 million of which will go to Massachusetts. However, with electric and gas bills slated to rise to record heights, some advocates say it's own a fraction of what's needed. Sharon Scott-Chandler, the president of Action for Boston Community Development, told WBUR the state would need around $300 million to cover the increased needs and additional families seeking support.
From potholes to illegal parking, Boston residents have a new and improved way to report issues in their neighborhood. City officials released a makeover of its 311 app on Tuesday. And in addition to the refreshed design, the app now comes in the city's 11 most common languages (the previous version was only offered in English).
Yes, that means you'll be able to complain about space savers this winter in English, Spanish, Haitian Creole, Traditional Chinese, Simplified Chinese, Vietnamese, Russian, Cape Verdean Creole, Arabic, Brazilian Portuguese, and French.
P.S.— Come work with us! WBUR is looking for an energetic and creative event expert with experience in the sales and production sides of the business to fill our Rental Sales Manager position. It's one of nearly 20 job openings at WBUR right now. Check them out — or forward to a friend!