Choreographer William Forsythe's 'As Anticipated' has its world premiere at the Boston Ballet
In his latest for the Boston Ballet, choreographer William Forsythe draws from his rich repertoire as well as ballet's centuries-old roots. "As Anticipated" features three pieces speaking same choreographic language — they move horizontally, pushing and pulling, and remain grounded in space.
Throughout his 58 years in the dance world, Forsythe has made a name for himself through a style that is experimental yet reverent of ballet's traditions, toying with the classical components of the art form until it evolves into something enigmatic and new. He established a close relationship with the Boston Ballet in 2016, after having spent time as a dancer at the Joffrey Ballet and Stuttgart Ballet, at which he later became a resident choreographer in the mid-1970s. He then spent 20 years as Ballet Frankfurt's artistic director and went on to direct The Forsythe Company — an independent ensemble based in Dresden and Frankfurt.
The three works that make up "As Anticipated" all come together to represent nearly four decades of the esteemed choreographer's career. "Artifact Suite" (2004) — which is an abridged take on Forsythe's full-length, four-act work, "Artifact" (1984) — and "Approximate Sonata" (1996) bookend "Défilé," a world premiere inspired by the Paris Opera Ballet's long-standing tradition of the défilé du ballet, during which the ensemble promenades for the audience ahead of the show.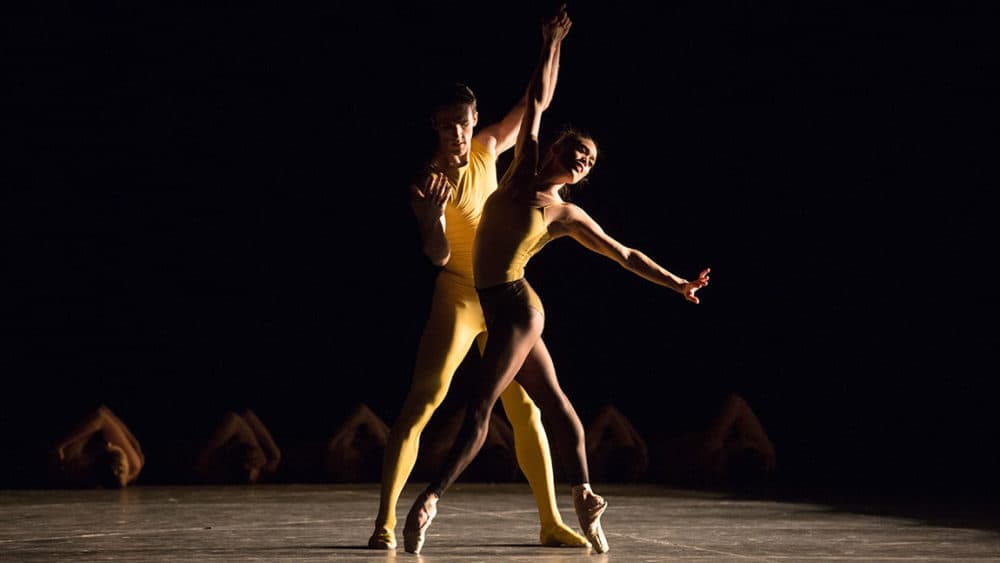 "I wanted to separate the things aesthetically, so what I decided to do was to make a prequel to 'Artifact,'" Forsythe says of the new piece. "The first act presents 'Artifact' as taking place in some kind of landscape of non sequiturs and what I've done is create this very formal and, I want to say, 'retro' kind of environment." And when Forsythe says "retro," he harks back to the birth of ballet hundreds of years ago. "I was doing research into the origins of ballet and it's beautifully described by Jennifer Homans in her book, 'Apollo's Angels,' that — at its first inception — ballet she said was 'stylish walking.' And then as it moved on it became more and more ornamented," says Forsythe. "In this particular piece, there are no large jumps, hardly any jumping, it is all based on the ground."
Showcasing 40 dancers, "Défilé" is a courtly processional bedecked with thematic nods and to "Artifact," since the piece is acting as its "fictive origin story," offering audience members multiple "aha moments'' when motifs reappear, yet presenting them in a more contrapuntal context. "I had to think back to what my goals were in 1984 and to use my current skill set," says the choreographer. "The counterpoints are very intricate, rhythmically, and we set up a series of very intricate, minimal contrapuntal rhythms." The choreography is formal, but delicate, providing a palate cleanser between the two other pas de deuxs (partner dances between a man and woman) in the program, yet still echoing the horizontal movement vocabulary of both.
The piece is set to a minimalist score produced in collaboration with Boston Ballet music director Mischa Santora. It begins with the first two notes of the canon from Variation 15 of Bach's Goldberg Variations and then dissolves into something unique. "The first movements that we choreographed for 'Défilé' were actually choreographed on the Bach canon and not on our music, and then we transposed it, so we had that courtly mood," says Forsythe. "There are many interpretations, but we decided on 56 beats per minute because it was very stately. That's a tricky rhythm to hold, a tricky tempo rather." This choice to strip down and reimagine Bach reflects the score of the original "Artifact," which drew from the heart of Chaconne in D-minor and transcribed the music from solo violin to piano.
Despite the overall emphasis on choreographic longitude, "Défilé" brings a sense of height by incorporating the curtain into the performance. The end of each "musical scene" is signified by a slow descent and ascent of the front curtain. It's elegant, smooth, and takes a luxurious 20 seconds to reach the ceiling or stage. That choice calls to mind the use of the curtain in "Artifact," where in contrast, it crashes down "somewhat violently" on musical cues.
"It's kind of weird, it's very strange — you don't know what's going on, but it's beautiful," says the choreographer of the world premiere. "I essentially want to keep people curious, so I have to keep dilating the size of scenes and what happens and it's been a really fun project trying to figure out how to keep the audience focused and interested until we make the transition."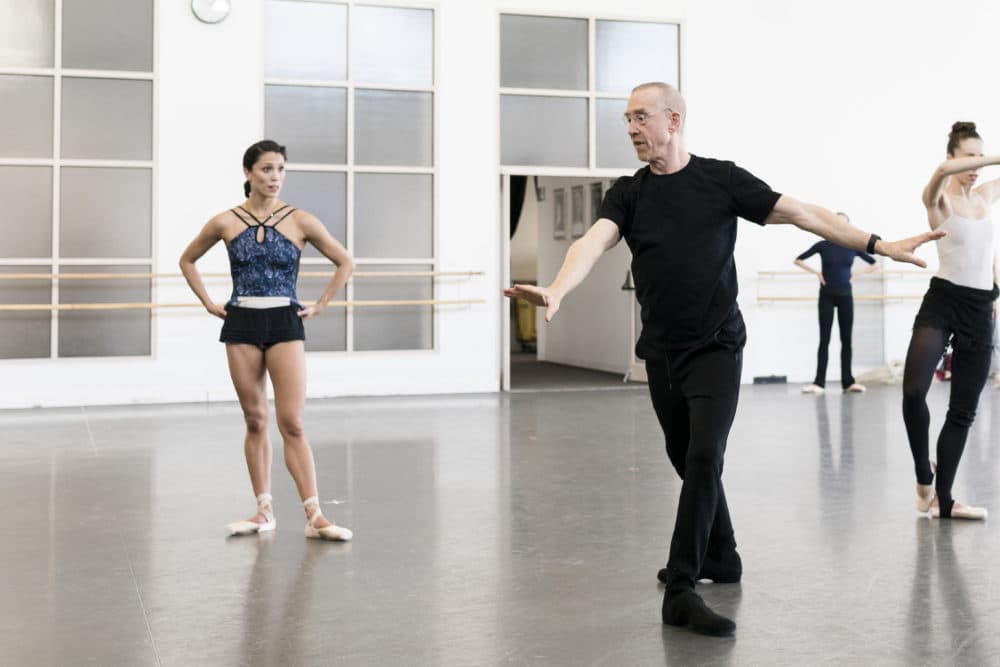 Choreographed about a decade after "Artifact," "Approximate Sonata" continues this exploration of the parameters of the pas de deux with grace, reverence and viscerality. "'Approximate Sonata' would be the next generation of relationships and what I introduced to the world of ballet was pas de deuxs that were less focused on lifting and supporting, but rather partnerships that pushed and pulled," says Forsythe. The choreographer explains that the term has taken on the meaning of a man supporting a woman in a classical context, but truly means "steps for two," implying a co-responsibility between the two dancers that Forsythe digs into, resulting in less man-powered lifts and the obvious verticality typical of a pas de deux and a much more equal transfer of lateral weight and force — a "dynamic co-design."
Forsythe has been working directly with the dancers at Boston Ballet for so long that he says his "language has become native to them."
"I love Forsythe with my entire heart," says Boston Ballet second soloist Daniel R. Durrett. "I've been working with him for about seven years now, and it's still a dream come true to have the opportunity to work with him so closely in the studios. He's so understanding and encouraging to his dancers that he always brings the absolute best out of everyone involved. It's honestly such a demanding yet rewarding experience to get to bring his choreography to life."
Forsythe is setting out to build even more close relationships with company members — emphasizing the spectacular rising talent particularly in "Approximate Sonata" and throughout the greater program. "I'm very happy that 'Approximate' and 'Défilé' arrived with this particular generation. I think it's the right place at the right time," he says. "Every time you make something, you make it for dancers and the rewarding thing is watching people grow and take things into their own hands."
---
Boston Ballet's "As Anticipated" runs Nov. 3-13 at the Citizens Bank Opera House.