Local Indigenous tribes gather to build community and learn an ancient skill
Play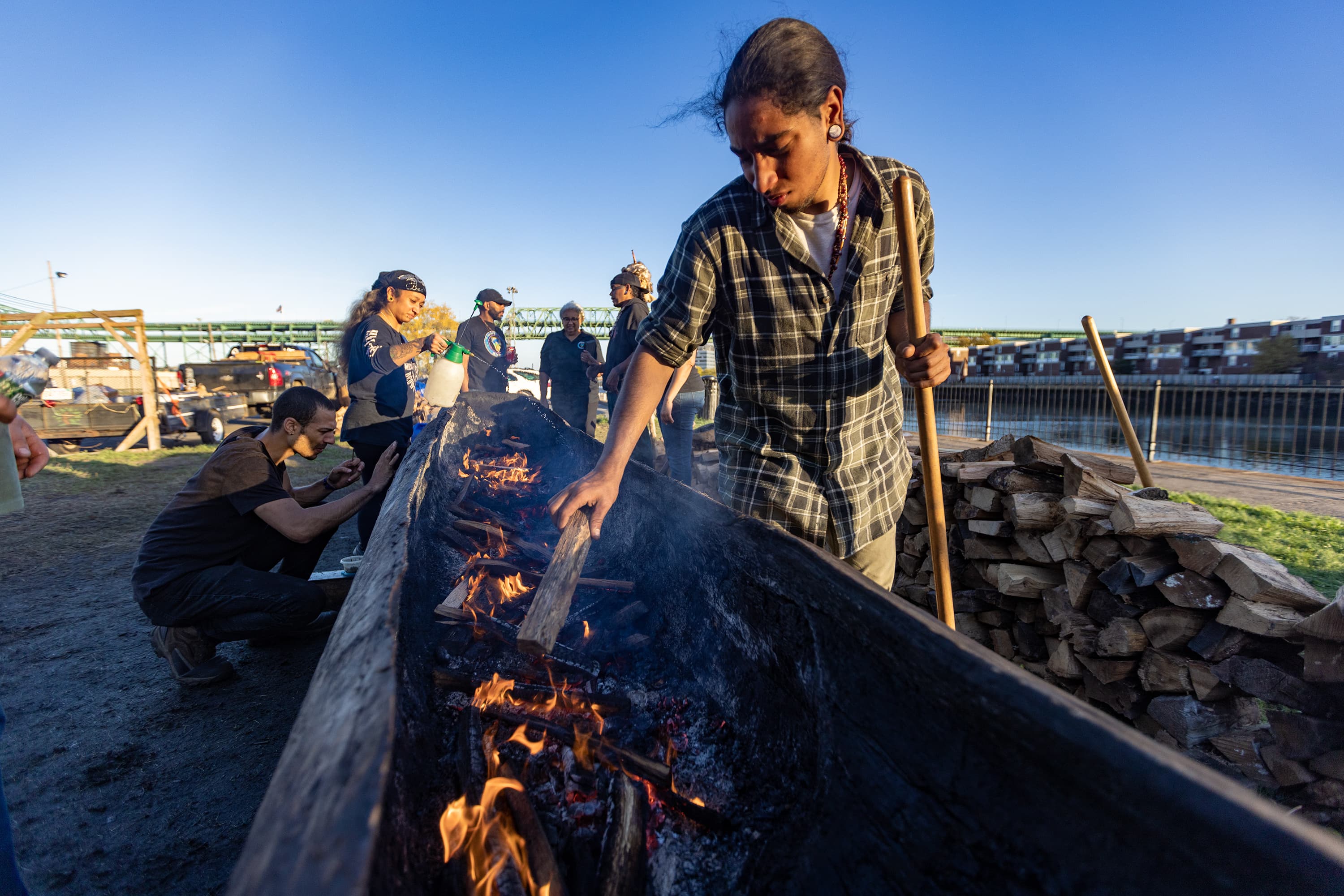 Andre StrongBearHeart of the Nipmuc watches the fire closely as the wind picks up and feeds the flame. Every few minutes, someone with a metal scraper shapes the wood as it smolders, gradually hollowing out the heart of this massive white pine tree.
Heat emanates from the center.
"Oh, the tree will teach you a lot of lessons," he said. "About patience, and acceptance, happiness, suffering. A lot of all these things bundled together."

The Massachusett tribe at Ponkapoag in collaboration with the Nipmuc and Indigenous people of various nations gathered at the start of Native American Heritage month. On the banks of the Mystic River in Charlestown, they arrived to build community, strengthen tribal bonds, and learn a new yet ancient skill: how to use fire to build a traditional dugout canoe, called a mishoon.
StrongBearHeart serves as the cultural steward of the Nipmuc tribe. He worked in partnership with Thomas Green, an Indigenous artist and educator of the Massachusett Tribe at Ponkapoag, on this project. They called it "Communal Waters — Highways of Intertribal Exchange." (The project was supported by a $20,000 grant from Olmsted Now, a Greater Boston coalition formed in honor of the bicentennial of Frederick Law Olmsted, spearheaded by the Emerald Necklace Conservancy.)
This is the first joint burning of a traditional mishoon by the Nipmuc and Massachusett tribes in Boston's postcolonial history.

"We want the public to be informed," Green said. "I grew up in Brockton. I grew up with kids whose family had been living in Massachusetts for generations. They had no clue that the commonwealth appropriated the name Massachusett from the most predominant group of people that were here, prior to colonization. You just don't hear about it."
StrongBearHeart learned this craft from his teachers, Darius Coombs and Annawon Weeden of the Mashpee Wampanoag. This knowledge has been passed down through generations. It's a way to heal and teach young ones about their culture.
"It's what we did for thousands of years," he said. "We stepped into each other's spaces to create alliances. And also, you know, it's the reason that we survived here for so long."

The smoke dances above their heads as it rises. The group works together, using water to control the burn in shifts. They watch and scrape from dawn to dusk and overnight. Dylan Lach from the Chappaquiddick Wampanoag tribe worked that third shift until sunrise. He's called Mehtukqush, which means "Many Trees." As he watched, he focused on gratitude.
"I would rather be doing this than anything else," he said. It's really not about building the boat. It has nothing to do with the boat. It's the communal organization that's happening here that goes way deeper than just one-on-one interactions with other people. You start to find yourself in this."
There's an artistry to the work. Too much fire and the mishoon is a total loss. Not enough and it won't take shape. Around them, their campsite is spare. A few tents, chairs, strong coffee. Joining them throughout the week are other local tribes such as the Aquinnah, Mashpee Wampanoag, and Taíno.
"I feel like my ancestors are with me. We go into a spiritual place," said Mar Parrilla, who is Taíno and one of five apprentices. "There are moments where we're all kind of in a trance working on it together."

She says there's constant communication with the wood, fire, and elements as they interact. It becomes meditative. This method of boat burning is similar to what the Taíno used in Borikén, also known as Puerto Rico, a tradition she hopes to share.
"One of the most important things that we're working on is bringing back our right to ceremony in our own ceremonial places, which is a little bit under attack right now," Parrilla said. "And we're organizing."
From the campsite, they see Deer Island, a burial ground where Native Americans died after being moved there by settlers during King Philip's War in the winter of 1675-1676. It's now used for wastewater treatment. Local residents pass by as they work, curious and surprised to see the people of this land on this land at all. Next to the mishoon is a fake decapitated head on a pike, red paint streaming down its face and a sign.
"It says, 'In the memorial of all Northeast Woodland Indigenous, who were murdered and beheaded by the English for public display,'" StrongBearHeart said.

Until 2004, there was still a law from 1675 on the books banning Native Americans from walking unaccompanied within city limits. Green says the way to reckon with genocide and erasure is through projects like these.
"We want our sister tribes to be here and doing this project. It helps to solidify the bonds that our ancestors once had between them," Green said. "You know the colonists came here and they divided that unity, and we're trying to reclaim it with some semblance of it."
The mishoon is finished within about a week, a gift from the Nipmuc to the Massachusett. They paddle it on the Mystic River. It glides smoothly along. At the nose, they carved a turtle, a symbol of the land they share.
"We need to braid our communities back together in this very way that we're doing right now," said StrongBearHeart. "And we need to braid our language and our ceremonies and our walks stronger, braid them tighter, back together."
This segment aired on November 15, 2022.