5 festive live music shows for the holidays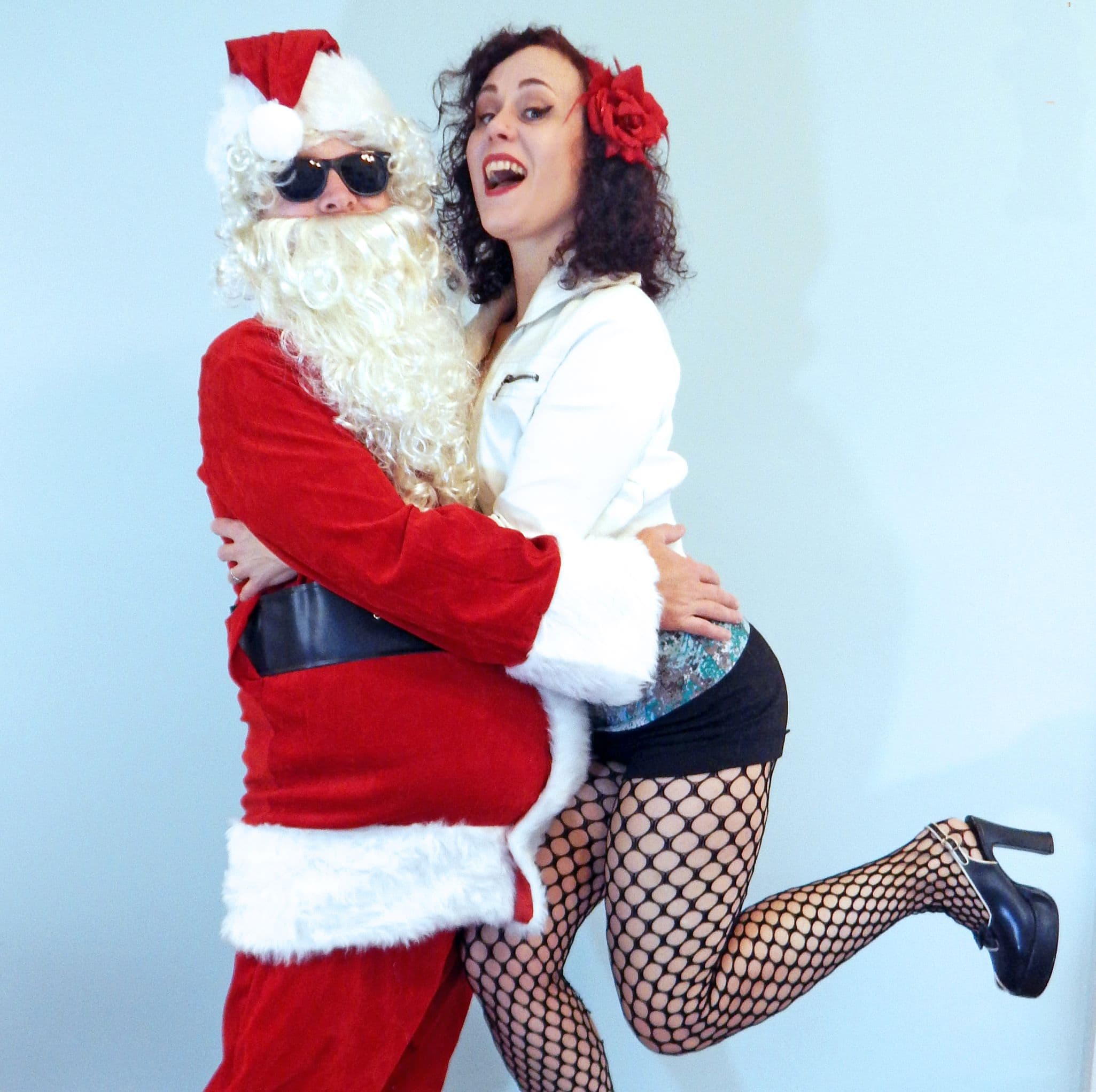 The holiday season is upon us. It always comes a little faster than you think.
"I always find myself saying 'It feels like last Christmas was just yesterday!'" says Samara Joy, a 22-year-old jazz singer who is playing at Arlington's Regent Theatre Dec. 22. "With all that's going on, I wouldn't be surprised if the world was spinning a bit faster than normal."
Singer-guitarist Will Dailey also has an upcoming holiday show, on Dec. 9 at the Crystal Ballroom, and he agrees. "Christmas should never leave your heart. And we can slow down time. Music helps to do that."
I spoke to some of the acts playing locally this December, and compiled a list of holiday-themed live music events:
Crystal Ballroom | Dec. 9
This is the fifth time the Newton-based Dailey has closed his performance year with a local gig. "The last show I play with my band every year is at home in December," he says. "It serves as a homecoming and one last evening to leave it all out there. We started the tradition of closing out with a year-ender at the Burren and it grew to three nights. This year because of our travel schedule, we have moved across the street to the Crystal Ballroom for one grand evening." He dubs it, simply the Annual End of the Year Hometown Show.
Dailey, who plays out in a variety of formats — solo, with a drummer — will have a full band for this show. He'll be joined by guitarist Bill Guerra, bassist Ed Valauskas, keyboardist James Rohr and drummer Dave Brophy. A special guest or two may join as well.
Aside from a tip of the hat to his local audience, Dailey views the final gig as an opportunity for stock-taking as well. "Considering that our measurements of reality and success are all distorted after the past six years," he says, "the night serves as a way to attenuate myself to what really matters at the end of 12 measurable months of time and doing it in my home space is the healthiest way to do that."
Dailey has penned a new song called "Christmas, of Course," which he describes as "morose and comical." Says Dailey: "I will definitely play the new one. It would be weird if I didn't. But I played it for the first time live this summer and it worked in the heat, too."
Dailey considers Christmas "an old-age ritual that should be quite impressed with itself for how it's evolved. For me, it's a day where the phone won't ring. There is no place to go and the possibility of peace is high."
Still, he's not committing to any other Christmas songs or, for that matter, any particular songs at all from his eight-album catalog. Dailey will make a set list — he's loathe to repeat a previous show — but gives himself the freedom to switch it up at will "The rest of the set is always a response to the people in the room," he says. "I am always beyond lucky with the people I play with and they are always ready to react to what each night and each audience needs. Each show is just another chance to give everyone a performance that I haven't done before and that I'll never do again. The rest of our daily lives is a planned setlist."
---
Crystal Ballroom | Dec. 20
The Sweetback Sisters — Emily Miller and Zara Bode plus a four-piece band - are playing the same room as Dailey on Dec. 20, and they will unwrap a bevy of Christmas songs, both secular and spiritual, all done up honky-tonk style.
"It's a combination, says Miller. "We made the decision at some point that we can't really be everything to everybody, but we pride ourselves to be as inclusive as we can be. We have a lot of non-Christian friends who love the show so we have 'winter classics.' It's all about the Christmas cheer."
The duo formed in Brooklyn in 2006 and put out their first album the following year. While the Sisters — who specialize in close harmony vocals - sometimes tour playing their regular songs, with small children in the mix for both, they've cut down touring and concentrate on this season and this show, called the Christmas Singalong Spectacular
The Sweetback Sisters fully encourage audience participation. "There's nothing like singing these songs together," Miller says. "It's very much a singalong, a fully interactive show with trivia quizzes, prizes, lyric sheets given out. The moments of singing 'Silent Night' and 'Silver Bells' together with 800 people in the audience, it's quite special."
They started doing the show in 2009 and released a CD of the same name in 2012. The 2020 pandemic year show was virtual; last year had a limited touring schedule. The Sisters had previously done five area shows at the A.R.T.'s Oberon. Since its closing, they've shifted to the Crystal Ballroom — but, Singer says, with the help of many of the Oberon production crew.
How do they fit Christmas tunes into their honky-tonk style?
"We go for the great songs and a lot are from big band era," Miller says, "and we adapt to a country band format. We use as many skills as everybody has — several violins and violas, any brass the musicians can play. We make our show as big and rich musically as we can with a six-piece band. It's country, but a broad feeling of what country is, encompassing swing, Western swing, rock 'n' roll. A lot can fit under the country umbrella."
Highlights should include "The Nine Days of Christmas," written by Miller's husband, guitarist Jesse Milnes, who is not on this tour. It begins with "On the first day of Christmas, you left me all alone" and ends with the singers "cooking up a cocktail for Christmas and opening packages for two." And then there's "The 12 Days of Christmas," which they re-invent every year. In the 2021 show, after "nine ladies dancing," they segued right into Dolly Parton's "9 to 5."
This year's twists? It's a secret. "We can't give it away," Miller says.
---
Regent Theatre | Dec. 22
For Samara Joy -- not an inappropriate surname for the upcoming holiday — it's a season of tradition and comfort. "When I think of Christmas," she says, "family, fellowship and New York City winter weather immediately comes to mind. It's my favorite time of year because I know I'll be spending time with my favorite people."
Joy's star is on the ascent. She won the Sarah Vaughan International Jazz Vocal Competition prize three years ago while still in college. She has more than 196,000 TikTok followers. The Bronx-raised singer signed to premiere jazz label, Verve, and released "Linger Awhile,' her full-length debut for the label, in September. She performed at the Newport Jazz Festival this summer and she's played on "The Today Show" twice. And then, two Grammy nominations announced on Nov. 15, for Best New Artist and Best New Jazz Vocal Album.
"I hope this nomination encourages people to add some more jazz to their playlists year-round," says Joy. "Right now," Joy says, "I'm focused on continuing to learn the tradition while at the same time developing my own ideas. Most of the time, it comes through research of musicians and singers. I find a person I like, dig into their discography, and discover new tunes. I don't want to force or purposely 'bend' - progress will naturally occur with the more that I learn."
Her show is dubbed — what else? — A Joyful Holiday. "The main goal with my concert," she says, "is to introduce people to the songs and stories I love to tell and hopefully, by the end of the night, we all feel a bit more connected after having shared collectively in a musical experience."
---
Porch Southern Fare & Juke Joint | Dec. 3
"This year especially seemed to fly by — but to tell you the truth, I can barely remember a normal Christmas after the last few pandemic versions., says blues singer-guitarist Erin Harpe, who plays with her band The Delta Swingers (co-helmed by hubby Jim Countryman) at the Porch Southern Fare & Juke Joint in Medford Dec. 3. The band having been on the road a lot, Harpe considers this a homecoming of sorts.
For Harpe, the season brings "happy memories and good music," but she admits the Christmas standards most people listen to do nothing for her. "I don't really like traditional Christmas music that much," she says. "Growing up with my blues musician dad, we luckily had a really cool alternative in a mixtape made by one of my dad's friends. It was full of all kinds of great blues and R&B songs that just happened to be holiday themed. Every year I looked forward to listening to it together to get into the spirit, and my sister and I knew all the lyrics and sang along."
Four years ago, Harpe & the Delta Swingers released a holiday album called "The Christmas Swing" - highly influenced by that old mixtape - and she says they'll be mixing those songs into their regular set, of what she calls "boogie, blues and beyond."
"There's nothing traditional about the seasonal songs we'll be playing," she says. "Everything from original songs, to country blues, to searing Lightin' Hopkins, and even a punky rockabilly tune by an indie artist I like in the U.K., Little Lost Lou. We like to mix things up stylistically and stay on the secular side, keeping the night inclusive, light and fun, and most importantly, danceable. It's to get people into the spirit!"
---
The Center for Arts at the Armory | Dec. 10
Aaron Spransy is the organizer of a three-act show called the Hinterland Ball which takes place Dec. 10 at Somerville's Arts at the Armory. The band he leads, Sinnet, will be joined by Colleen Green and Me in Capris.
"Christmas is a mixed bag for me," Spransy says. "I have a lot of love for the joyous, happy vibes that come along with the season and the time away from the daily grind. I also love a good glass of eggnog. But it can also be a bit melancholy, a reminder that my family is far away - in Wisconsin - and that some of my loved ones are no longer with us."
A Christmas song or two could pop up, but Spransy says, "For this show, there is no requirement for the bands to play holiday songs. For Sinnet, specifically, it's an opportunity to play songs from our latest record 'Island Town' as well as even newer songs to a big, festive crowd."
"It's really just an excuse to get a little weird and have some fun during the holiday season," Spransy says. "We're hoping some folks dress up and make the evening a special event! We just want folks to come and hear some great bands. This could become a new in-between Thanksgiving and Christmas tradition. Perhaps it's a break from all the forced family bonding or just a night to get loose and have a ball!"
___
Other shows of note: