Local artist stages demonstration inspired by protesters in China
Play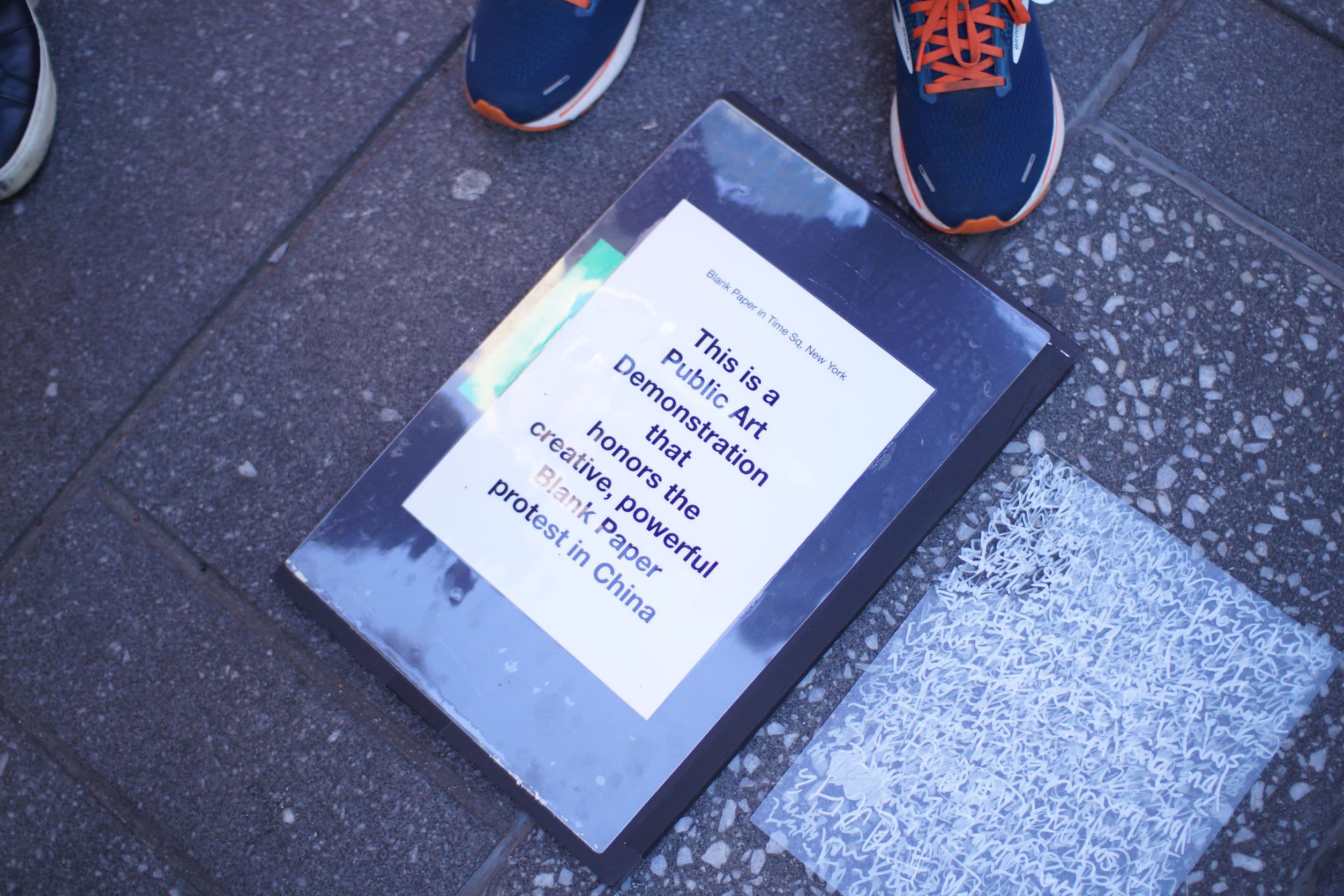 Late last month, Chinese citizens took up a creative means of protest over the nation's strict "zero-COVID" policy. In a place with little tolerance for large public demonstrations, protesters have been holding up blank pieces of paper. Their ingenuity inspired a local artist Yolanda He Yang to stage a public art demonstration to subtly communicate their dissent.
Yang was born and raised in mainland China and watching the protests from afar gave her a visceral feeling. Every piece of skin and muscle in her body was jittery upon viewing images from home. And when asked about the protests, she often felt like she couldn't speak. "That's when I realized that reading all of this news from my home was affecting me in a very intense way," Yang explained.
Yang is a visual artist with a focus on public art—earlier this year, she and artist Ross Miller wrapped statues in solidarity with Ukrainians. So, when confronted with these complex feelings, she decided that the best way to express them was in public through a series of public art demonstrations in various settings.
Yang performed in New York on Saturday, Dec. 10. On Tuesday, Dec. 13, she'll do it again in Harvard Square. MIT student and musician Brabeeba Wang will play a harsh tune on the violin, alternating between the two farthest notes on the scale, G and C-sharp. Wang's music is in response to Yang, who will write a phrase in both English and Chinese on glass in white paint. The phrase reads, "You know what I want to say."
Yang's idea for this performance came together quickly. She wanted to mirror the urgency of the protests in the demonstration's conception. In her performance, however, she takes her time. It's a moment for people to gather, reflect and share a moment of awareness. For her, this is not political. Instead, it's emotional. "I believe this public art demonstration comes from a very emotional, very personal place," explained Yang.

"The blank piece of paper was used in China as a creative medium to show frustration, to express a message to the government, and so on," said Yang. While her art is an expression of her inner feelings, she has taken cues from the protestors to shape her movements. She will hold the piece of glass over her head in her right hand and her paint pen in her left. "I kind of imitated how protestors hold a piece of paper or a slogan," said Yang. "They want to hold it very high because they want to be seen."
Five dancers will perform alongside her with simple choreography to help draw attention to her scribbles. It was important for Yang that the performance engaged multiple senses. First, to draw attention to the demonstration, and second to lock in their engagement.
After a few minutes of writing, violin playing and choreography, Yang's glass will be completely covered in white paint. It's a nod at the blank pieces of paper she watched fill her hometown streets from afar.
"But it's not only white paint—it's all the gathered voices," said Yang. Her performance attempts to capture the spirit of the protests. It's a bridge between here and there. Yang's studio practice is a solitary place where she can think and heal. Her public art practice is the inverse, encouraging people to connect with one another. For her, the two go hand in hand.
In Yang's public art demonstrations, she views herself as an agent in helping people first become present and then aware of something bigger than themselves. Public art is a way to draw attention to something, and Yang sees that as both sensitive and sacred. Even if onlookers cannot do anything to materially alter the conditions of someone living thousands of miles away, Yang said "just that attention can change so many things."
This segment aired on December 13, 2022.