Venezuelans living in U.S. offer 'warmth of home' for fellow migrants
---
Just before the holidays in central Massachusetts, Isabel Rodriguez and her relatives decided to throw her mother a surprise birthday party.
In a week, Rodriguez, 58, managed to cook dinner for 50 while working two jobs and 15-hour days. Her loved ones built a heart-shaped piñata and helped her serve the party guests full plates of salmon, mashed potatoes and vegetables.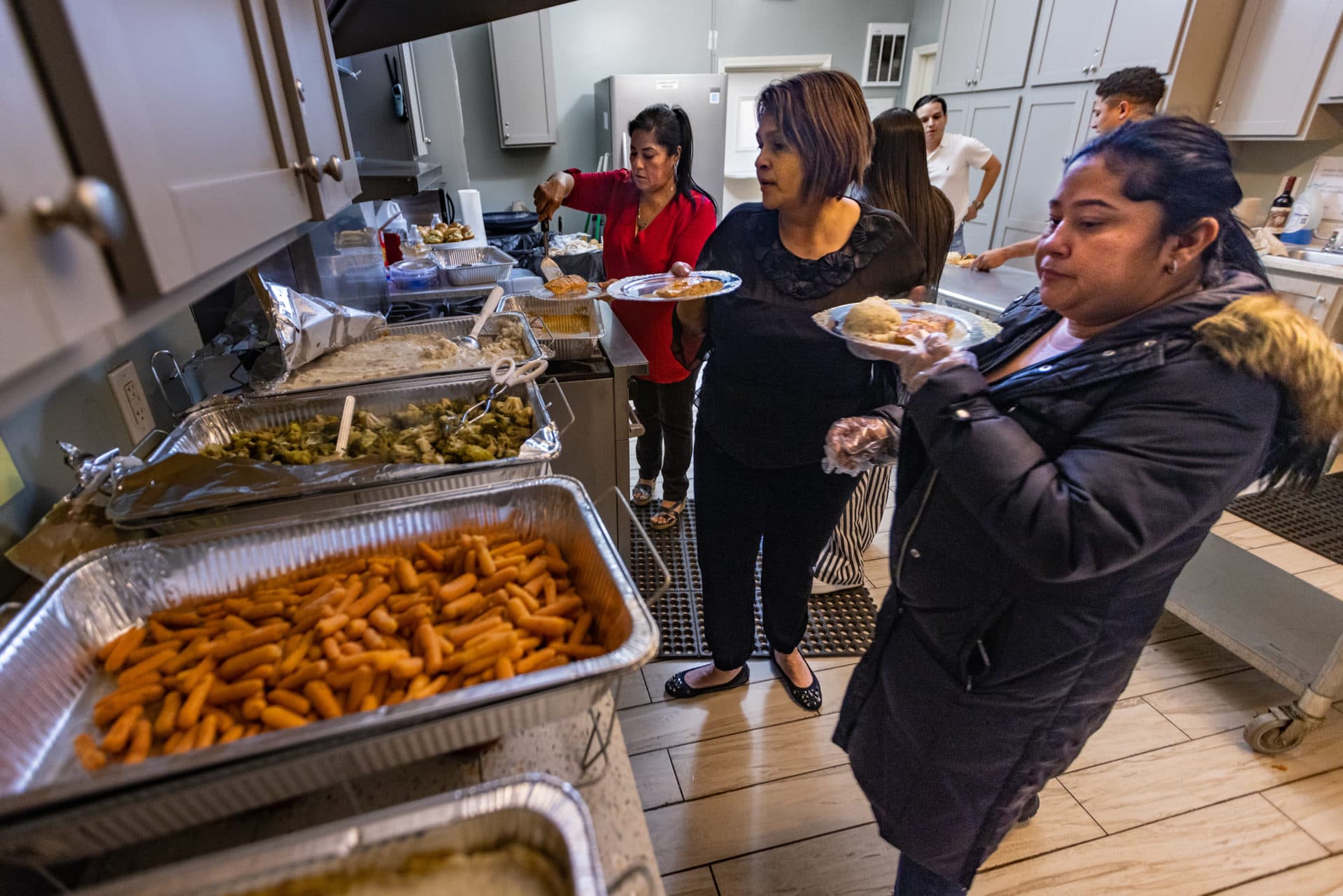 A flood of emotions washed over Rodriguez as she surveyed the room. It's been years since she was surrounded by a large group of her family, since she felt that familiar warmth.
"I'll tell you it's been something that is so emotional for me and I suppose my mother too," Rodriguez said. "Here we feel that warmth of home."
Te digo que para mi es algo muy emocionante y supongo que para mi mamá también. Aquí tenemos calor de hogar.
They gathered in the main hall of CENTRO, a Worcester nonprofit where her daughter works. The party wasn't originally going to be so vibrant and full.
This fall, Rodriguez's daughter got a sudden phone call. Her cousins had completed the harrowing journey from Venezuela to the U.S. They were cold, hadn't eaten much in days and were struggling after a bus from the southern border dropped them off in New York City.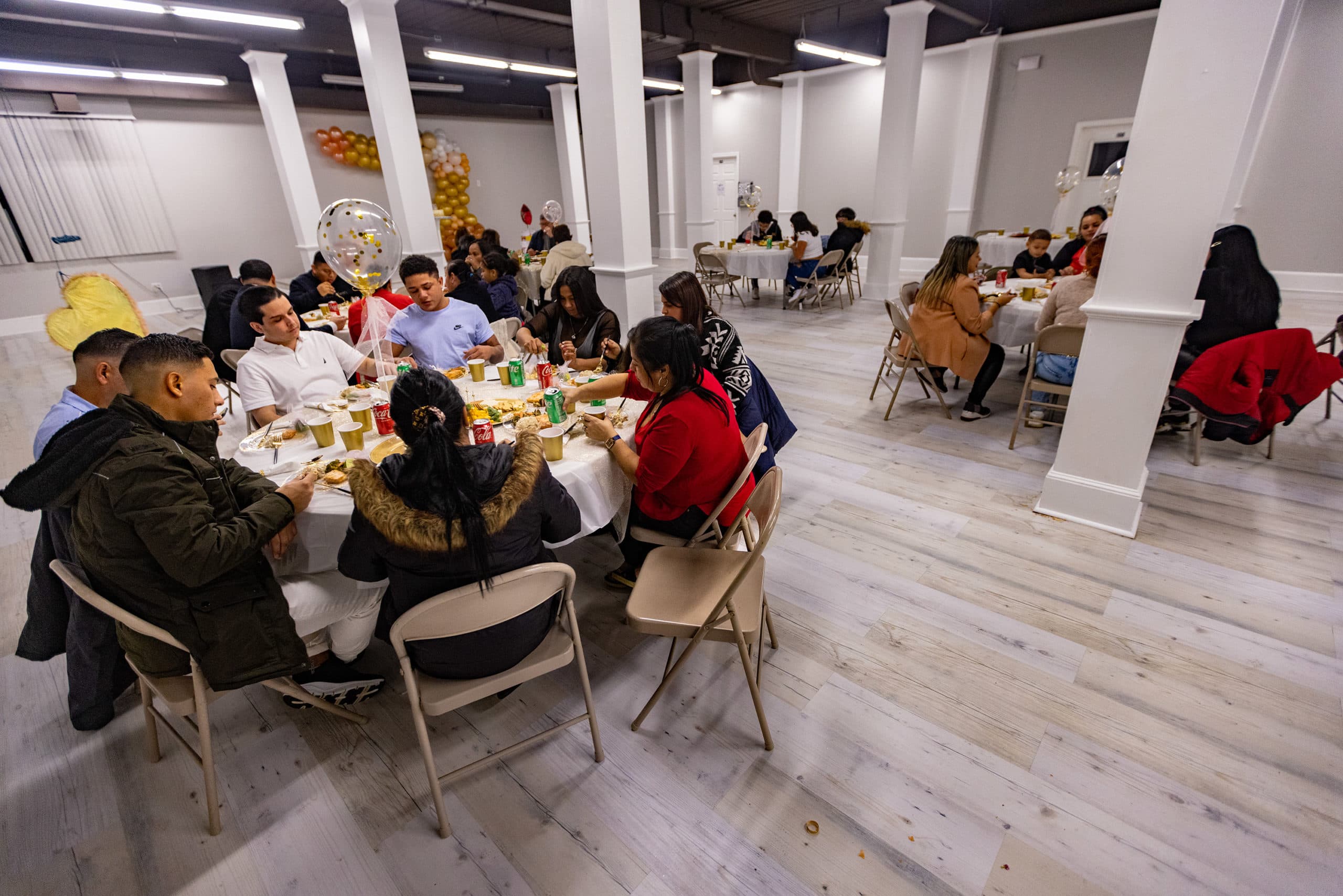 Rodriguez knew intimately how difficult the decision to leave their native country must have been. About five years ago, her daughter, Valeria Ramos, a classically trained violinist, became a political target in Venezuela. During a protest she attended with other musicians, she watched a friend die by her side, killed by the military. Afraid of what might happen to them, Rodriguez, her daughter and mother fled.
They ended up near Worcester, Mass. Now, Rodriguez, determined to give her relatives a softer landing in the U.S., houses 11 in her three-bedroom home.
"I don't want them to go through what I've been through," she said.
No quiero que pasen lo que yo he pasado.
Feeling comparatively settled in America, Rodriguez and many Venezuelans like her are reflecting upon their own lived experiences as immigrants.
The call to support and strengthen their communities, some interviewed for this story said, felt particularly poignant after 50 migrants were flown to Martha's Vineyard by the conservative governor of Florida. Gov. Ron DeSantis' stunt in September reignited the debate surrounding the nation's immigration policy and was widely criticized as a political spectacle.
"We have been navigating this all year," said Denise Rincon, president of the Venezuelan Association of Massachusetts. "People are arriving without any resources. So we have had to deal with this the best we can. With our own money, our own resources. We've tried to do magic. I literally try to solve problems … one day at a time, one person at a time."
'Emotional shock'
It's Sunday morning, and Rodriguez and her family bow their heads in prayer.
In the name of the father, son and holy spirit. Lord, we thank you for this day.

En el nombre del padre, en el hijo y del espíritu santo. Señor, damos gracias a dios por este día.
Cousins, siblings and grandchildren pass plates of arepas, shredded beef, and rice and beans across the packed dining room table. They share stories as if they've lived together all their lives.
But Rodriguez can tell her loved ones need to talk to someone professional, too. For 37 days, her loved ones walked or rode buses across nine countries. They went days without eating.
"They need psychological help," Rodriguez said. "Some of them cry, or act in certain ways, and I understand. That's the emotional shock that they've suffered before coming to the United States and now find themselves in a system that's completely different."
Ellos necesitan ayuda psicológica. Unas lloran, otros se han portado de alguna manera y yo los entiendo porque el choque emocional que han tenido y todo lo que han pasado antes de llegar a Estados Unidos y encontrarse que el sistema es totalmente distinto.
A few years ago, Rodriguez joined the Venezuelan Association of Massachusetts to give back. As she puts it, it was her way of offering a "tiny grain of sand" for others.
"So we began the work of assisting, of helping," Rodriguez said. "Each person adding their own tiny grain of sand."
Y bueno entonces comenzamos el trabajo asistimos, ayudamos. Cada quien pone un granito de arena.
"God is my provider," she tells them when someone expresses fears of becoming a burden. As new immigrants, they're unable to work right away.
Rodriguez smiles. She tells them all she asks is they let her sleep in on the weekends.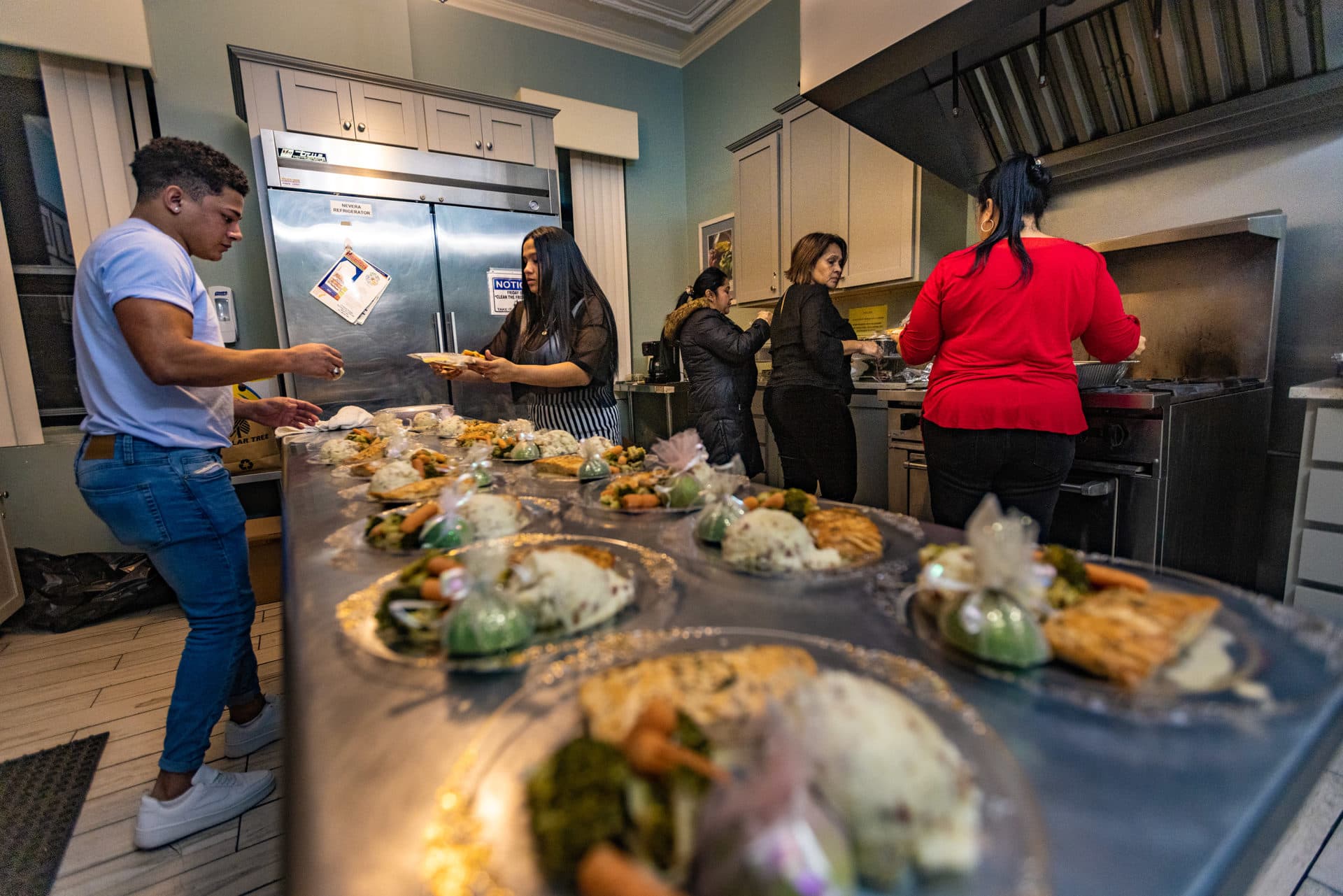 Still, another source of comfort is that she's not alone. Her family has other help.
Denise Rincon arrives that morning with donations collected by the Venezuelan Association. While the adults try on winter coats, 3-year-old Adalay Ramos can barely contain herself when she spots the rainbow mane of a My Little Pony doll she knows is for her.
Most weeks, Rincon is personally in touch with around 100 families across the commonwealth. The mother of three sheltered in a church basement. The young woman in need of snow boots and a coat. The young man who needs a cellphone. The friends who share a room and could use a thicker blanket. Everyone texts or calls Rincon with questions.
"Exhausted. I'm simply exhausted," Rincon said. "This work is a marathon. People need help with everything from health assessments to legal advice, to basic necessities like clothes and understanding cultural differences."
Agotada. Ah, simplemente agotada. Y esto es un trabajo maratónico, porque de verdad que tienes que hacer todo, desde asesorarlos en qué hacer con la parte de la salud, la parte legal, la parte de ropa que no tienen las necesidades, las necesidades básicas, pero también la parte de las diferencias culturales.
One man called her just to talk for 40 minutes. He's depressed. A lot of Venezuelans in Massachusetts are still supporting people back home, and it weighs on them.
"I've said it for years, since 2014 — we are in a dire humanitarian crisis," Rincon said. "It is a complex crisis and now people are realizing, 'Oh, my goodness, we are not paying enough attention to this, but it's real."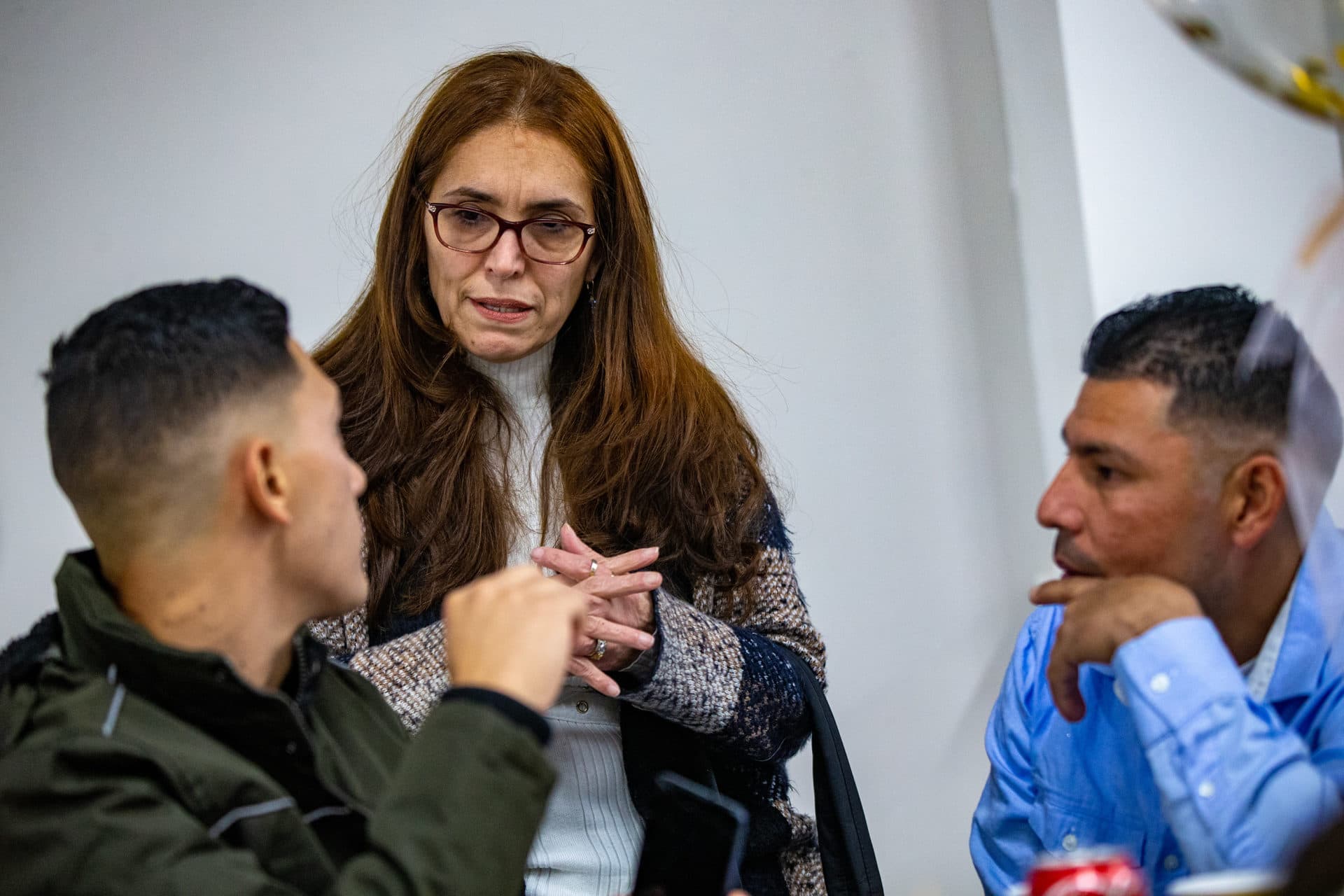 Gov. Charlie Baker has sought to allocate millions of dollars for emergency housing to help provide added shelters for families coming from the southern border and elsewhere. Salem State University recently made vacant dorms available to assist the state, especially as it gets colder.
Most of the 50 people that landed on the vineyard are spread across the state, says attorney Ivan Espinoza-Madrigal, who is representing the group. Families are in homes, but individuals remain in shelters. He said one teenager is worried he'll be stigmatized if people know he was among that group. When his family is offered support now, he asks his parents if this will be another "Perla situation," referencing the woman who reportedly convinced them to board the plane in San Antonio with false promises of work and housing.
They are doing as well as they can, Espinoza-Madrigal said. And they're looking forward to the holidays as a way to pause, celebrate and strengthen community ties.
"It's not easy for them to move forward because there's still a lot of trauma and a lot of hurt from what they have experienced," Espinoza-Madrigal said. "This sense that you can't trust good Samaritans because of the deeply disturbing experience that they suffer through."
"Those of us who are immigrants can relate to that moment of arriving, and disorientation and distrust and optimism."

Celina Barrios-Millner
Celina Barrios-Millner, co-vice president of the Office of Race and Equity Research at the Urban Institute, can relate to that sense of caution. She and her family migrated from Caracas in the early '80s to Cincinnati, Ohio. Stunned by the cold and feeling isolated, she recalled as a 6-year-old how excited her family was to simply stumble upon plantains at a Filipino market.
"Those of us who are immigrants can relate to that moment of arriving, and disorientation and distrust and optimism," Barrios-Millner said. "It just sounded like they were objects, like they were cargo. … Something about the language just felt like all these objects got picked up, rerouted and taken to another place. And so, as a Venezuelan, it immediately hit me."
Wanting to lend a hand, Barrios-Millner said she headed to the Cape Cod military base where the group lived for nearly a month. She recalled how volunteers tried to make the big, cavernous and cold place more comfortable and warm.
A local Venezuelan restaurateur, Katiuska Valiente of Peka Restaurant, hauled over platters upon platters of traditional Venezuelan food and helped one little girl celebrate her birthday. Local Venezuelans, along with other Latinos, arrived as a kind of welcome party.
"I think we all were like, we need to be there. We need to go to them," she said. "There was just a desire to kind of be there, to receive. Then immediately people were just like, 'What do they need? Where can I send money? Where can I send clothes? Do they need food?' Every few minutes somebody else got added to the chat."
Rebuilding home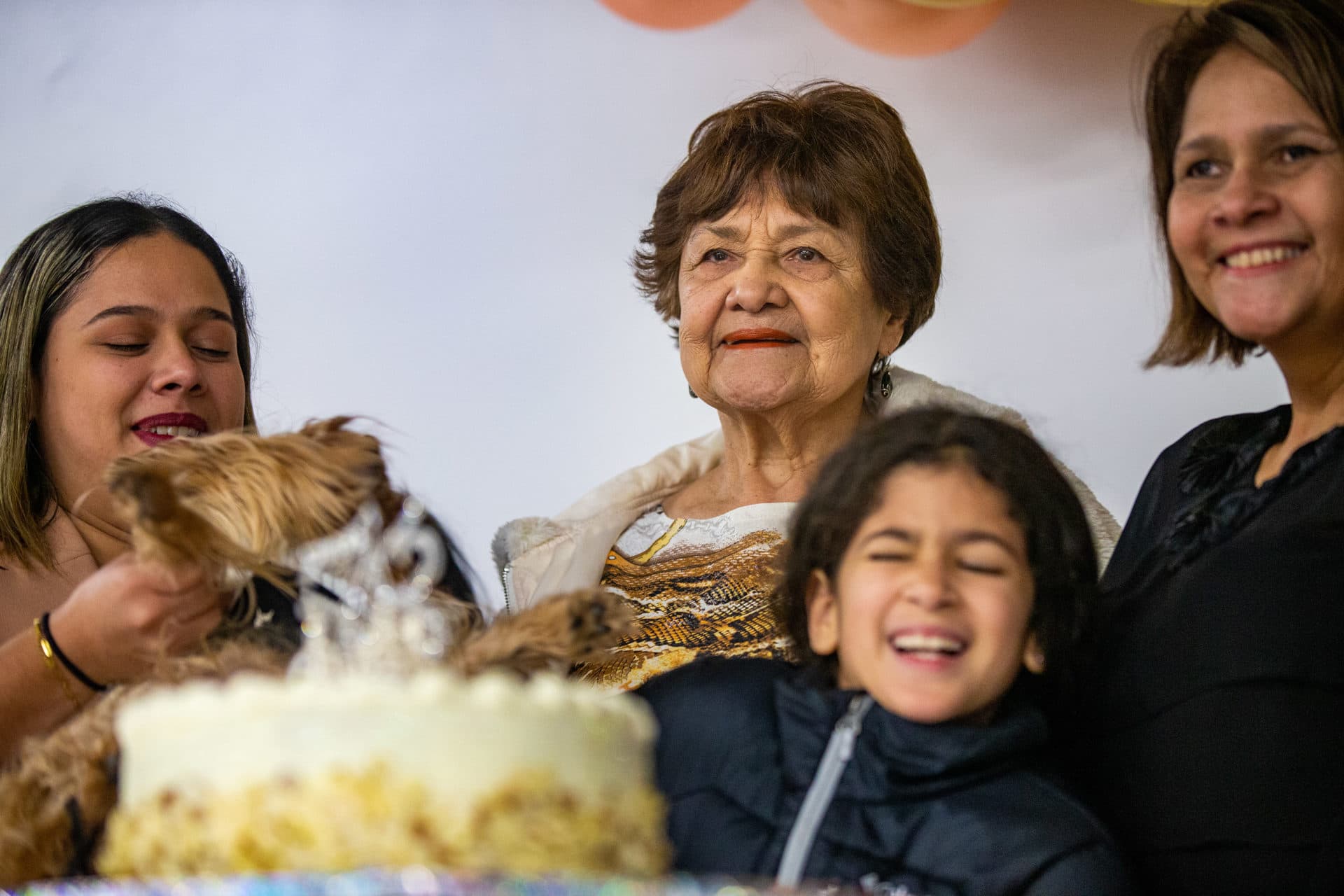 At her mother's surprise party, Isabel Rodriguez's family sits together, chatting happily and snapping selfies. They watch young Adalay Ramos chase a tiny dog. They traversed dangerous jungles and treacherous highways, survived to make it to this moment, to build home anew.
Rodriguez's mother had been dealing with depression since leaving Venezuela. But now, while her daughter and granddaughter work, she has company at home.
Sometimes after a long day, Valeria plays folkloric music to lift their spirits. It's these sounds, these smells, these memories that keep them connected to each other, and to their homeland.
Healing takes time. For now, Rodriguez is just happy to be together. They will adjust as she did. One day, it may be their turn to offer that tiny grain of sand of hope to those coming after.