Forecast: A quick round of rain and snow on Friday
We made it to the new year with hardly a snowflake in sight. That will change somewhat on Friday, with a light (and wet) snowfall of no more than two inches.

Expect light accumulation Friday as a disturbance aloft creates a blossoming area of rain and snow by mid-morning lasting into the late afternoon.

There may at times be some heavier bursts of snow and rain, with the rain/snow line setting up from northern Connecticut and northern Rhode Island to around Brockton, with rain southeast rain and snow northwest.

While the precipitation in Boston starts as rain, the transition to snow should occur around midday (give or take) with the snow ending west to east generally between 4 p.m, and 6 p.m.

When all is said and done, accumulation will be around an inch on grassy and colder surfaces in Boston, coatings on parts of the South Shore, and more like 1 to 2 inches for Metrowest and areas north of the city.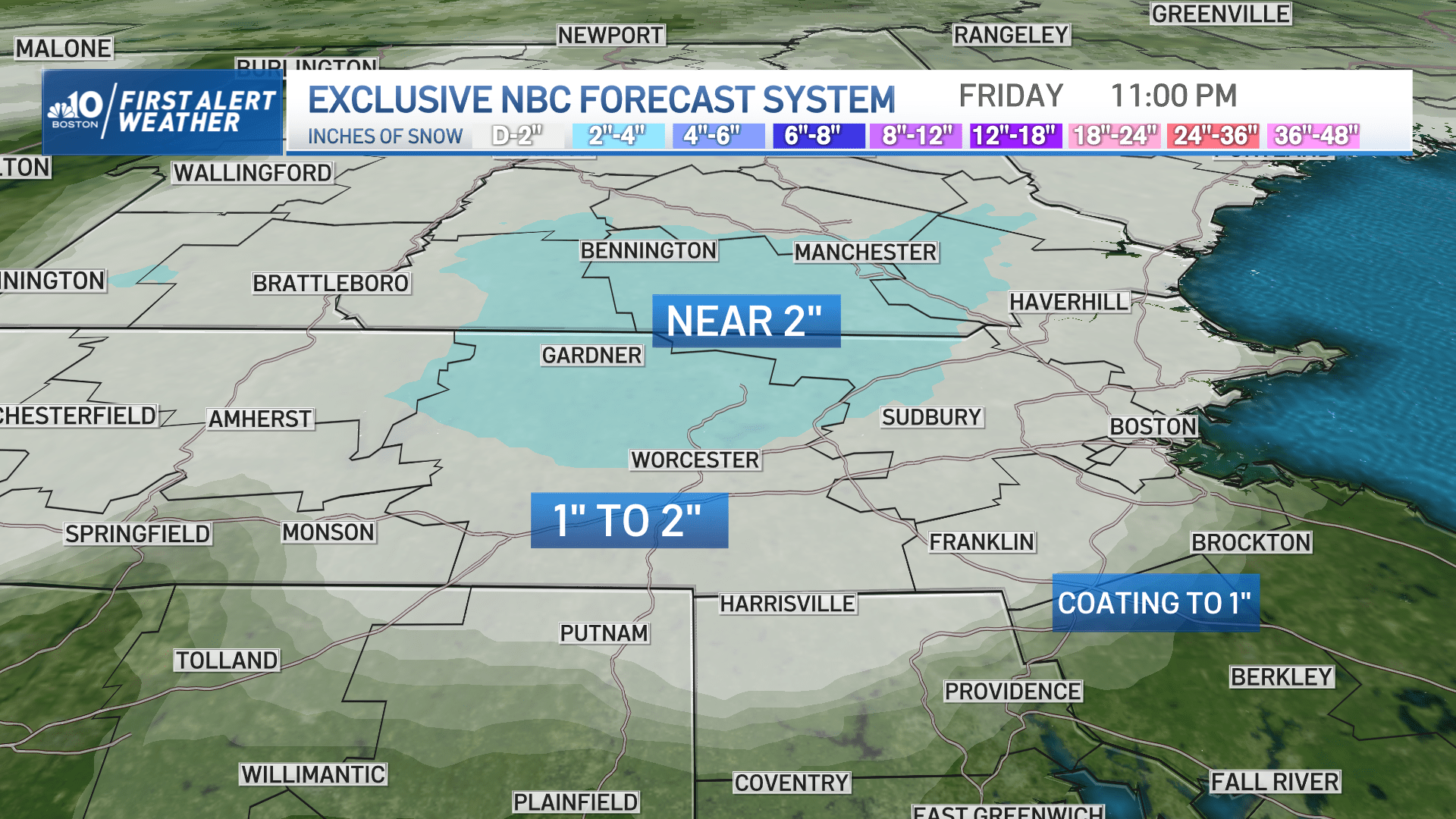 We could also see a few 3-inch totals in the Worcester Hills and along the Rt. 2 corridor into southwest New Hampshire. Roads likely will need at least rock salt treatment in many spots, and likely enough to plow on some roadways in the solid two inch zone.

Temperatures will drop below freezing Friday night, so slick spots will develop on untreated roads.

Saturday brings a shot of chilly air and plenty of clouds, with a few flurries and sprinkles and highs around or just over 40 degrees.

By Sunday, the cold but dry air from Canada will entrench itself in New England, meaning more sunshine but daytime temperatures in the upper 30s.

We've only seen an inch of snow so far in Boston this winter season, which puts us more than a foot behind the climatological average (12.3 inches for the season to date). This time last year, we were in a very similar scenario before receiving an 11.7-inch snowstorm (on Jan. 7) followed by the second largest January snowstorm in Boston's history with 23.6 inches (on Jan. 29).

While our winters as of late have certainly been trending warmer on average and seemingly shorter in length due to climate change, New England is still New England; blasts of cold air and an active jet stream are certainly still going to occur from time to time.

There is still plenty of winter to go.