12 art exhibits to explore this winter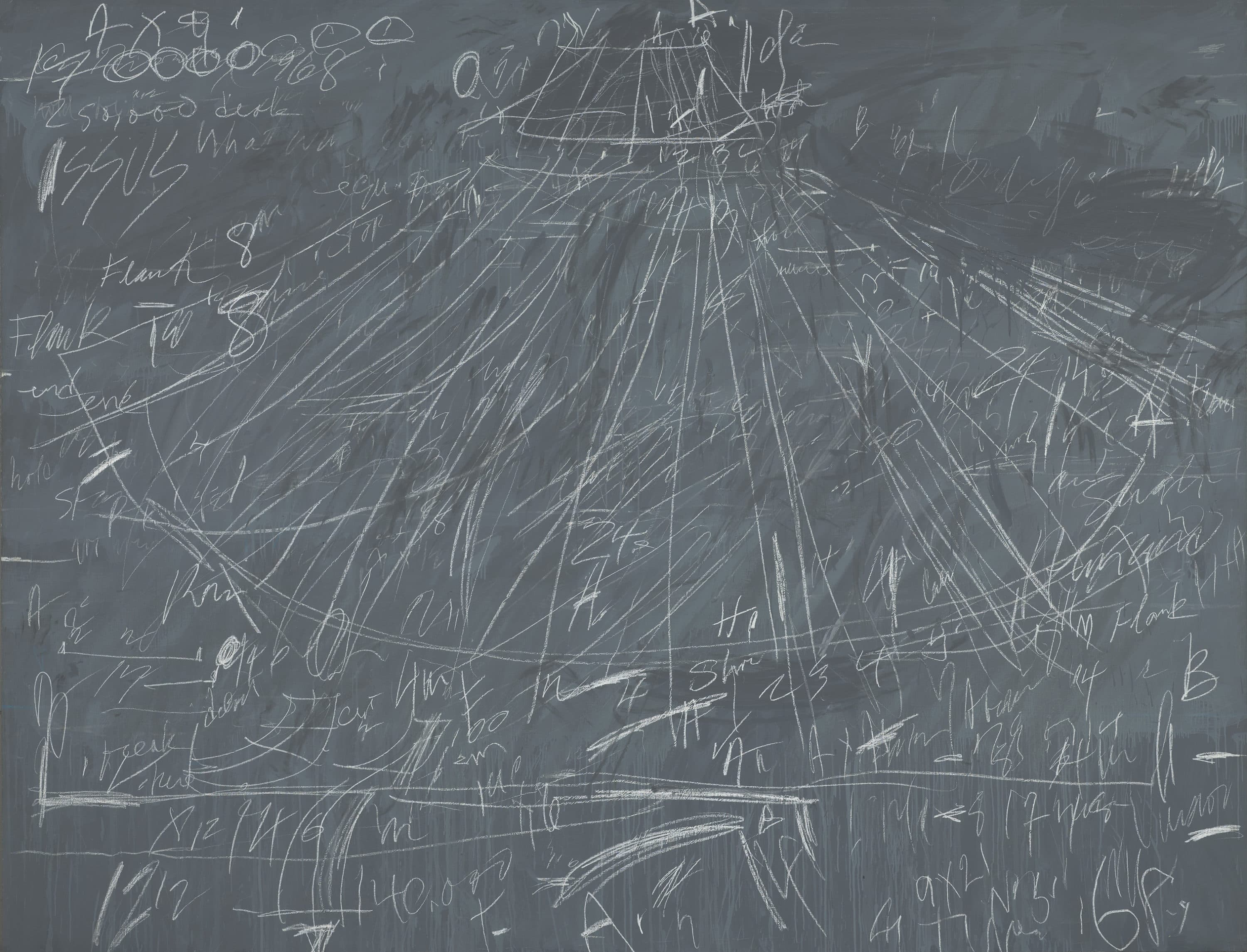 A new season brings a new slate of exhibits to Boston, shows that look to history for inspiration but have something to say firmly about the world today.
At the MFA, work by Cy Twombly is inspired by his lifelong fascination with antiquity, yet the intensity of the marks on his canvases have a contemporary urgency. A show dedicated to the work of May Stevens at MAAM shows how she collapsed time and space to place her mother beside revolutionary Rosa Luxembourg to examine the challenges women face. Artist Lyle Ashton Harris, whose work will be on view at the Rose Art Museum, uses pieces of ephemera to parse memory and how it shapes who we are.
The shows present a sense of interrelatedness, and while the work may come from different corners of the world, much of it expresses human vitality, how we grow and change.
'New Formations'
deCordova Sculpture Park and Museum
Through March 13
With a mix of contemporary and vintage images, this exhibition celebrates leaping, jumping and twisting through space. The photos on display explore the body's physical presence, both in movement and repose. Artist Pelle Cass layers a cascade of diving athletes, while an image of a dancer, stretching before a mirror, captures her reflection as she resembles a rosette of dancers. There's an exuberance seeing a woman bound through space, her limbs extended as she moves down the street, seemingly for herself, and not in performance. Other artists featured include Jaclyn Conley, Jeremy Deller, among others. The exhibit also includes a collection of amateur photographs — referred to as vernacular photography — of people in parades and forming human pyramids.

---
Through June 25
If winter has you craving color, "Riotous Threads" promises bursts of bright hues in unexpected combinations. Donna Esolen's untitled stitched work practically vibrates with her lush color selection. There are embroidered portraits (including one of Darth Vader) and abstract works that fuse embroidery and weaving. The museum is featuring the work of 25 artists from Gateway Arts, a renowned Brookline studio arts center for adults with disabilities.

---
Jan. 14-May 7
This show, in a sense, is also about movement. Looking at Cy Twombly's massive canvases — obsessively covered in loops, scrawls and scribbles — one can't help but think about the full-body gestures it took him to make them. Twombly, who gave few interviews in his lifetime, described his process and said, "It's more like I'm having an experience than making a picture." The artist, who had a passion for antiquity, spent decades of his life in Italy. Twombly sought to draw a connection between art of the past with the work of the present, and he made frequent nonliteral references in his paintings and sculptures. At the MFA, his work will be exhibited alongside ancient Greek, Roman, Egyptian and Near Eastern art from the museum's collection, along with objects from Twombly's own collection of antiquities, which have not previously been exhibited.

---
Jan. 26-May 21
For May Stevens, making art was a political act. In the 1960s, her work centered on the Freedom Riders. She protested the Vietnam War by painting portraits of her father, whom she criticized for his racist and misogynistic views. In the mid-'70s, she began a series of figurative paintings featuring her Catholic, working class mother beside Polish-German Marxist revolutionary Rosa Luxemburg. By placing her birth mother together with the woman she called her "intellectual" mother, Stevens transcended time and space to explore how women struggle publicly and privately. Stevens, who was raised in Quincy, graduated from MassArt in 1946. She was a notable feminist artist, a founder of the journal Heresies and a member of the Guerilla Girls. The exhibit at MAAM is the first Boston exhibition of her work since her death in 2019.

---
Jan. 30-June 4
This transporting exhibit features the work of seven artists probing themes of identity, memory and belonging. The art, which is drawn from the collection of the Barjeel Art Foundation, offers a portal to contemporary Egypt, Iraq and Lebanon. The show also includes an installation by Mona Hatoum, a Palestinian artist based in London since the 1970s. Called "Plotting Table," the polished wood surfaced is studded with glowing points of light that form a world map. The effect is sinister, that of collapsing borders. Though Hatoum made the work in 1998, it's not less relevant today, especially in light of Russia's invasion of Ukraine.

---
Jan. 31-Jan. 7, 2024
If you were absorbed by last year's acclaimed podcast "Death of an Artist," and haven't ever seen work by Ana Mendieta in person, a piece of hers is part of this artist-organized show at the ICA. It's a haunting image of loss, an impression in the sand suggesting a shallow grave. Artist Taylor Davis, known for her meticulously-crafted and emphatic wood sculptures, has chosen works from the museum's permanent collection by artists ranging from Cindy Sherman to Robert Mapplethorpe (also, another chance to see work by Mona Hatoum). Davis explores the interconnectedness of all things with her selections.

---
Feb. 4-May 29
For its first show on Himalayan art in more than 30 years, PEM is presenting the work of two artists. Nepalese-born Tibetan American artist Tsherin Sherpa subverts traditional Buddhist iconography with a distinctively California flair — the effects in his paintings are luminous and trippy, with highly stylized drips of paint. Robert Beer, on the other hand, is a Welshman, who for decades has obsessively immersed himself in Tibetan Buddhist thangka painting. Living in India and Nepal, he learned from some of the most important practitioners. (One of Beer's books, line drawings of Indo-Tibetan deities and symbols, is often found in tattoo shops.)

---
Feb. 9-July 2
Lyle Ashton Harris' work has a dreamlike quality. He combines his collages of photos with bits of ephemera — fragments of pottery, shells and locks of hair — deliberately placed on Ghanaian textiles. The work tells a story of his life, and while it sometimes feels shrouded, like trying to recall a dream the following morning, he telegraphs his experiences as a Black, queer man. The work is political, especially when Harris places photographs of his former lovers beside an image of Luis Daniel Wilson-Leon, a victim of the Pulse nightclub shooting in 2016. Harris works in New York (he's also a professor at NYU). The show at the Rose draws from his "Shadow Works" series, and also combines some of his most recognized works with other lesser-known pieces.

---
Feb. 16-May 21
Betye Saar, who came to prominence in the Black Arts Movement in the 1970s, keeps an enormous jumble of objects in her studio. She organizes the items by color, and also by shape and material. And it's from this collection that she pulls together her assemblages, which she began making after being inspired by the work of Joseph Cornell in the late 1960s. Saar has traveled all over the world, and her works at the Gardner tell the stories of her trips to Africa, Asia, the Americas and Europe. "Legends in Blue," which is like a small altar, combines a small sarcophagus she bought in Egypt with little Buddhas found in Los Angeles, bright blue feathers, a perfume bottle and dice to represent chance.

---
Feb. 16-May 21
Alongside the work of Betye Saar, the museum is showing a selection of pages from nine of Isabella Stewart Gardner's travel journals. Gardner and her husband traveled extensively from the 1860s through the 1890s across Europe, Asia, South America and the Middle East. Gardner created albums of these travels with photographs, pressed botanical samples, notes and watercolor sketches. For the exhibit, the museum assembled a group of artists and scholars to consider and respond to what Gardner's position of privilege overlooked in her journeys.

---
Feb. 23-June 26
In her first institutional solo exhibition, artist Alison Nguyen is premiering a three-channel video installation called "history as hypnosis." Through marginal characters and narratives, Nguyen examines alienation and assimilation. The sci-fi-esque film centers on three women whose memories have been wiped clean, and as they search for a man mysteriously named X, they seek to reestablish their identities. Nguyen is interested in how images are made and shared, and how they inform, and in some cases, shape our experiences.

---
March 4-July 9
This landmark show of Black material culture, co-organized with the Metropolitan Museum of Art, presents the work of enslaved Black potters who worked in Old Edgefield District, South Carolina, before the Civil War. About 50 ceramic objects, ranging from massive vessels to smaller utilitarian containers, will be displayed. Several were made by David Drake, an enslaved man who dared to sign his work and inscribe it with messages or lines of poetry, when it was considered a crime to do so. The names of the other potters remain unknown, since their enslavers did not document their work. The exhibit also includes the work of five contemporary Black artists, including Simone Leigh. (She has her own show opening at the ICA in April.)